October is breast cancer awareness month and we asked personal trainer and fitness coach Scott Keppel about training after a breast cancer diagnosis. He's been certified in post breast cancer training and recovery since 2011 and is always ready to share his knowledge. Here are answers to some of the questions he gets asked the most.
What role does training play in cancer recovery?
Training plays a number of roles during recovery from breast cancer.
Exercise has been shown to reduce fatigue, along with increasing lean muscle mass and improving functional fitness. It also is proven to relieve stress and help you feel better all around.
Exercise is proven to relieve stress and help you feel better all around.
Functionality is a huge by-product of exercise. Specific movements to help with shoulder mobility are crucial for a woman.
However, please be mindful of your fatigue level. Keep in mind that while you do want your workouts to be challenging, you don't want them to be physically depleting.
It is common to have soreness and tightness after exercise but if you experience any of the following adverse effects during or after exercise, STOP immediately and contact your doctor as soon as possible.
Disorientation, dizziness, blurred vision or feeling faint
Nausea
Unusual or sudden shortness of breath
Irregular heart beat, palpitations or chest pain
Leg/calf pain, bone pain, unusual joint pain or pain not caused by injury
Muscle cramps, sudden fatigue or muscular weakness
When should you start exercising after cancer treatments?
As soon as – and only after – you get clearance from your doctor. For some this is the day after, but it will depend on what type of treatment you receive.
It's important not to be too impatient with your exercise. Start slowly and build up your progression.
After a mastectomy, you typically need a week or two before you can start to do light cardio, then 4 weeks or so before you can do bodyweight leg exercises and 6 weeks or so before doing light upper body exercises.
It's important not to be too impatient with your exercise. Start slowly and build up your progression.
How can you best follow your progress and watch out for not overburdening your body?
You can use a spreadsheet or you can just use a fitness/nutrition diary. I suggest you track the following categories:
Did you exercise?
What type of exercise: resistance, flexibility or cardiovascular?
Duration of workout?
How did you feel during the workout?
How did you feel during the day?
How much sleep did you get?
Nutrition – you can either get specific and track carbs, fats, proteins, calories or just write down approximate serving size and types of food along with times.
If you don't want to use a spreadsheet, you can use Polar Flow to log your workouts.
How does a mastectomy affect training?
If you've had surgery, be mindful of certain exercises and make sure you don't strain or tear anything even when you're doing a movement that's not chest-specific, such as squats with a bar on the back (opens up shoulders/pecs, dead lifts (pulls on chest), pull ups (stretches pecs and shoulders).
Certain exercises are often off limits. These typically include any type of flies and pull-ups or any exercise where the arms are coming across the body or over the head.
Scott's do's and dont's
Go for a walk. This will not only get you burning some calories, but will get you out in nature and being out in nature has been shown to help one with recovery.
Stretch while watching your favorite show. The stretching will help with range of motion. Start slowly. You may need to start with just 10–15 minutes. This is OK! Just start.
Wear a heart rate monitor to track your effort. We not only want to make sure you don't work too hard, but at the same time we want to make sure you get the most out of your workouts.
Make sure to carry your cell phone on you in case of emergency. This is especially important if you are working out alone, going on a hike, bike ride, run or similar.
Remember to stay hydrated.
Scott's history with breast cancer
For Scott, it's personal.
"I'll never forget the day the doctors told me my wife had breast cancer", says Scott Keppel, a certified personal trainer. Scott's wife was diagnosed in July 2011 after noticing a lump on the 4th of July.
Scott wasn't sure how to handle everything. Then, he did what he's always been good at: he took action.
"I saw the struggles my wife was having with how she felt and I wanted to learn how I could help her with diet and exercise. I decided to get certified in post breast cancer training and recovery."
Determined to make a difference, Scott continues to train women post breast cancer and raise awareness about breast cancer.
In the spotlight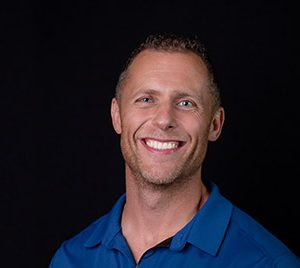 Scott Keppel
If you liked this post, don't forget to share so that others can find it, too.
Or give it a thumbs up!
I like this article
Please note that the information provided in the Polar Blog articles cannot replace individual advice from health professionals. Please consult your physician before starting a new fitness program.