Living in Alaska, U.S. elite cross-country skier Kikkan Randall trains in all kinds of terrain and weather. But running, skiing, and cycling while navigating her first pregnancy was charting new territory.
Kikkan's always been a big advocate of listening to her body, and her body had quite a lot to say while going through and recovering from pregnancy.
If you're pregnant, remember to consult a physician for personal advice on training while pregnant.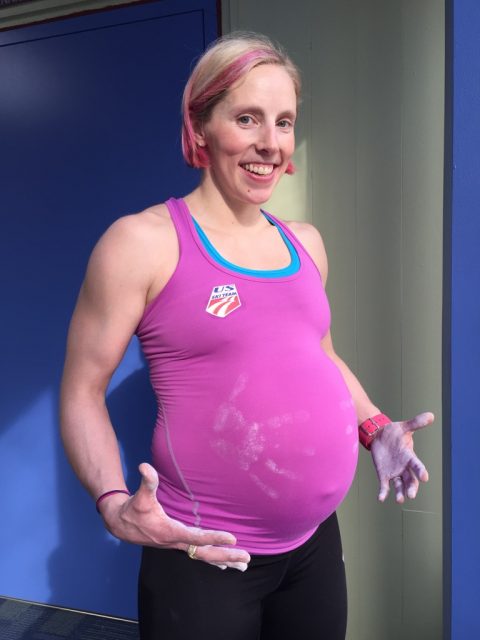 Family planning
Kikkan and her husband, Jeff Ellis, welcomed baby Breck into their family on April 14, 2016. Although Breck arrived within the allotted 9 months, his birth was years in the making. Both Kikkan and Jeff knew they wanted a child, but in a household revolving around winter sports, it can be tricky.
As a full-time athlete, you have a limited career window, so timing a pregnancy becomes pretty essential.
Kikkan's training and racing often takes her out of the country, especially during the winter ski season. Ditto for Jeff, a former racer. He currently works in communications for the International Ski Federation (FIS) and spends the ski season traveling to cover World Cup cross-country competitions.
Although Kikkan and Jeff had been thinking "baby" as early as 2012, Kikkan was on a roll, racking up an impressive series of wins. Then in 2015, she says her work-life balance started getting out of whack and her performance suffered. So at age 33, Kikkan along with Jeff decided it was a good time for a short break from competition to start their family.
Running while pregnant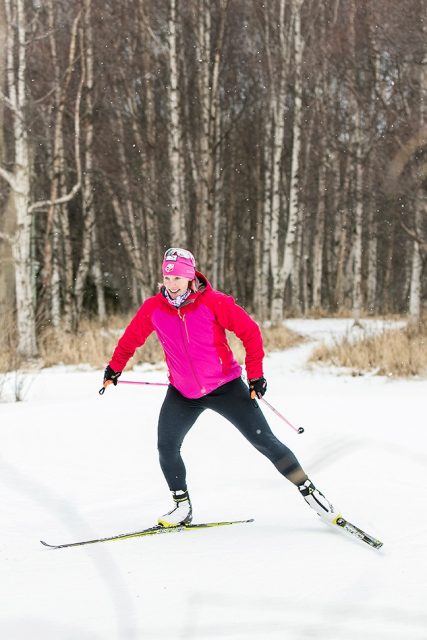 The first month of her pregnancy, Kikkan didn't know she was expecting. She was in Norway and Sweden training with her team. All was going well. It wasn't until she got home that she discovered she was entering her 2nd month of pregnancy.
With the happy news and the blessings of her coach, team, and doctor, her focus changed from improving her race performance to having a healthy baby. To retain fitness, she maintained her normal training plan – without pushing it – through mid-winter, then tapered her efforts the last 6 weeks before her due date.
"Pregnancy is not the time to start pushing it. I was shooting for staying in shape rather than trying to achieve optimal fitness", Kikkan says.
Listening to your body
Kikkan advocates letting your body be your guide during pregnancy. For her, that meant:
Continuing the same level of activity (without upping the training ante) and taking care to not overheat.
Focusing on a goal of staying in shape rather than trying to achieve optimal fitness.
Acknowledging that some days would be better than others and when she just wasn't feeling it, learning to call it a day.
Eating when hungry and eating often. She was burning calories both from training and from fueling the growing baby. Some days she was ravenous. Kikkan found eating throughout the day helped better maintain her blood sugar levels.
Continuing with maternity care to ensure the growing baby was healthy and strong.
Running reentry postpartum
The big surprise for Kikkan was that her pregnancy went so well. Through most of her pregnancy, she felt great. Running at threshold felt good, even if she was breathing a bit harder. What she didn't anticipate was the amount of "rebuilding" that had to happen after delivery.
"The pelvic and abdominal muscles really get loosened up during pregnancy and birth, so you lose a lot of core and hip stability," she says.
After seeing one of her racing peers suffer a hip injury after returning to racing shortly after giving birth, Kikkan took note. Her approach was to gradually ease back into an exercise regimen after the arrival of Breck and hold off on the racing.
"The biggest surprise was that pregnancy was actually the easy part. I was pleasantly surprised how good I felt, even running at threshold", Kikkan says.
Easing back in
Kikkan used the first 6 weeks after delivery to ease back into exercise. She used this recovery window to fully enjoy the experience and be attentive to how things felt.
The first week she did some gentle walking. She also began doing exercises to steadily build back up her core.
Over the next few weeks, she added in a walk/run mix, gradually increasing the ratio of running with each outing.
By week 3, she started testing the waters with some roller skiing and cycling.
And throughout her recovery, she ate. With the increased physical activity on top of breastfeeding, Kikkan said she wasn't super strict on her diet and made sure she was fueling with plenty of nutrition.
Wired for athletics
Athletic pursuits have always been an important part of Kikkan's life. Growing up in Alaska, with snow on the ground for half of the year, cross-country skiing is, understandably, pretty popular.
Plus it's in her DNA. Both her aunt and uncle were cross-country Olympians (Betsy Haines, 1980; Chris Haines, 1976) and her mother, Deborah Randall, was an NCAA cross-country skier as well. By age 16, Kikkan was enthralled with the sport and committed to year-round training. She met with success early on. Her 6th place finish in the sprint at the 2001 Junior World Championships was the best ever result by an American woman.
By 2002, at age 19, she made her Olympic debut at the Winter Olympics in Salt Lake City, Utah.
In addition to cross-country skiing, Kikkan has always loved to run.
In addition to cross-country skiing, Kikkan has always loved to run, and run fast (she's clocked a 5:00.2 mile on the track). In fact, you'll find her pounding out some miles most days of the week. It's an important part of her overall training along with cycling, roller skiing, cross-country skiing, and core work to deliver a mix of both endurance and strength training.
Tapping into technology
One of the things Kikkan notes about cross-country skiing compared to some of her other athletic activities is that you have to heavily rely on a heart rate monitor as a training tool – no power meters on those blades!
Kikkan has used a heart rate monitor fairly addictively over the past 15 years, ever since her high school running coach introduced her to Polar.
Heart rate monitoring is vital in helping me track recovery. It really forces me to listen to my body and know when to back off.
"I pretty much always have a heart rate monitor with me," she says. "It's been fun to see all the technological improvements over the years, especially with the introduction of GPS. I'm a total techno nerd and love looking at data."
With a backlog of 15 years of Polar heart rate data, she and her coach have a lot of historical benchmarks to see how she is doing. She also said it was interesting to monitor her heart rate through her pregnancy. She was pleased to find that her pregnancy didn't alter it that much except going uphill. She said the other gratifying thing to see was that her aerobic base remained strong throughout her pregnancy.
Kikkan's Polar picks
Polar M400: This wearable device is Kikkan's training mainstay. Since she cross trains using a variety of activities, Kikkan loves the ability to customize this device to her various workouts. But she says its most important attribute is that it's pink.
Polar V800: Kikkan has begun to incorporate the Polar V800 into some of her workouts as well. She enjoys its reliable heart rate monitoring and measurement variables as well as its customization features.
Planning the next chapter
After the 2016–17 racing season, Kikkan will set her sights on the 2018 Olympics in Pyeongchang, South Korea. It will be her 5th Olympics – an impressive feat all on its own – and serve as her grand finale to a 20-year racing career before she retires. But not from sports. She'll channel her energy into staying active in the sports world and expanding her work with the nonprofit Fast and Female.
Plus 2018 will be just about the right timing for baby number 2. Stay tuned!
Kikkan by the numbers
Over the course of her storied racing career, Kikkan has collected a lot of "1st" for the U.S. cross-country ski team, including:
1st World Cup women's podium
1st World Cup women's victory
1st World Championships women's gold medal
1st Olympic women's top ten
1st World Cup overall women's discipline leader
1st World Cup overall sprint champion
1st and foremost lead cheerleader for the U.S. chapter of Fast and Female – a nonprofit focused on keeping girls in sports
Kikkan's career highlights include:
2013 World Champion (ladies team sprint with Jessie Diggins)
2012, 2013, and 2014 World Cup Overall Sprint Champion
2009 World Championship Silver Medalist (women's individual sprint)
13 World Cup Victories
27 World Cup Podiums
4 Olympic Top Tens
17-time U.S. National Champion
4-time Olympian
---

Please note that the information provided in the Polar Blog articles cannot replace individual advice from health professionals or physicians. Please consult your physician before starting a new fitness program.
If you liked this post, don't forget to share so that others can find it, too.
Or give it a thumbs up!
I like this article
Please note that the information provided in the Polar Blog articles cannot replace individual advice from health professionals. Please consult your physician before starting a new fitness program.