On the snowy expanse of France's La Clusaz mountains, a breathless dad asks, "How do you do the descent?" From his backpack, the delighted two-year-old giggles and attempts to imitate the swishing sound of the skis. Then down they go, clearly both adoring the experience of ski-touring together.
"It's a special moment," says Vincent Viet, French ultra trail runner, and father of two, in the new documentary Ultra Dad. It's a sentiment echoed by his son Victor, who protests, "Encore!" (Again!) when they reach the bottom of the slope, hoping for a repeat performance on the mountain.
For Vincent, this isn't simply part of a fun family holiday but a core part of his training. As an amateur runner who has won races across the globe, Vincent often works towards his next competitive goal by combining skiing, running, and cycling, his original passion. Involving his young son in his workouts is a fun form of weight training and a great way to balance being a parent with his fitness goals.
Ultra Dad, which focuses on Vincent's journey throughout 2021 and 2022 toward The Western States 100-Mile Endurance Run, captures this balance perfectly. "The important thing is to share it with the children," notes the ultra trail runner.
You see throughout the short film how Vincent brings his children along for his everyday training process and the races this build towards. This could be pushing a stroller along the shores of Lake Annecy, where the family lives, cycling with a trailer, or strapping on a backpack for a morning of ski touring,
Western States 100, as it is more commonly known, was Vincent's ultimate goal. "It's a mythical race," his wife Charlotte notes in the documentary. "For him, I think it's a big challenge but, at the same time, a great adventure."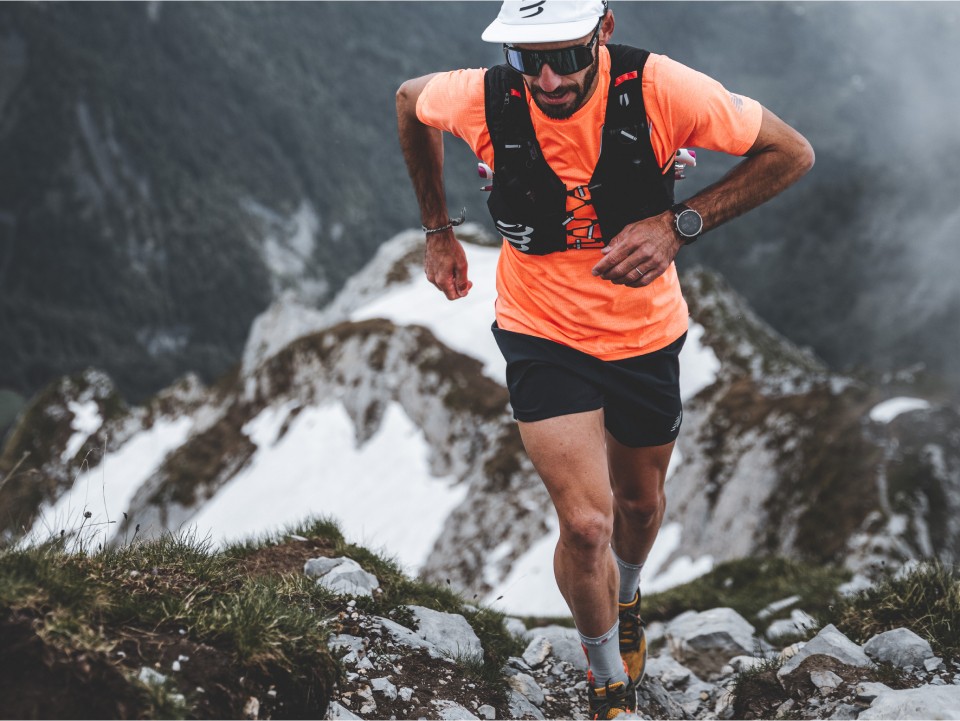 The legendary US endurance run follows old gold mining trails throughout California, winding its way through 100 miles of mountain passes, canyons, and chilly rivers. All in soaring June temperatures. It is challenging terrain, but some 10,000 people still try to nab one of the coveted 300 starting places each year.
Most participants enter through a lottery, which requires them to qualify by running at a global event during the previous year. However, for a select few, there is the golden ticket: guaranteed entry into the Western States 100 by winning another renowned trail race.
With the winner of October 2021's Endurance Trail des Templiers guaranteed entry to its US counterpart, a local ticket was suddenly within Vincent's reach. This was a huge opportunity, but first, he had to win Templiers, France's oldest and most prestigious trail race. Covering 50 miles around the country's picturesque wine region, it is renowned for its arduously varied terrain. Winning Templiers would be a challenging feat.
"Western States was a dream for me," admits Vincent. Athletic goals are his greatest motivation, and he didn't want to let himself down on this occasion. When he found himself with a narrow lead at Templiers, Vincent realized that this was his moment to dig deep. "I ate three energy gels," he recalls, "and I started again." Vincent proceeded to win the French race with a 10-minute advantage.
Ultra Dad on the golden trail
Building towards the Western States 100, Vincent had over seven months to prepare for the race ahead. Yet the most significant challenge was staying focused during the winter when poor health and parenting often took priority. Charlotte and Vincent were expecting their second child when they both contracted Covid. Then Victor became ill and spent a week in hospital. "We had some difficult times," Vincent reflects.
It isn't hard to imagine that training took a back seat at times over these difficult months. Yet, Vincent remained focused. "To prepare for a race is the same as anything in life," he said when we spoke via video call. "Trust your process; it will help you keep your energy during the bad times."
In the months leading up to June, this process involved working out for 15-20 hours per week. Lunchtime and/or evening sessions on weekdays, then up to seven-hour weekend runs in the mountains. Mondays were his recovery day. Combined with his job in sports marketing for Polar, this necessary training schedule left little time to spend with his son.
"Charlotte helped me a lot by taking care of Victor," notes Vincent. "I can never thank her enough" Yet, he could still involve his son in at least 20% of his exercise, sometimes more. So, Vincent would take Victor out on his shorter, local runs, strapping the toddler into the stroller or backpack. Then, five weeks before the Western States 100, Charlotte and Vincent's daughter Sarah was born.
"(The race) was a family objective," explains Vincent, so traveling to California to experience this moment together was still crucial for them, even with a tiny infant. Thankfully, a friend of Charlotte's was able to provide them with much-needed support by joining them on this international journey.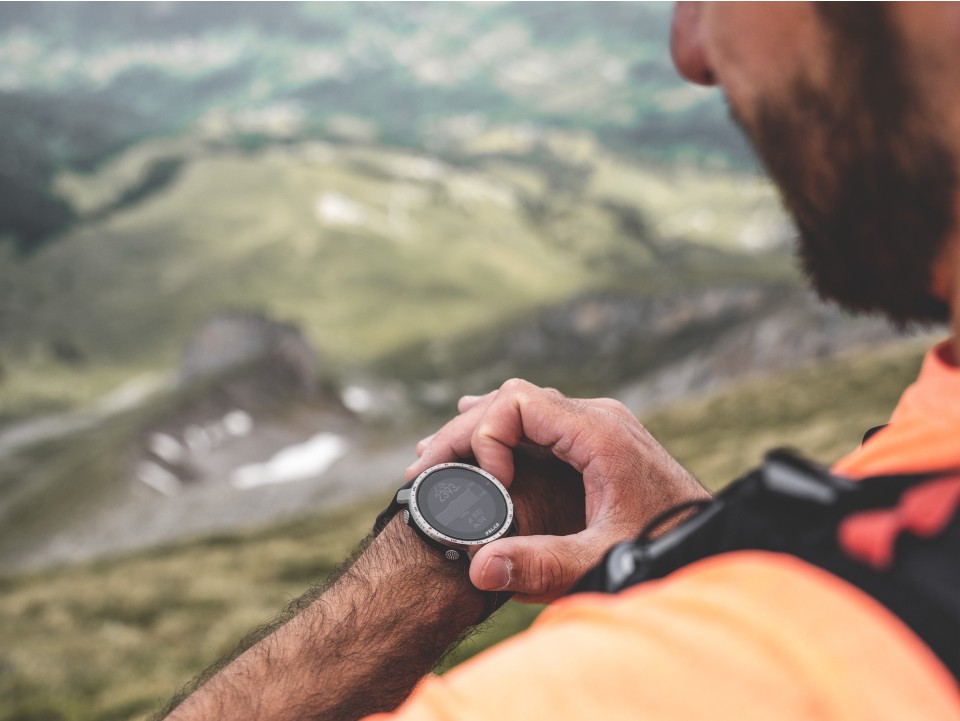 As dawn broke on the 25th of June, Vincent set off from Olympic Valley, California, with all the other eager participants. He and Charlotte arranged that they were together as a family the night before, but on the day of the race, they would meet at only one of the aid stations along the route: Foresthill.
At 100km (62nd miles), Foresthill is just over halfway along this momentous journey. Feeling good about how he was progressing in the race, Vincent was overcome with emotion as he approached this aid station, crying with joy at being reunited with Charlotte and the children. "I thought to myself, I feel so good… This is amazing what's going on right now."
Bringing his family meant that Vincent couldn't afford to bring a support team out to assist him with the other aid stations along the route. He feels this may have cost him some time compared to the US competitors. "There (was a team of) five people around them (at each aid station)," Vincent observes in the documentary.
With support, these participants could change water bottles and clothing with the speed and efficiency of a motor racing pit crew, sometimes taking only 30 seconds at each stop. "I was very impressed," recalls Vincent, who requested his pre-packed bag from the race staff at every aid station and took care of himself, which added to his time. Vincent also feels he could have done with a pacer for the last 30km, especially when he reached the river crossing. "I didn't know the course (and they) would have pushed me."
Despite this, Vincent still placed within the top seven of the USA's oldest and most competitive 100-mile race. For the majority of the race, he felt incredible. "It was like being in a dream," he remembers. "One of the best days in my sports career."
Having his family there, supporting him through the whole process was essential for Vincent. "I wouldn't have made it alone." So, the question remains: with all the challenges of balancing parenting, working, and training, would he tackle the Western States 100 again? "I would like to," Vincent admits. "I am sure I could improve my level by knowing the race, the route, and how to prepare for it. But on the other hand, I've got huge memories and emotions from this year. I'm not sure it would feel the same again. So, I will keep this amazing feeling in my mind."
If you liked this post, don't forget to share so that others can find it, too.
Or give it a thumbs up!
I like this article
Please note that the information provided in the Polar Blog articles cannot replace individual advice from health professionals. Please consult your physician before starting a new fitness program.