Date with destiny | Runner Clara Santucci eyes 2020 Olympic Trials
September 27, 2016
As a little girl growing up in rural West Virginia, Clara (Grandt) Santucci had never heard of the Olympics. That all changed at age 9 on a visit to her grandmother's house. The broadcast of the 1996 Summer Olympics was playing on the TV. She vividly remembers seeing Kerri Strug finishing her heroic vault on a badly damaged ankle to secure the gold for Team USA. It was Clara's moment of truth. She didn't know what sport she'd do or how she'd do it, but the Olympic Games? They were her destiny.
When they weren't studying, the Grandt kids were outside doing the hard work of play – no TV or electronics to distract them from their efforts. Once a week, their mother drove them to the closest mobile library. Clara would check out a book about a new sport to try. Gymnastics? Tennis? She was determine to find her sport to train for the Olympics.
Clara finds her sport – running
The Grandt family lived one hour by car outside of the small town of West Union in Central West Virginia. Two adults and five kids, all living in a 1-room schoolhouse. Mom homeschooled the kids and grew a bountiful garden. Dad was a carpenter by trade and worked on refurbishing the schoolhouse into a home.
"We were poorer than average growing up, but we got by on what we had. You develop self-sufficiency and flexibility in how you use things," says Clara.
By 5th grade, Clara pleaded her case to her folks to go to public school. She won and off she went. The adjustment was easy from an academic standpoint but, as a shy kid with limited exposure, the social aspect was harder. She found herself gravitating toward gym class. It was her love.
By 7th grade, the physical education coach saw her good performance in the mile and encouraged her to come out for the track team. She found she quickly improved in track and knew she had found "her sport." By high school, she was running, and running well, with the cross country team.
I grew up a little tougher, I guess. I can work through pain quite well.
In her senior year, she attended a meet in Morgantown. The coach, Sean Cleary, from West Virginia University was there scouting for talent. The day was hot. The course was hilly. And the girl from the country crushed it, outrunning other girls with better training. Sean Cleary knew raw talent when he saw it and invited Clara to come run for WVU.
Setting goals
Clara sat down with Coach Cleary for a frank discussion about her goals. She, a poor kid from the countryside, wanted to become a world-class marathoner and an Olympian. He didn't tell her she was dreaming. Instead, he told her she was going to have to work harder than she ever had in her life. She was up to the challenge. "He has been one of the most influential people in my life," she says.
It took a whole lot of people supporting my dreams to make them possible.
It was a turning point in both her life and her career. She'd get the professional coaching she needed and the opportunity to pursue a higher education.
"I didn't do it alone," says Clara. "My parents, my coaches, and other kind souls had to spend an hour in the car each way getting me to and from school and practice sessions."
The birth of a running career
During her tenure at WVU, Clara found she excelled at "working harder than she ever had in her life." Her efforts earned her 4 All-American honors in cross country, indoor track, and outdoor track, 2 individual conference championship wins, and 3 top 10 team finishes at the D1 NCAA Cross Country Championship, among others.
"I like to challenge myself. My coach says if I tell him I'm tired, he knows I'm really tired."
At age 24, Clara made her debut on the world stage at the 2011 Boston Marathon. She was the 3rd American across the finish line and placed 16th overall with a blistering 2:29:54, making her the fastest American female debutant for age 25 and under. She has been a consistent top performer on the international level in all the marathons she has raced and ranked top 10 by Track and Field News every year she has run a marathon. In her ongoing quest for an Olympic berth, Clara continues to train under the instruction of her collegiate coach, Sean Cleary.
Work and running – a beautiful symbiosis
Wanting her education and future work to sync up with her running career, Clara pursued a degree in exercise physiology with an emphasis in aquatic therapy, graduating from WVU in 2010.
"My educational background and my work give me tools to better assess my physical state. That helps me avoid or minimize the effects of injury," she says.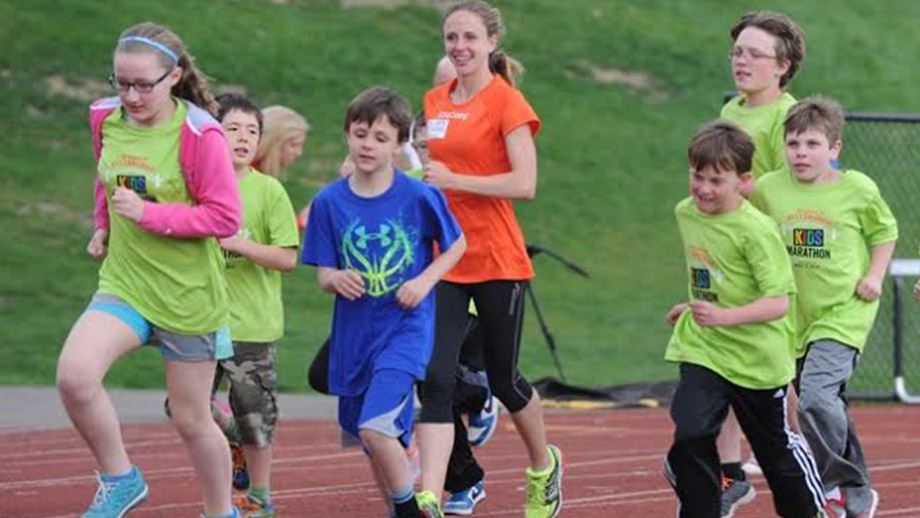 Today, Clara works as a part-time aquatics instructor and exercise physiologist at HealthWorks in Morgantown, West Virginia. Clara says both her employer and her husband, Jason, have been extremely supportive of her running career, and Jason understand the demands of her sport from his days as a high school state cross country champion.
I make a point of filling my life with supportive people. When you have people who believe in you, it's always a good thing.
In addition to her passion for her running and her work, she also loves being an example to kids who grew up like her – with little resource but tremendous desire and determination to do great things. She stays actively engaged by speaking at schools, camps, races, and children's programs.
Clara Santucci on inspiring kids – 5 things you can do
Get them thinking. What do they want to be when they grow up?  Prompt them to think about the future, dream, and set goals.
Be a role model and lead by example. Living an active, healthy lifestyle can have a positive effect on others as well as yourself.
Make exercise play. When something is fun, it doesn't feel like a chore, and kids are more likely to continue to be active as they grow.
Encourage kids to ask for help. Be there for them when they want to improve at something or chase a dream. Clara says she's a better version of herself because of the supporters in her life.
Give their lives value. Let them know they have a unique set of skills and talents. These can be developed to do great things.
Making it to the Olympic Trials
The 2016 USA Olympic Trials marathon was held on February 13 in Los Angeles, California.
It went poorly for Clara.
Despite well-laid plans, she pulled her left hamstring just 2 weeks before the race. She decided to still give it a shot. By mile 15, she had to step off the course, losing her chance for a berth on the 2016 USA Olympics team.
"I realized I was far past salvaging the race and that I should focus on salvaging my career by not further injuring my hamstring," says Clara.
Clara hasn't let the setback throw her off course. She's already set her sights on the 2020 trials for her next shot at the Olympics.
Recovering from injury and moving on
Immediately after the trials, Clara began therapy, including working with another aquatic therapist for daily sessions in the water. She also used the recovery period to assess and fine tune her form and training program.
She says she's been running strong now for the past several months and attributes her fast recovery, in part, to the fitness she had gained in the build up to the Olympic Trials.
Clara santucci is Back on the road to victory
On June 18, Clara felt sufficiently recovered to race the Grandma's Marathon in Duluth, Minnesota, USA. She came in 3rd in the women's with a 2:34:55.
"I felt fully back during the race. Given the hot, humid conditions, I was really pleased with my performance," she says.
Her next target is choosing a fall marathon to score a qualifying time for the 2017 World Championships Marathon in London, UK, next August. We wish her luck and will be watching for her name!
Clara santucci's take on technology
Growing up with limited resources, Clara couldn't rely on technology to help her training along. Today, she's using the Polar M400 and will soon be adding the Polar Balance scale to her tool mix.
Clara santucci's Polar picks
Polar M400: Clara says, "I have been using the M400 daily. With the help of all the feedback it provides, I am in the shape of my life. It's been great tracking runs and data with the M400 and using Polar Flow."
Polar Balance: Clara says, "I am going to try the Polar Balance scale to track more biometrics. With my exercise physiology background and interest in nutrition, I am very curious how to optimize training and racing biometrics, as I believe it is best to fluctuate weight and composition for base training, peak training, and performance."