Professional athletes train and race hard – but in between all that, they are veritable experts at the art of recovering hard. Here's how six of Polar's professional athletes embrace the post-run recovery.
Refuel and rehydrate
"On a perfect day, my post-run recovery would go something like this: Refuel and rehydrate within 30 minutes of finishing my session, then go straight to the pool for a recovery swim session. I make sure to include a little kicking to flush out the legs. Then it's home for a real meal and some NormaTec boot time, or a massage and then a nap." – Mirinda "Rinny" Carfrae
Listen to your body
"If you're exhausted from a particularly strenuous day or bout of training, clear your schedule as much as possible. Take an evening in. Catch up on your favorite TV series. Cook a delicious, healthy, plentiful meal. Relax. It's amazing how great you'll feel the next day." – Will Leer
Keep your body happy and healthy
"I rely heavily on massage and body work. I get treatments every other day to keep my body happy and healthy. It costs a lot of money, but it's an investment worth making. A lot of people think a massage is relaxing and enjoyable, but I believe deep tissue is the best form of massage for recovery and body maintenance." – Gwen Jorgensen
Stash a banana in your bag
"It's important for me to get some food in quickly post-run. If I know I can't cook right away, I'll stash a banana or some nuts in my bag for a snack. And by banana or nuts, I mean a Snickers bar or beef jerky." – Noah Droddy 
Bring your legs back to life
"I have a gym routine I try and incorporate most evenings to bring my legs back to life for the next day. I'll typically cycle at an easy effort on a spin bike for 15 minutes or so, and spend a little time in the sauna to get the blood flowing.
"Then I'll spend 10 minutes doing some light stretching in the pool. The water feels nice, and the light, graduated compression of water flushes out the fatigue. The whole thing only takes an hour or so, and I always feel better the next day for having done it. All that said, nothing is as effective as a good, old-fashioned night of sleep." –Noah Droddy
Take a nap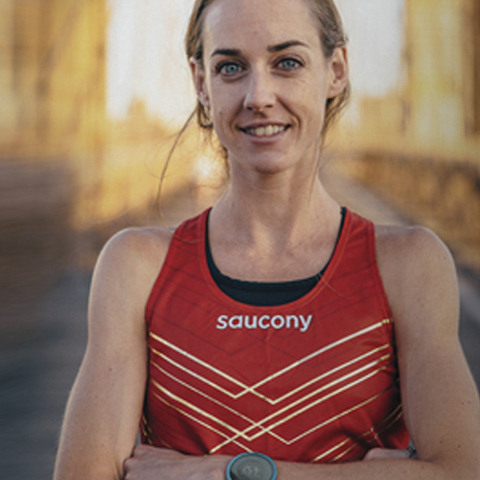 "I like to KT tape my calves or wear compression socks. And a nap is really helpful if you have time!"
– Molly Huddle
Keep it simple
"Simple: Stretch, eat, shower, sleep." – Andrew Starykowicz
If you liked this post, don't forget to share so that others can find it, too.
Or give it a thumbs up!
I like this article
Please note that the information provided in the Polar Blog articles cannot replace individual advice from health professionals. Please consult your physician before starting a new fitness program.