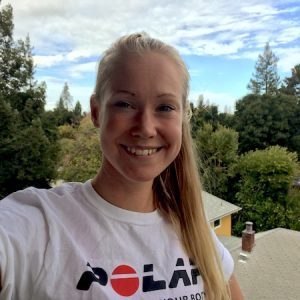 In the spotlight
Emilia Lahti
Polar ambassador Emilia Lahti is a researcher and RRCA certified long-distance running coach whose life mission is to be a catalyst for human connection, compassion and nonviolence. In her current PhD, Emilia is exploring the Finnish construct of sisu, which means endurance in the face of extreme adversity. Find out more about Emilia and her campaign called Sisu not Silence.
How I lost the spark for running – and got it back
December 20, 2016
Polar ambassador, running coach Emilia Lahti shares her tips for finding running motivation.
I recently heard a NAVY Seal say in an interview about mental toughness that "Failing to prepare is preparing to fail."
This post is to all of us who've been putting in the minutes and miles this year to build better versions of ourselves and transform barriers into frontiers. We're entering the season of festivities where even for the most determined athletes among us several potential hazards lurk. If you've managed to establish a solid workout routine earlier this year – perhaps you did your first 5K or even PR'd an Ironman – you're probably feeling like you're on top of the world.
Sometimes, however, a healthy break from training can turn into a longer period, which then impacts not only our fitness but motivation negatively.
This post will help you preempt the holiday hurdles, catch the procrastination monster and spring forward to a new year like a boss.
This post will help you preempt the holiday hurdles, catch the procrastination monster and spring forward to a new year like a boss. If you're one of those people who never experience any challenges with motivation, congrats you're probably an AI. The rest of us, keep on reading… and believing.
The request to write this post could have not caught me at a better time. Having shed my old skin of a semi-sedentary researcher and going from 'zero to hero' to run 2300km's across the length of New Zealand next year, I thought I had pretty much cracked the code for eternal #beastmode.
Well, I happened to forget the fifth rule of Fight Club, which is that when you go limp, the fight is over. Everything was fine until my first Half Ironman in September, after which I left for a month-long work trip and suffered random flues. In 6 weeks, I went from casual 25K runs before breakfast to dreading a simple 50-minute run.
The key to reaching your goals is not in never falling down but learning to get back up a little faster every time.
However, the key to reaching your goals is not in never falling down but learning to get back up a little faster every time.
Below are 5 principles that I learned the hard way this year. I hope they'll help you on the long road to greatness.
1. Find a friend to hold you accountable
Research shows that peer support is an effective strategy for forming new habits and sticking to old ones.
I originally started running again in 2015 after a 10-month break because I made a deal with a friend. I was analyzing my low mood and told her that for me, every day when I run is a good day. She told me to send her a photo next time I run and then keep it up.
I did this maybe 3 or 4 times and I found the spark again.  So, find a trusted companion for your journey. It'll offer an opportunity for someone to be there for you and you'll feel you're being cared for. If you can, run, bike and do your workouts together!
2. Honor your current self
Do not, I repeat, DO NOT compare yourself to who you were before a fitness break.
According to one study, we lose pretty much all VO2 max achieved in the previous 2 months during four weeks of inactivity. Loss of strength isn't as dramatic but you experience a pretty noticeable change after 2 weeks of inactivity.
Upon sharing with my coach Frank Campo that I had not been training as usual, he immediately told me to recalibrate my approach. He advised me to not time myself or focus on pace, but (in my case) work to spark the joy of running again. I began working out with only HR visible on my Polar V800.
Polar V800
Polar V800 is an advanced multisports GPS watch for serious sports enthusiasts and professional athletes who want to reach peak performance.
Starting from $469.90 / 449,95 €
This simple act allowed me to tune in with my body and heart, and tune out from the negative inner voice that reminded me of everything that wasn't working. I was able to love and honor my body for what she was capable of doing with the current aerobic fitness level and ultimately, find my way back to joy.
3. Celebrate small wins and remember that you've done this before
I cannot highlight this enough: Celebrate everything until further notice! Went for your first walk or run in two weeks? Did the first intimidating visit to the gym? Give yourself serious credit.
The energy of getting started is one of the most precious things in in a human life. Someone once asked me what's the hardest thing about training for an ultra marathon. I answered that, occasionally, it's simply the journey from my writing desk to the front door.
The energy of getting started is one of the most precious things in in a human life.
However, we've all done this before in one form another and have a pretty good track record in overcoming life's hurdles, right? Write down examples of when you have exceeded yourself and embrace the fact that you have what it takes. Trust the process. You will get where you need to go.
4. Use the SNAP principle to form a good habit
We intuitively know what is good for us; it's just a question of sticking to it. What we need is enthusiasm and this SNAP principle adopted from the father of American psychology William James.
Start strong: Make the decision, stick it on your mirror, put a note in your car, on your phone, your computer, tell your friends!
No exceptions: Seize every possible opportunity to reinforce the new habit. On a diet? Don't buy ice cream in the house. Need to get back into running? Get someone to hold you accountable or get a coach.
Always act: No deviations from you resolution before the habit is securely established. Keep at it no matter what.
Practice daily: Repeat. Be consistent. This is how you ingrain your habits. Make an effort to do something (even small) every day for a week.
5. Embrace your inner superpower of 'sisu'
When I'm not running, I research how humans overcome challenges and even trauma. Over the last years, I've had the honor of interviewing people who've overcome some pretty extraordinary obstacles and have managed to exceed their limits in sports and life. We all have a different path in life and our hurdles vary.
However, if there is one thing that unites people across cultures and backgrounds, it is that there is so much more strength in us than meets the eye. In the Finnish language, we have an age-old word called 'sisu', that denotes endurance in the face of adversity and the universal capacity of people to take action against slim odds.
When you feel that you're done, remember that there is a second wind in you. You will find it through movement and reaching one micro-action at a time toward your future self.