With the last part of our trilogy on triathlete Javier Gómez Noya, we have almost reached the finish line. Writer Antonio del Pino walks us through the last grueling meters, the feelings and the pain and what it takes to compete like a champion.
WHAT IT TAKES TO BE A PRO
The news was devastating for all the fans: you broke your arm a few days before the Olympic Games. No one can imagine what that must have been like for you. It's obvious that you've recovered physically as you won the first test of the World Series you competed in, but have you recovered psychologically?
To be honest, at the time I thought it was going to be harder on me, and that I was going to be carrying it around with me for a long time. However, after the first few days, when I started to calm down, I realized that I'd been lucky in the past, like the year when [Jan] Frodeno collapsed in the last test. It was tough. I'd worked really hard and had every chance to succeed at the Games, but it happened and I'm still excited about all types of new challenges.
Do you remember when you said "I'm going to be a professional triathlete", or is it more of a process than a single moment in time? What must a triathlete know in order to make a living from this sport?
It's very difficult. Fully committing yourself when you have the rest of your life ahead of you is complicated, because the decisions you make when you're a kid will affect some of the things that you can do in the future. I think that in this sense, you have to prove it in the races.
I think the best thing to do is combine academic and professional training, whilst dealing with the sacrifices that competing at a high level involves.
I don't think that giving everything up is necessarily the key with a minority sport such as triathlon. It is becoming more popular, but is still difficult to make a living from it. I think the best thing to do is combine academic and professional training, whilst dealing with the sacrifices that competing at a high level involves. If you can win like that and you are at a level to compete against the best, maybe that is the time to make the decision that will help you move from being at the head of the race to being the winner.
Nonetheless it's good to remember that being a professional is much more than having all day to train, because you have to pay for a lot of things and a lot of people.
PUSHING THE LIMITS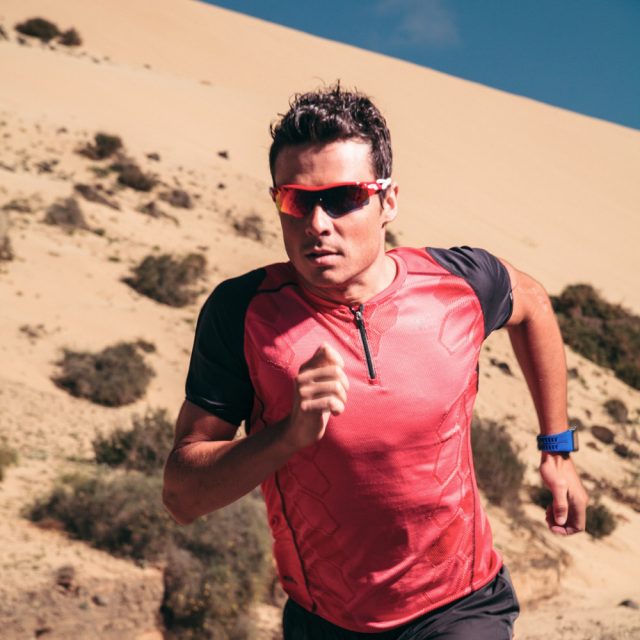 Even if it was only 10 seconds, does your body stop hurting when you realize that you are going to win the World Championship, beating your rival in a sprint on his territory?
That's a magical moment, and even though it seems impossible because it feels as though your body is going to explode, it's true that on those final meters, when you realize that you've done it, you only feel happiness and nothing hurts. You're going at your fastest pace, exhausted, and then you see that you have to sprint when everything inside you is telling you to stop. You've practiced for this in many training sessions, but it's never as hard as when you're in a race where someone else is setting the pace.
It's another thing later, but in those moments when you see agony turning into victory, the pain disappears.
Competing face to face, who has been or who is the triathlete you have the most respect for? Why?
Alistair [Brownlee] is the best. He's very aggressive and can take you on anytime. He's the triathlete that demands the most, not just in a physical aspect, but also psychologically, because he makes you focus on every single meter. If you give him the opportunity, he will find a crack where he will make you fail.
Years ago it was unthinkable, but a few months ago there was an attempt to do a marathon in under two hours, and Eliud Kipchoge was just a few seconds from doing it. Do you think that the legend of a 7 hour Ironman is something that will be possible in the future with the fastest triathletes of all time competing in this distance?
There are a lot of minutes to knock off for that and there are some very fast long distance runners. I think it's impossible in the short term. We'll see in the future with better bikes, advances in nutrition and training systems that enable athletes to go a step further, but I honestly don't think we'll be seeing it in my generation.
Who has meant the most and given the most to your athletic career to make Javier Gómez Noya the best triathlete of all times?
Ok. When I'm asked a question like this, the first image that comes to my mind is my parents, who I owe everything to. There's also José Río Seco, who changed my life, Nicolás Bayón, who gave it back to me, and my coach Carlos David Prieto, who I live with and share all my dreams with. There are a lot more people in my life who I love and who I'm eternally grateful to, and they all know who they are.
If you liked this post, don't forget to share so that others can find it, too.
Or give it a thumbs up!
I like this article
Please note that the information provided in the Polar Blog articles cannot replace individual advice from health professionals. Please consult your physician before starting a new fitness program.