As 2022 draws to an end, how has this year been for you? Which goals have you powered towards, and which ones have eluded you? Are there achievements that felt unreachable when the year began but now are firmly in your grasp?
In this strange year, as life slowly began to feel (somewhat) normal again, how well did you sleep? Was it consistent, or did you struggle with rest and recovery for some weeks (or months)?
How about your fitness? Perhaps you found a new passion for running? Or has strength training become the reason you wake up excited to start the day? How far did your cycling take you this year?
2022: Reflected is a unique insight into the year that was. This recap uses anonymized Polar Flow data to reveal how the Polar community slept and exercised throughout 2022.
Take a look at your stats in your Polar Flow account (be they weekly, monthly, or yearly) to see how you compared to others in your age group and country. It's an excellent opportunity to look back on your year, see how it shaped up, and think about your goals for 2023.
2022: Your Favorite Sports
This year, running zoomed ahead of all other sports to be the favorite. Making up a whopping 19.37% of all workouts tracked on Polar, it was by far the most popular sport. We recognized how important running is for our community and introduced Polar Pacer and Polar Pacer Pro. Equipped with accurate GPS and precise heart rate tracking, among a host of other tools to enable you to train, sleep and recover better, these are sports watches for the modern runner.
Walking continued to be popular, especially for those over 50 who, on average, walked at least three miles daily. In 2022, we introduced the Walking Test on all our new design watches. Fifteen minutes of brisk walking is all that's required to measure your aerobic fitness with this straightforward new feature. Try it regularly to track your progress long-term.
Strength training bounced back in popularity this year, with those in their twenties and sixties clocking the most minutes in the weight room. As gyms reopened after Covid restrictions were lifted, it's not surprising that there was a resurge with these workouts. It also reflects how the conversation around strength training has evolved over the past decade and has become especially important for seniors.
No matter what your favorite sport was in 2022, next year is the perfect time to try a new one. We recently introduced eighteen new sports profiles to Polar Flow, including kettlebells to stand-up paddleboarding, which means there are now over 150 different sports for you to track on your sports watch.
How you exercised
On average, the Polar community did nearly five and a half hours of exercise every week in 2022. Go team! That is more than double the US Department of Health and Human Services recommendation, which advises adults to do at least two and a half hours of moderate-intensity exercise every week.
Across the whole year, 280 hours of exercise was the average total. This calculates to roughly eleven and a half days spent working out or enjoying your favorite sport. 
Japan (381 minutes of exercise per week), Austria (359), and Finland (346) were among the most physically active countries in 2022, exercising more than average each week.
Runners and adventurers of the world unite
If you're from Germany, chances are you enjoy a long run. Those from Deutschland racked up an impressive average of 4.97 miles per run in 2022, with Japanese folks coming in second with 4.78. Spain narrowly beat Australia into third place with 4.66 and 4.59 miles, respectively.
Those in their fifties were powering through the longest runs, doing just over 5 miles on average with each session. Surprisingly, those in their twenties did the shortest runs, averaging 4.28 miles.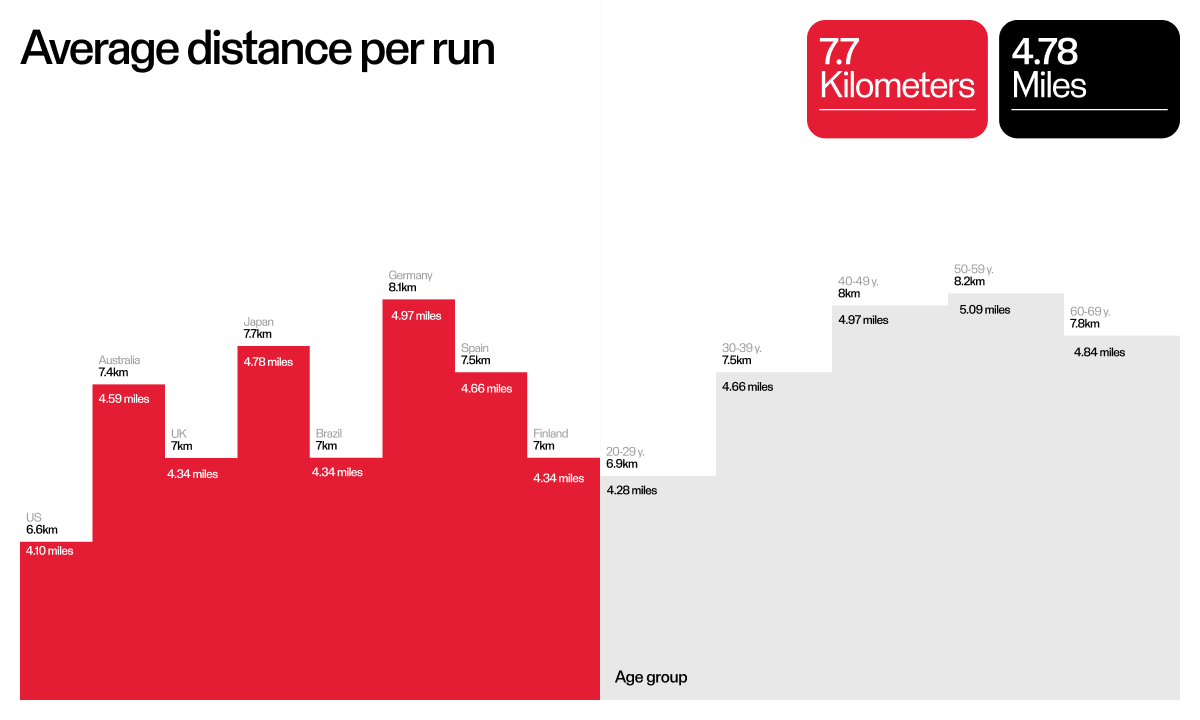 Younger folks weren't scared to tackle some big hills, though, with people in their twenties gaining an average of 425.3 meters on their hikes. This sense of elevation and adventure is precisely what Polar Grit X Pro is all about. With ultra-long battery life and a host of navigation tools, this sports watch was made for the great outdoors.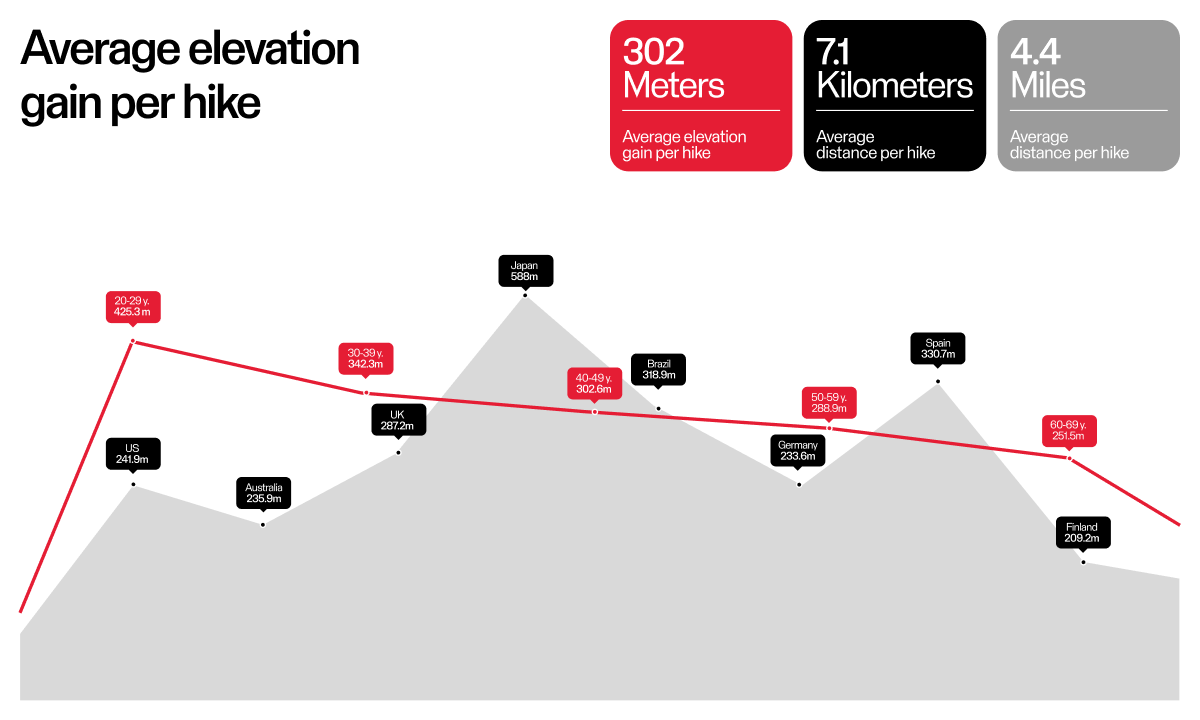 Your most surprising insights
What happened on 10 May 2022? Great weather? Positive outlook? A sense that summer was right around the corner? Who knows, but it was by far the most active day for the Polar community in the year.
Two countries often made the top of each list, with people in Japan and Spain getting into sports such as swimming and walking. People in Spain were also very into cycling, clocking in an impressive 20 miles per ride.
2022: It's time to sleep
You flexed your sleeping muscles this year, showing how vital your rest and recovery are. It's practically another form of working out, and with some planning, it's possible to develop your dream sleep schedule (i.e., a regular one). After all, sleep matters.
This year the Polar community had an average sleep score of 73 (out of 100). These were some outstanding snoozing results, as a score above 70 indicates a good night's sleep. But how do we calculate this? Your sleep duration, continuity (including any interruptions), and the restorative sleep stages all factor into this score because quality is as important as sleep quantity.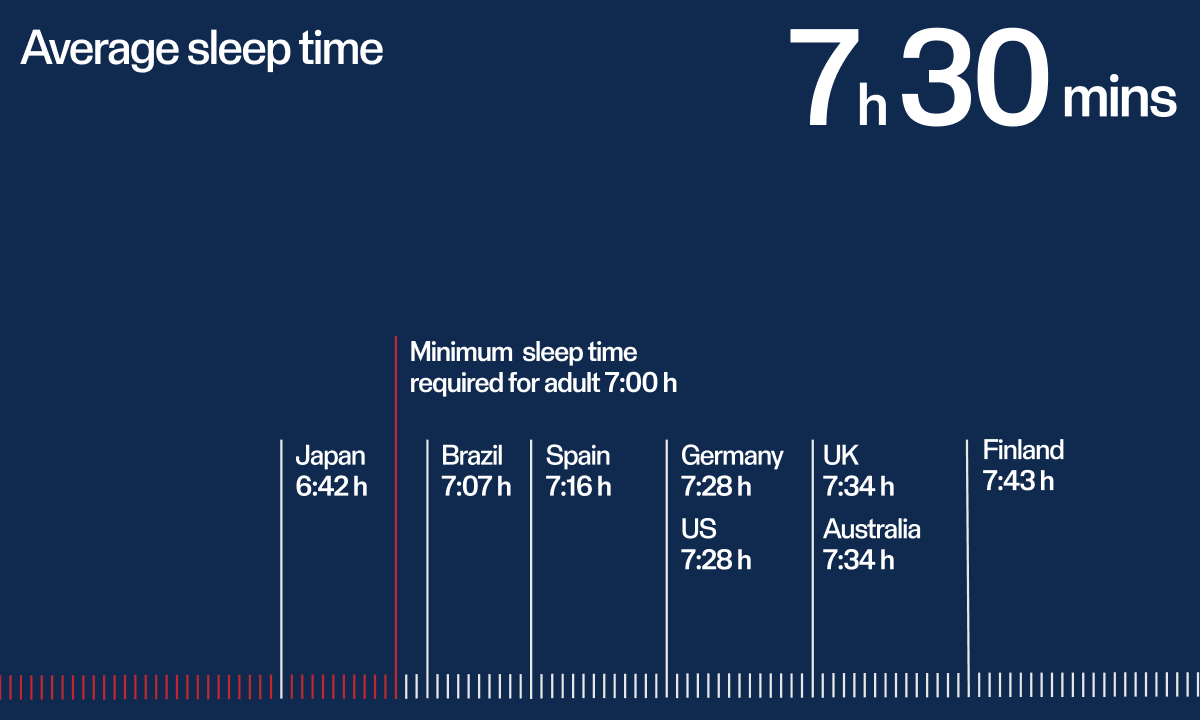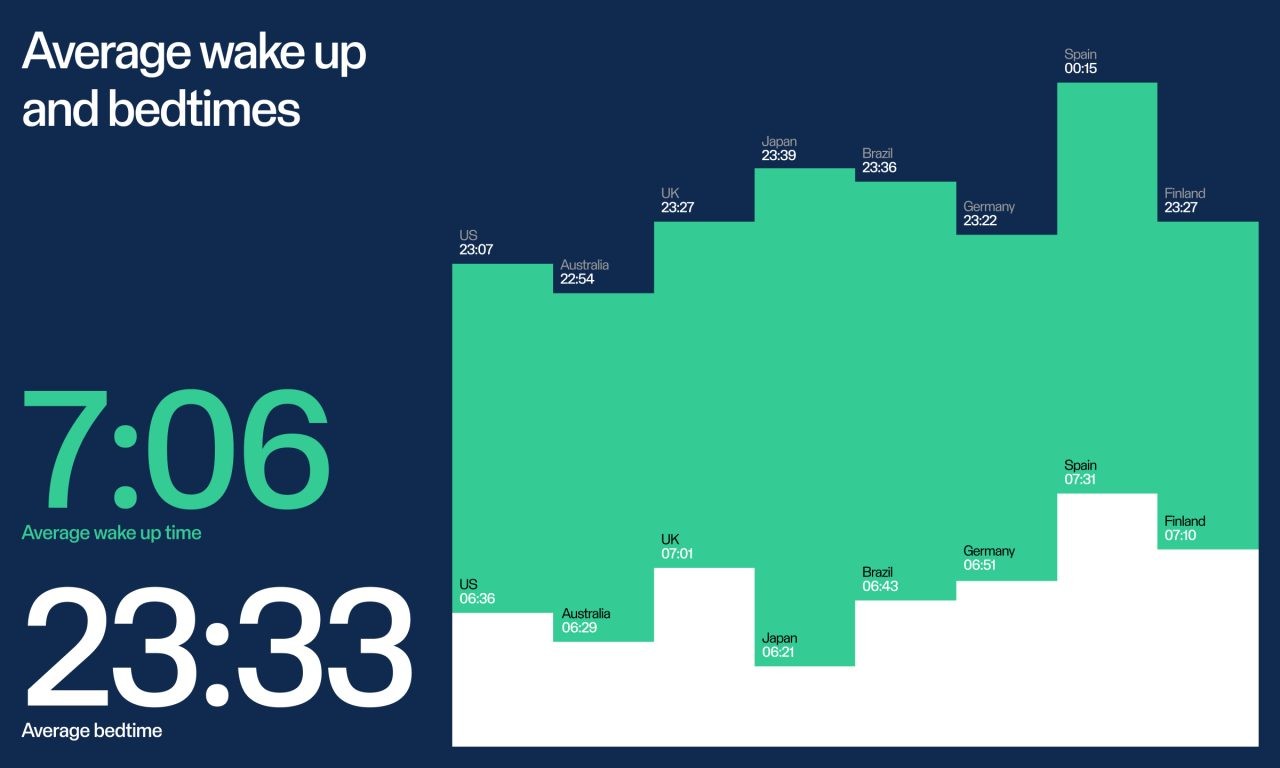 To guide you towards better dreams, we also upped our sleeping game in 2022 by including SleepWise™ in the new Polar Ignite 3 watches and, soon, in all devices that support Sleep Plus Stages™. Think of it like a weather forecast, but for your alertness. You'll have the essential insights into your sleep-wake cycle to create the regular sleep schedule you've been dreaming about.
Thank you for 2022
What's one thing that surprised you about your data this year? It may be that you run further than most people in your country. Or you often went to bed later than most people in Spain (who, on average, tend to fall asleep after midnight). Either way, take these insights into the new year and let your data provide some extra inspiration for 2023.
Just remember: see your new year as a marathon rather than a sprint. Don't try to do too much too soon, as you won't be able to sustain that (and will probably give up). Instead, think steady and consistent, and you'll be off to a great start.
If you liked this post, don't forget to share so that others can find it, too.
Or give it a thumbs up!
I like this article
Please note that the information provided in the Polar Blog articles cannot replace individual advice from health professionals. Please consult your physician before starting a new fitness program.