Impossible goals don't exist. You have the potential to achieve any goal you set. All you need to do is put it in the work. Set goals, work towards them, surpassing them. Set the next ones. This is what acting as an athlete means.
Athletic progress requires the development of physical and mental strength to become faster, strong, fitter—to achieve your goals. It's about pushing your limits, but not to an extent that it's abusive. Athletic progress is about listening to your body: adjusting your training in response to your body's feedback for sustainable progress and fostering a strong mind-body connection to deepen your understanding of your physical capabilities.
Inspired by everyone who feels and acts as an athlete, Polar Vantage V3 takes sports performance to the next level with the raw power of a new-generation sensor fusion platform, Polar Elixir™, and a stunning design inspired by our Nordic heritage. It's capable of measuring more biomarkers than ever before it and features a gorgeous AMOLED screen. And of course, it comes with all the training, recovery, and sleep functions Polar users have come to love—more precise and accurate than ever.
This is Polar Vantage V3 – Act as an Athlete.
The Source of Power: Polar Elixir™
Sports scientists, physiologists, and researchers have spent most of the last century on an epic quest to understand the mysteries of human performance. In doing so, they've come up with mechanisms to quantify a spectrum of bodily functions, such as cardiovascular activity, autonomic nervous system, and skin temperature. These measurements help us understand what happens in our body when we exercise, rest, sleep, and in everything we do. Today, some of those functions, or biomarkers, can be detected by tiny sensors that we can comfortably wear day and night.
Understanding the human body in sports and in life—this is the idea that drives Polar Vantage V3 and its new core engine: our newest generation of biosensing technologies. We call it Polar Elixir™, an innovative fusion of sensors that detects those imperceptible biological phenomena that continuously happen in our bodies, from heartbeats to small temperature variations and the oxygen traveling through our bloodstream.
Polar Elixir™ measures more information from the human body than ever before and translates it into digital data and insights. The innovative sensor fusion technology enables state-of-the-art, science-backed algorithms that yield the most advanced and precise understanding of the body, providing unique and individual guidance in sports and in life.
The result is a smart sports watch that gives elite and everyday athletes the tools to understand their bodies, how they respond to exercise and how they recover. We believe that once you understand how your body works with precision, you can fine-tune your training, ensuring every session counts and is productive.
Polar Vantage V3, powered by Polar Elixir™ biosensing technologies, measures four crucial indicators:
Such a level of insight brings the concept of having a laboratory on your wrist closer to reality. Even though, these measurements shouldn't be used for medical purposes, they provide additional data points for planning your training and recovery, ensuring you always train at the right intensity—neither too intense nor too light.
When it comes to sports performance, measuring blood oxygen levels is particularly crucial if you are training at altitude. Additionally, ECG readings enable Orthostatic Test without the need of a separate heart rate chest strap. This is a phenomenal tool for monitoring the balance between training and recovery by assessing strain and other factors such as mental stress, sleep, environmental changes, and latent illness.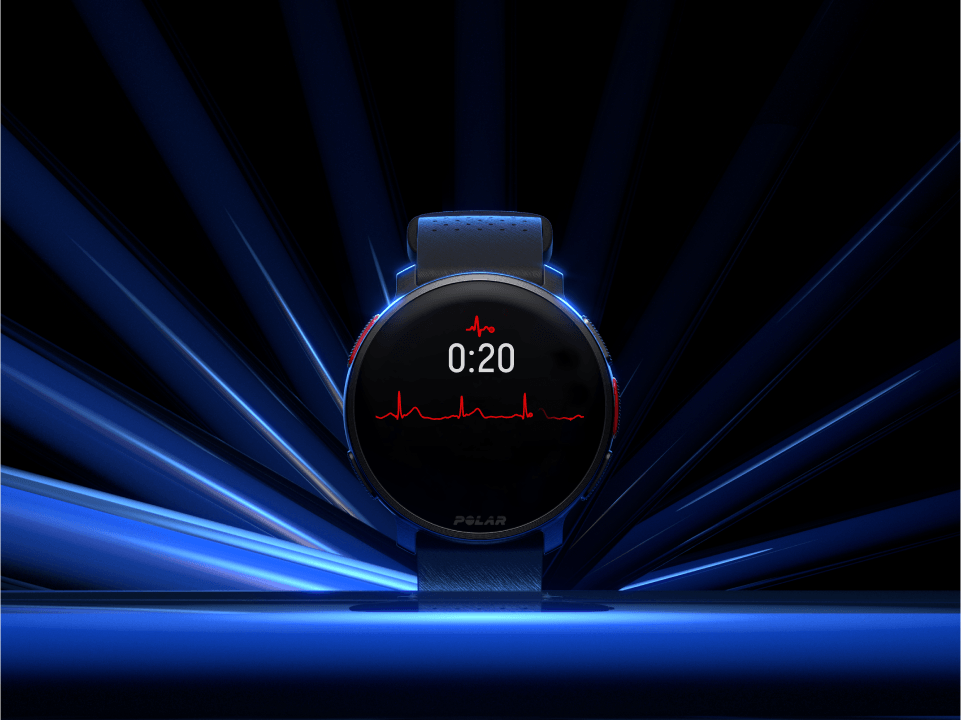 Brighter, mightier, faster
With Polar Elixir™, what's inside Polar Vantage V3 has radically changed. That's not all. Polar Vantage V3 has also remarkable design changes.
Polar Vantage V3 retains our design principles, presenting a beautifully balanced combination of lightness, style, and functionality. But it also receives a major design change that integrates cutting-edge display technology and contemporary aesthetics.
By using a high-resolution AMOLED touchscreen, we brought the display closer to the edges, making more room for content. As it turns out, Polar Vantage V3 has a 35% more viewable area compared to its predecessor.
When you're in the zone, you want to view your stats quickly, without distractions or the need to squint your eyes. That's why our users have always demanded brighter and brighter screens. Responding to their request, Polar Vantage V3 is equipped with a new display that is incredibly sharp and bright—just like your smartphone. Whether you're running in the summer sun or in dark environments, you'll be able to see all your stats with clarity in an instant.
Strong, durable Gorilla Glass 3 lens protects the display, and a polished aluminum bezel adds an elegant touch that give the watch a premium look and feel. A set of rugged, glove-friendly buttons make it easy and practical to use during high-intensity workouts, swimming, and endurance sports, offering instant access to the most important functions.
Need a different look? For the first time in the Vantage V series, the new Polar Vantage V3 is fully compatible with standard 22mm wristbands, meaning no adapters needed.
Longer battery life
Even with a brighter display and faster processing power, Vantage V3 delivers battery life that lasts for days, eliminating the need to worry about charging each night. A bigger battery paired with more energy-efficient tech allow up to 53 hours of training time on a single charge (or up to 140 hours in power-saving mode), or up to 8 full days of display time.
Introducing Maps
Wherever you train, you can now leave your phone behind and still know exactly where you are and where you are going by using your watch.
Polar Vantage V3 now features offline maps that you can upload to your watch for your adventures away from home. Plus, dual-frequency GPS provides more precise location tracking with less interference from tall buildings and bad weather.
By default, every new Polar Vantage V3 comes with pre-loaded maps for Europe and North America. Maps for other countries and regions can easily be downloaded for free from the Polar Flow app.
Other navigation features include:
Turn-by-Turn guidance powered by komoot. Sync routes to your watch for real-time route guidance as you.
Route & Elevation Profiles and Hill Splitter™. See a clear picture of the terrain you're training on with every ascent and descent of your route displayed.
Track Back. Get directions to your starting point.
Altimeter, Compass, and Coordinates information.
Polar Vantage V3: Everything you need for everything you do
Life as an athlete is marked by discipline, dedication, and a relentless pursuit of physical excellence. No matter how big or small your goal may be, you must show up.
When you're putting in hours day in and day out, you want to perform to the best of your ability without distractions or guesswork. With over 150 built-in sports, you can choose your favorite disciple and get the tools to track it. Polar Vantage V3 is packed with all the Smart Coaching features our users have come to love.
Following your progress is easy, too. You can find out your starting point and evaluate your body responds to training with a suite of fitness assessments tools, like Walking, Running and Cycling Performance tests. These tools make it easy to estimate your VO2max and personalize your heart rate zones—the key to training at right intensity, without doing too much or too little.
Discover all the Polar Vantage V3 training features.
Sleep tracking and recovery
You've heard it before: rest IS training. Polar Vantage V3 comes with the most comprehensive suite of sleep tracking and pro-level recovery tools on the market, so you can monitor the real status of your body and adjust your training sessions accordingly.
Wrist-ECG on Polar Vantage V3 enables Orthostatic Test and Recovery Pro without the need a heart rate chest strap. These two features analyze how you recover from intensive, frequent exercise, allowing you to optimize your training to your body's condition.
At night, Sleep Plus Stages™ automatically tracks the quality and duration of your sleep and estimates how long you spent in each sleep stage. When you wake up, your sleep score tells you how well you slept compared to common indicators of a good night's sleep based on the sleep science.
Based on this data plus the data recorded from autonomic nervous system (ANS) overnight, Nightly Recharge ™ gives you a simple score that shows you how well your body recovered during sleep. Additionally, SleepWise™ visualizes the impact of your sleep on your alertness levels and preparedness for the day ahead.
Polar Vantage V3: Act As An Athlete
That's the new Polar Vantage V3, our most advanced sports watch to date, an indispensable tool that will help you harness your talent and determination, and ultimately, perform at your best.
Explore Polar Vantage V3 on polar.com.
It is available for pre-order today in three color variants: Night Black, Sky Blue, and Sunrise Apricot.
If you liked this post, don't forget to share so that others can find it, too.
Or give it a thumbs up!
I like this article
Please note that the information provided in the Polar Blog articles cannot replace individual advice from health professionals. Please consult your physician before starting a new fitness program.