Meet Polar Ignite 3 – stylish fitness and wellness watch with an all-new curved hi-res AMOLED touchscreen, and fully automated holistic sleep and daily activity tracking. Wearing Polar Ignite 3 provides you with personalized guidance tailored to your body and lifestyle – so you can make the most of every day, and every night.
Our lives, and our bodies, are governed by a 24-hour natural cycle: the circadian rhythm-the body's internal clock influenced by light and darkness, by day and night. Everyone's rhythm is different, but we all get the same 24 hours to make the most of each day. Only when our lifestyles, including activity, fitness, and sleep-wake routines, are in harmony with our circadian rhythm, we can perform better physically and mentally, and generally live a more well-rounded life.
So, what's stopping you? It's time to start living your life in tune with your body's natural rhythm and live a more energized life. See how others do it:
Good morning, how did you sleep?
The soft morning light seeps through the window into the room. It's an early start for Bella. The haptic alarm on her Polar Ignite 3 vibrates on her wrist to gently wake her up. She opens her eyes, stretches her arms, and yawns. It's another big day.
How did you sleep? She raises her wrist and her Polar Ignite 3 comes to life. The display lights up and shows a half-filled blueish-green ring surrounding the words 'Nightly Recharge' – and under that it says 'OK'. The sleep charge score is 77, and the ANS charge (the number that tell you how well the autonomic nervous systems calmed down during sleep) is above usual, +1.6 – which is a big improvement compared to the last few nights.
"I actually do feel 'OK' today", Bella thinks.
Software developer, surfer, fitness enthusiast and amateur cook, Bella has a packed schedule. And the last few weeks have been particularly hectic. An important deadline and one too many social events derailed her routines, causing more than just a bad night's sleep. Her ANS charge score didn't lie: it's been below average on 5 consecutive nights this week. And that is her body's way of telling Bella that she is stressed.
Half-asleep, she checks her agenda for the day and smiles when she sees the planned training session right after work. "Finally! Back to the gym," she tells herself.
But first, coffee! While coffee's brewing, Bella opens the curtains and lets the morning light shine on her face. For a few minutes, she enjoys watching the sun slowly peek from the horizon, and immediately, she feels more alert, more energized, leaving the mental fog that comes with sleeping behind. These moments, the morning light, are a way to lock the body into its natural rhythm.
Now, she feels ready to take the day on.
Wake up to better days with Polar Ignite 3
Polar Ignite 3 packs a powerful suite of sleep and daytime alertness applications that automatically track the amount, quality, and different stages of sleep overnight to analyze the body's recovery from exercise, stress, and other demands – and with the new SleepWise™ feature, you'll get daytime alertness insights based on the optimal moments for focused activities, as well as suggestions for the best time for sleep.
SleepWise™: See the effect your sleep had on your day's energy and alertness levels.
Nightly Recharge™: You'll get a breakdown showing you how well your body recovered overnight.
Sleep Plus Stages™: Every stage of sleep you go through at night will be automatically tracked.
Haptic Alarm: Softly stirs you from your sleep without disturbing others.
Get out, get moving
The city is awake now and hundreds of people rush out of their homes to face the commute. Some wait for the bus, glancing at their phones. Others jump in their cars and drive their kids to school. Bella opts to walk.
It's a 27-minute stroll to her office, a chance to enjoy the city, boost her energy, and catch up with her favorite podcast. While she walks, her Polar Ignite 3 tracks the distance covered and logs a few thousand steps. Her heart rate goes up as she starts to walk faster with a short, quick steps. "I can't be late today," she remembers.
Today, SleepWise™ suggested that Bella will be most alert from 9 to 11am, so she dedicates this period for focused work time and blocks all meetings.
She's fully concentrated when her Polar Ignite 3 vibrates again. It's a gently reminder that it's time to move. She stretches her legs and walks to the kitchen to down a large glass of water. No more coffee today. She checks her activity target for the day: "I'm on track! Over 6 000 steps already. Nice!" she says.
Polar Ignite 3: Track all your activity
Made for active lifestyles, Polar Ignite 3 is so versatile that you'll want to wear it every hour of the day to track your activity, heart rate, calories, and more.
24/7 Activity Tracking: See the cumulative active time, steps, and distance each day.
Smart Calories: Check the total amount of calories you've burned so far.
Polar Precision Prime™ Sensor Fusion Technology: Advanced optical heart rate tracking technology.
Dual-Frequency GPS: Track every step with pinpoint accuracy and less interference from tall buildings and bad weather.
Customizable Widgets: Choose the information that appears on the screen and access instantly to the functions and information that matter the most.
It's time to WORK OUT
Between 3pm and 6pm, the world is bustling, full of life and energy. You, too. Your body's ability to perform peaks, potentially making this window of time the perfect moment of the day to get active, or train and work out.
Bella finishes work and stops at the gym on her way back home. The familiar sound of weights clanging against each other and hitting the floor remind her to put the work in. Today, the FitSpark™ tool on her Polar Ignite 3 suggested a supportive training session, consisting of a series of strength and mobility exercises – so that's what she does.
But first some cardio. She slides through the sports activities on her watch and chooses 'Elliptical' to start her training. She wants to get her heart pumping and feel the blood rushing through her body. Before she starts pedaling, she checks her heart rate: 85. "I'm ready – let's go!", she nearly says out loud.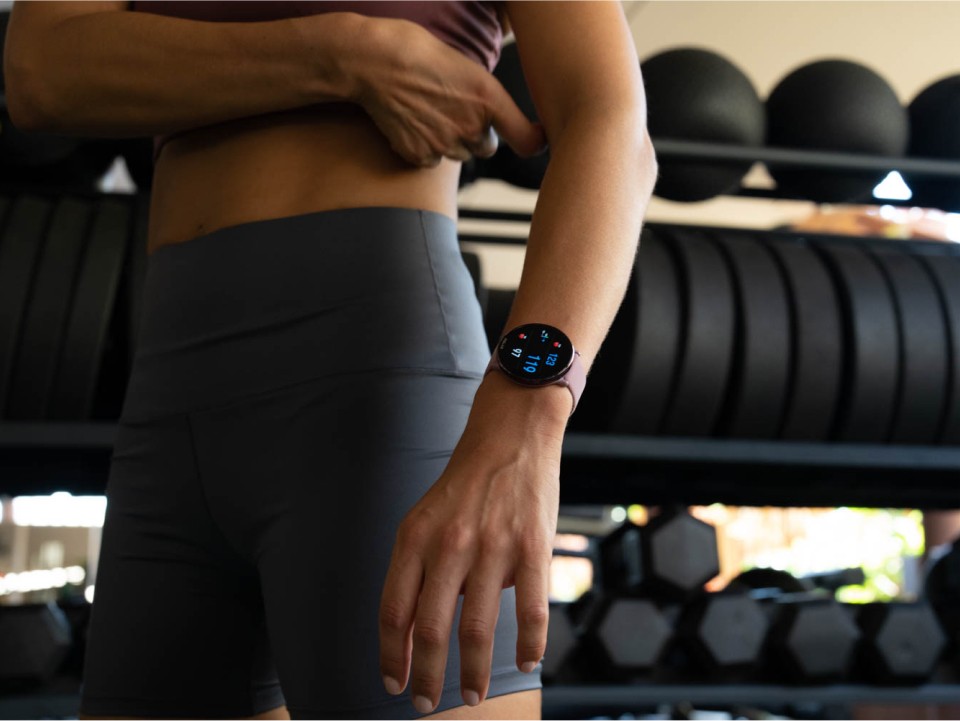 She works on the elliptical for 35 minutes, staying in heart rate zone 2 the entire time i. It's an easy, steady effort that will help build endurance.
But today's session just got started. "That was a good warm-up!" she said. Next, she'll do a circuit, repeating a series of time-based exercises.
Circuit training is one of her favorite activity. A full-body workout that builds muscle resistance and increases strength. With Voice Guidance giving her feedback through her earphones, the workout is better–and more fun–than ever.
"I practice, I work hard, and I get stronger every day. And as I do, I learn to trust my body more. Now I'm finding the rhythm."
The effort shows: she finishes gasping with her hands on her knees. She didn't expect today's workout to be quite so fun.
"I practice, I work hard, and I get stronger every day. And as I do, I learn to trust my body more. Now I'm finding the rhythm."
As she leaves the gym, her Polar Ignite 3 vibrates again: "You've reached your activity goal!"
Your fitness partner
Polar Ignite 3 is packed with fitness and training features Polar users have come to love – and then, some more.
Voice Guidance: Get in-training audio feedback through Polar Flow with your headphones or phone speaker.
FitSpark: Daily exercise suggestions chosen to suit your body's condition and readiness.
Energy Sources: See the percentage of fat, protein, and carbs you used.
Performance Tests: Pick the test that better adapts to your current condition and estimate your fitness level. Choose from Fitness, Walking or Running Performance test.
Over 150 Sports Profiles: You can select any sport or activity you like, when you like, and get the tools you need to track it.
Voice Guidance will be available later this month along with an update to the Polar Flow app.
Wind down
As the sky grows dark and the city streets grow quieter, Bella leaves the gym and head home. Is there a better moment to reflect on the day? Walking home, without the stress and the rush she had in the morning, is an opportunity to do just that.
After dinner, Bella starts to feel tired. Her body's saying she's done enough for the day.
At night, the world has a chance to slow down, and so has your body. It's an opportunity to switch off and wind-down, and get ready for a good night's sleep.
Bella dims the lights, curls up on the sofa, and reads a book. Flicking through the pages, her eyes start to feel heavy. She puts the book down and looks at her watch one last time. For a few minutes, Serene™ guides Bella through deep breathing exercises. This is a moment to relax, calm down, and prepare the body for a good night's sleep.
While Bella sleeps, her watch continues working–tracking every stage of sleep she goes through at night. Her body works, too, as it recovers and gets ready for another big day.
POLAR IGNITE 3: For a Variety of Styles
Polar Ignite 3 comes in four fresh color variants: Night Black, Purple Dusk, Greige Sand, and Brown Copper. Plus, you can customize the look of your Ignite 3 for any occasion with our new range of bands.
Explore Polar Ignite 3 on the Polar webstore and sign up for our newsletter to get exclusive updates.
If you liked this post, don't forget to share so that others can find it, too.
If you liked this post, don't forget to share so that others can find it, too.
Or give it a thumbs up!
I like this article
Please note that the information provided in the Polar Blog articles cannot replace individual advice from health professionals. Please consult your physician before starting a new fitness program.