We asked Polar Ambassador Lottie Saahko for her favorite healthy holiday snack. This is what she had to share.
Pre-holiday season is often associated with weight-gain because there are loads of unhealthy food options all around. You don't have to refrain from delicious holiday treats if you're smart about what you eat. Here's my recipe for a protein-packed gingerbread Christmas tree – no refined sugar included!
Raspberry chia jam
Chia seed jam is a healthy, low-sugar alternative to regular jam. You can whip this up in 5 minutes and enjoy healthy and tasty homemade jam.
Ingredients
1 cup raspberry (if frozen, defrost first)
2 tablespoons chia seeds
2 tablespoons warm water
1 tablespoon honey
1/2 teaspoon vanilla (optional)
Directions
Mix all the ingredients together with a spoon or a fork, then let the chia seeds soak for about 10 minutes before serving.
Gingerbread protein pancakes
These pancakes are extremely high in protein, low in fat and can be made gluten-free, but taste like your favorite holiday treats!
Ingredients
1 egg
1 cup (100ml) instant oats
2 cups flour of choice (I used spelt flour)
2 tablespoons natural or vanilla protein powder
1 cup water
1 tablespoon baking powder
cinnamon, cloves, nutmeg
sweetener of choice (I used stevia drops)
oil for frying
Directions
Whip the egg and then add the other ingredients.
Mix well until your batter gets a porridge-like texture. If not, add water or oats.
Add sweetener and spices.
Heat the pan (full heat in the beginning, later about 2/3). Use a non-sticking pan for less fat.
Spread the batter slowly onto the pan – about 2 tablespoons of batter make one little pancake.
Turn the pancakes around when bubbles start to build.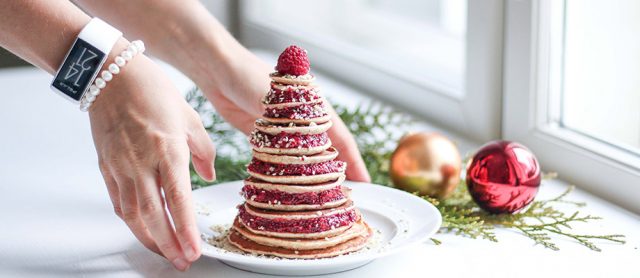 Serve with the raspberry chia jam, hemp seeds (for extra plant protein!) or any of your favourite toppings.
Happy Holidays!
If you liked this post, don't forget to share so that others can find it, too.
Or give it a thumbs up!
I like this article
Please note that the information provided in the Polar Blog articles cannot replace individual advice from health professionals. Please consult your physician before starting a new fitness program.