Lunch is when you fill up the tank for the evening run. We asked triathlete and Master of Human Nutrition Kaisa Lehtonen for her recipes for success. This is what she had to say about the runner's lunch.
Lunch should give you fuel for the afternoon hours. Balancing the rise of blood sugar is especially important as a too heavy meal may make you snooze at noon. Usually the best option is to keep the lunch quite light and then have a small snack later in the afternoon an hour or two before the running exercise.
As all the meals, a runner's lunch should include carbohydrates, good quality protein and fats as well as plenty of micronutrients.
Easy lunchtime soup
A good option for a lunch is a vegetable based soup as the vegetables are more easily handled this way than as raw before the evening run. In addition, many nutrients, for example the lycopene of tomatoes, are even more easily absorbed from a cooked vegetable than a raw one.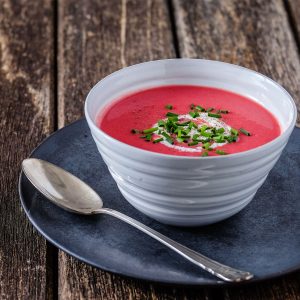 A few slices of bread is an easy way to have more carbohydrates. For example, oat based bread is a great option as the dietary fiber in oat, B-glucan, is gentle to the stomach and helps to stabilize the blood sugar. To complement the meal, you could have, for example, low fat cheese to keep up the amino acid pool in your blood stream.
Performance-boosting beetroot coconut soup
(4 portions)
Ingredients
500 g beetroots
Beetroot juice before exercising has been shown to boost endurance performance most likely due to its high nitrate content.
3–5 dl of vegetable stock (or just water with seasonings to your taste)
2–4 dl coconut milk
Coconut fat contains medium chain triglycerides, which may work as a good source of energy during endurance exercising.
1 onion
Olive oil for frying
Salt and black pepper to taste
Peel and cut the beetroots and boil in the vegetable stock for 15–20 minutes until the beets are fork-tender. Peel, slice and fry the onion and add to the beet soup. Add the coconut milk. Puree with the blender. Season with salt and black pepper.
Enjoy the soup with low fat cottage cheese, feta or mozzarella and a few slices of bread.
If you liked this post, don't forget to share so that others can find it, too.
Or give it a thumbs up!
I like this article
Please note that the information provided in the Polar Blog articles cannot replace individual advice from health professionals. Please consult your physician before starting a new fitness program.