A runner's day includes three bigger well-balanced meals and a few snacks all timed to the training schedule. We asked triathlete and Master of Human Nutrition Kaisa Lehtonen for her recipes for success. This is what she had to say about the runner's breakfast.
The runner's breakfast should include a good amount of carbohydrates to give energy for the day, to raise the blood sugar and to fill up the liver glycogen stores after an overnight fast. It should also include some quality protein for the muscles and some good fats to boost satiety.
Breakfast before or after running? Or both?
If you are running in the morning, it's a good option to split the breakfast in two. Before your run, eat something that your stomach can handle. After the workout, have the more fulfilling foods like fiber rich grains and vegetables.
Sometimes it's also good to do an endurance run with just water (and coffee) and eat breakfast afterwards, as some studies show that exercising in a fasted state may give you a bigger training effect.
Best breakfast for runners
A smoothie is a great breakfast for runners. It's easily enjoyed even right before a run. After exercising it's good to have some porridge or wholegrain bread with an egg and fresh veggies as it keeps you well satisfied until lunch.
You can also have a caffeinated drink, like coffee or green tea, to wake you up. It's been shown that caffeine boosts athletic performance.
Super smoothie for endurance athletes
You can use your preferred berries and juices for this super smoothie. Those we suggest are some of the best and most studied superfoods for endurance athletes.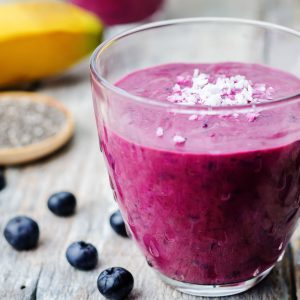 The preparation is easy. Just mix all the ingredients together – either in the morning or the night before if you want to be especially efficient in the morning.
Ingredients
1.5 dl plain quark (or yoghurt)
0.5–1 dl berries. You can use fresh, frozen or dried powder (for dried powder 1 tbl = 1 dl).
Blueberries are gentle on the stomach and they help to balance the blood sugar.
1–2 dl juice, fresh fruit or plain water.
Tart cherry juice contains various nutrients that have anti-inflammatory effects.
Some honey to taste.
Honey doesn't lift the blood sugar too fast and it has antimicrobial properties.
0.5–1 tbl nuts or seeds.
Chia seeds include lots of omega-3 fatty acids and are great to make you feel full. If you are going for a run just after having this smoothie you may want to skip the seeds.
If you liked this post, don't forget to share so that others can find it, too.
Or give it a thumbs up!
I like this article
Please note that the information provided in the Polar Blog articles cannot replace individual advice from health professionals. Please consult your physician before starting a new fitness program.