For the long night | Winter solstice motivation playlist
December 21, 2016
In case your sick of holiday tunes, we put together a playlist full of motivating songs for the shortest day of the year – winter solstice. Winter solstice marks the moment when the day is shortest and the night longest. We also asked some of our #PolarProud people to share their favorite songs and the reasons why.
What is your favorite song that gives you motivation?
What is it about the song that motivates you?
Comeback – Redlight King
"Whether I'm having a rough race or have fallen behind in diet/exercise, this song pumps me up to make a comeback and finish strong," says John Hudson. Read John's inspirational story of weight-loss.
Rise Up – Andra Day
"What's great about this song is that I can feel bursts of energy throughout the song and also moments of recovery," says Katie Bolden. "It's an emotional song and makes me think about my dreams and everything I am working towards." Read about Katie's journey in the Polar Blog.
Fight Song – Rachel Platten
"Even when you're super tired/burnt out, it keeps you moving forward and pushing your limits! (I also totally listen to this at work when it's been a rough day)." Thanks Cheryl Hori for sharing your favorite motivation song.
Stronger – Kelly Clarkson
"The words that she sings are empowering. What does not kill you makes you stronger, fight a little harder… hearing that at mile 18 of a marathon gives you a mental boost as if she's telling me "don't give up, you've got this!" says Angela.
Eye on it – Toby Mac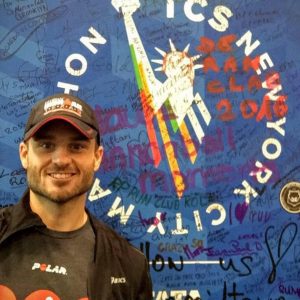 "Great beat with lyrics that inspire workout and faith," says Matthew Vance.
Do you want more motivation for those times when running sucks or you need a overall boost? Check out all the articles about motivation.