Photo credits: James Mitchell
Training for triathlon requires commitment and focus so a training camp can provide a much-needed break from daily routines and other distractions. We caught up with BMC-Vifit pro triathlete Emma Pallant to talk about how she has kicked off training for the new triathlon season at a training camp, while learning to use all the training data her Polar Vantage V provides.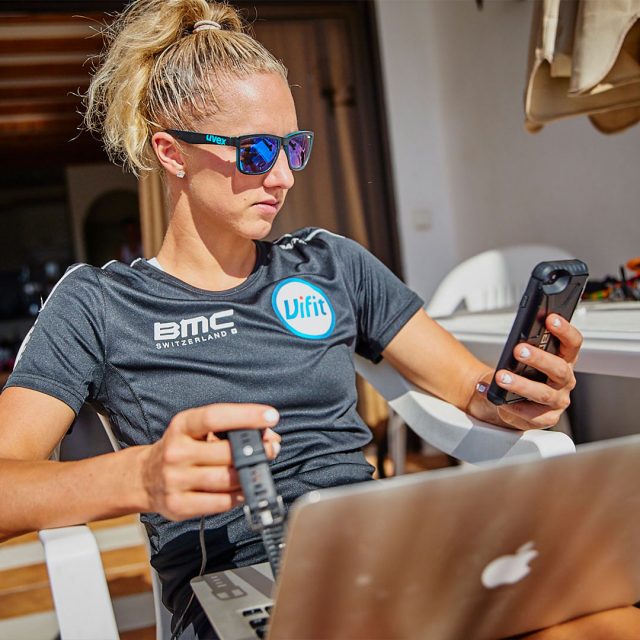 How have you kicked off training for your triathlon season?
My first race of the season was on January 27th in South Africa 70.3 where I finished 2nd. To prepare for the race, I did a pretty good training block out in South Africa in December, followed by a training camp on Mallorca in January.
In South Africa, we did a lot of my base, a lot of long hours in the heat. Then, in January at the training camp, I used those two weeks to do more of intensity. I spent a little bit less time training, but I did more reps and brought the intensity up to go from the base training to sharpening up.
When training for triathlon, should you do long hours or more intensity?
I like the variety of both types of training but they affect my body and mind differently.
The long hours are more mentally fatiguing, whereas in the short sessions you feel the physical load in your body when you get that adrenaline high and your muscles feel tight.
Then again, with intense training, you have more time in between the sessions to recover: to stretch or to have a massage. So, I almost feel like the really hard sessions have less impact on my body and training load.
I've noticed that I often sleep better when I'm doing the long hours. If I'm training out all day with a low heart rate, I don't have as much time for stretching but I'm sleeping longer hours. During the intense stuff I maybe have a 20-minute power nap during the day and then I don't sleep as long during the night.
What is your typical triathlon training week like?
At the training camp, my week looked like this:
Monday: Key swim, 4-hour bike ride into 1-hour run
Tuesday: Hard hill reps into a time trial on bike, 30-minute build run-off, steady strength swim (more arm swimming)
Wednesday: Same as Monday
Thursday: Steady swim, hard treadmill session (10 km of reps), steady 2-hour recovery ride on bike
Friday (easy day): Morning yoga with easy treadmill warm-up, easy swim
Saturday: Turbo session on bike into a 2-hour run
Sunday: Strength swim 3K, 6-hour bike ride, 30-minute run
How did you ensure proper recovery during the training camp?
After key training sessions and hard sessions, I had a Vifit protein shake within twenty minutes. In general, I just tried to stay on top of my hydration by drinking a lot in between sessions.
I made sure I fitted in one stretching session every day and slept really well. I also had a massage every week and fueled well to keep my metabolism high.
What's the key benefit of triathlon training camps?
When you're training for triathlon at a camp, you don't have the same commitments than at home so it feels less busy. At home, you have people to see and routines to maintain, whereas at a camp, you're shaking up your routines a bit and you have everything at your doorstep. You can literally walk 2 minutes to the gym and 30 meters to the pool and skip all the commuting and spend that time training.
Basically, training at a camp simplifies everything: all you have to think about is training for triathlon. Being surrounded by so many athletes, you feel like you're living like a professional and committing to a time away with less social interruptions.
How do you taper before a race?
When training for triathlon, I start to taper exactly 7 days down from the race. During taper, I do things a lot less with less volume, but keep things fired up. I do some 20-minute pick-ups in the pool, getting out hard on the swim. On the bike, I do some 30-second intervals with 90 seconds of spin in between – on the turbo, getting the power up and keeping my heart rate up. That's my way of keeping things fired up and feeling good, while avoiding doing anything that could take it out on my body.
What are your goals and expectations for the season?
I sat down with my coach and we came up with three things.
In the World Champs 70.3 in Nice, it's a hilly course, so we're going to target that as that's quite good for me. Depending on race dynamics, it's hard to define a goal position, but the main thing for me is to execute a race so that I can come away and say I followed every move and I was strong enough to go with every break and just have a good swim, bike and run.
My second goal is to win four half distances, 70.3 or Challenge races, but altogether four titles wherever they might be.
To do an IRONMAN where I finish strong at the end, meaning that I need to get my pacing and nutrition right. I really want to nail that in a race.
How has your triathlon training changed now that you're using power?
I love it that I now have power numbers to work with. For example, for the hill reps and on the 30-minute time trial, I use the power number to race against myself. I'm just starting to create a database, so that I can race each number and look back at what I've done previously and set some goals.
It's human nature that when you race against someone, you're always going to run faster. With your training data, you can race against yourself even when you do a track on your own. That's why I use the treadmill so much and that's why I'm going to race with running power from now on.
If you liked this post, don't forget to share so that others can find it, too.
Or give it a thumbs up!
I like this article
Please note that the information provided in the Polar Blog articles cannot replace individual advice from health professionals. Please consult your physician before starting a new fitness program.