Will Davison is one of Australia's premier professional racing drivers. Last October he won his second Bathurst 1000 race, the Australian equivalent to the Super Bowl, in a brilliant drive that handed him victory by a split second. He is a winner of multiple races at the sport's premier level in Australia, a multiple champion and one of the country's highest-profile racers. He understands the importance of training every day and does triathlons for a bit of weekend recreation. Will is going to undertake his first Ironman 70.3 race this weekend on the Sunshine Coast of Australia and tells us a bit about his preparation. 
Why would a racing car driver attempt an Ironman challenge? Today's professional racing drivers have to be supreme athletes to perform at the highest level and in an environment that does its best to stymie that performance. Australian Will Davison is a prime example of that. Once touted as a potential Grand Prix star, Will contended his way from junior racing in Australia to a Formula 1 test.
Training every day is routine for Will – it has been for more than a decade. Although he is no stranger to triathlons, the preparation for his first Ironman 70.3 has meant that his training needed to step up dramatically.
"As I prepare for my first 70.3 half ironman on Queensland's Sunshine Coast this weekend I reflect on my years as a professional racing driver and how I have always needed to remain focused on my fitness to drive."
"My fiancé Riana and I decided to complete in the half Ironman together and both agree that we have pretty much had to devote our lives to it. We have found that if you want to be mentally and physically prepared for an event of this kind you have to commit 120 percent, although the 4.30am starts will still always be killers!"
"I have thoroughly enjoyed the 10 week preparation for my first Ironman. I feel I have prepared to an extent where I was still able to meet my motorsport commitments. A big thanks to my trainer Adam Gordon, who designed the program and helped me to stick with it."
A STRICT TRAINING ROUTINE
Will explains that the focus on their training has been on power and longevity.
"We have joined a training squad with a coach and it is super intense. Today for example consisted of 1.5 hours swimming at the nearby pool followed by 1.5 hours in the cycle studio."
"I am now spending double the time training that I was previously and on some days, this has proven to be rather difficult due to the other commitments that I have as a professional racer."
Will's coach changes his training program every week and uses data analytics to ensure each session is well structured. The program consists of drills, interval, and endurance-based training.
"Some days we are doing sessions one after the other, then on other days it is split. The training program was purposely built this way to ensure we are always performing at our peak on that particular day and training session."
"We are in the cycle studio about twice a week for about 90 minutes. We are hooked up to machines that measure our power, cadence, intensity and duration. There is something like 28 different levels that is made up of those indicators."
Some days the focus is on power, other day's longevity.
"Some days the focus is on power, other day's longevity."
Once a week Will heads out on the road for about three hours, effectively mirroring the cycle leg of the 70.3 ironman. After each group ride, he goes on a 5km run to get his legs used to running after being on the bike.
"Two or three times a week we are in the pool, swimming somewhere between 3-4kms. We are using push-paddles most of the time to increase our arm strength. The pool sessions are broken up into different distances including the event swim at 1.9kms with a 15-second rest between each."
"For running, we train with a squad twice a week and this interval based training ranges from low to high intensity. It has small recoveries in between, and we cover 10 to 15km each time we run."
"I have also been doing one long run on my own each week to help and one or two strength and conditioning sessions to keep up with the intensity of my training."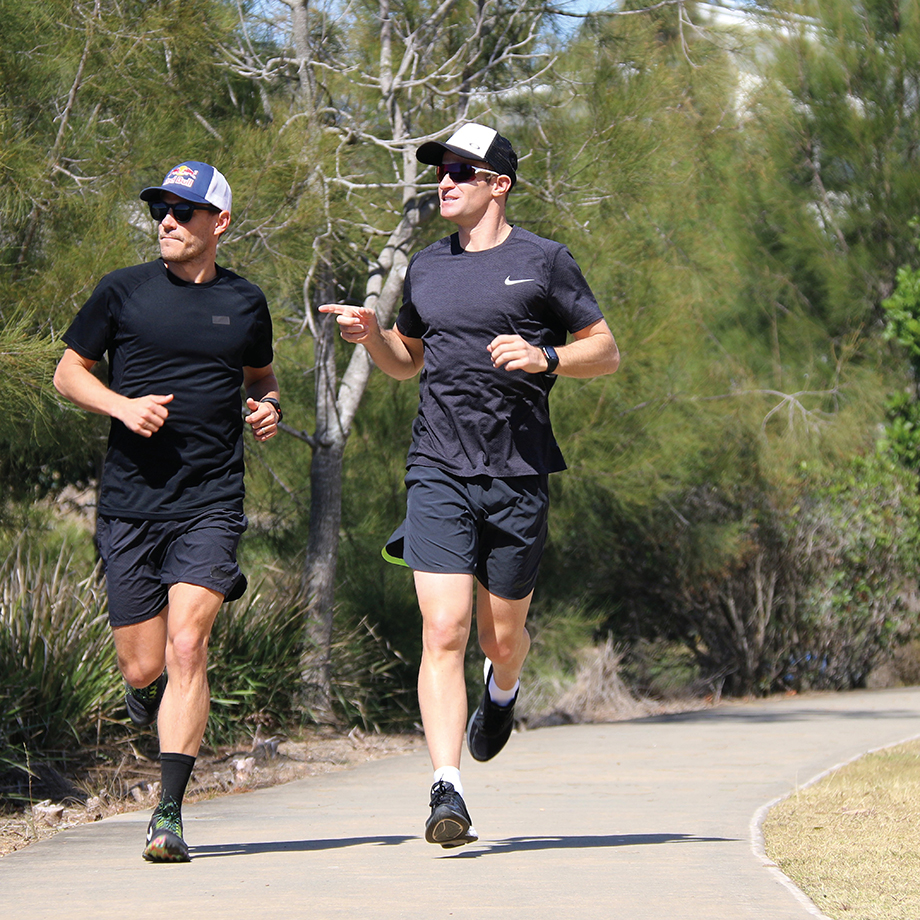 TRAINING ISN'T EVERYTHING
During his training program, Will has learned that successful preparation takes more than hard training.
"It is extremely important that with the extra load that your body is not used to that you remain disciplined with your stretching and physiotherapy. To try to combat that we have been doing some repetitive exercises that focus on tendon flexibility and mobility. It is all about injury prevention when it comes to training for a triathlon."
"Another important discipline is around what you eat and about your nutrition and hydration, and about what foods you need to be eating to maximise your body's performance. I have learnt what solids, fluids and gels I need to consume for an event, when and why, and have been doing practical exercises so that my stomach can get used to this."
TECHNOLOGY PLAYS A VITAL ROLE
Will uses technology to keep up with his progress.
I religiously use my Polar and the Polar Flow App to measure and monitor absolutely everything.
"Polar V800 has been playing a crucial part in all of this training build up. I need to remain so structured in the elements of my training program, and I religiously use my Polar and the Polar Flow App to measure and monitor absolutely everything. I monitor my calorie intake, heart rate, sleep patterns, and all of the distances and intervals of the various sessions I have done in that particular week."
"Most importantly, my Polar V800 measures my performance in each individual session and enables me to back-to-back that data, and see my improvement or decline if it has been a bad day."
"Polar technology has been a great enabler to motivate me to keep getting better and it has been central to every aspect of my training program thus far."
Stay tuned for Wills results.
---
Information in this article is not intended as medical advice and is the opinion of the featured athlete. Before pursuing any physical activity or program, you should consult with a medical professional.
If you liked this post, don't forget to share so that others can find it, too.
Or give it a thumbs up!
I like this article
Please note that the information provided in the Polar Blog articles cannot replace individual advice from health professionals. Please consult your physician before starting a new fitness program.