According to a 2014 Gallup poll, the obesity rate in the United State was 27.7 percent, or more than one in four people. Focus in on West Virginia, and that number climbs to 34.3 percent, making it the state with the second highest obesity rate in the nation.
Just ask John
John Hudson grew up West Virginia, in Charleston. It's a beautiful place, he says. But it's a culture that leans towards a sedentary lifestyle and less than healthy food choices. John never knew what it was like to not be fat. By age 5, he was already considerably overweight and on his way to morbid obesity.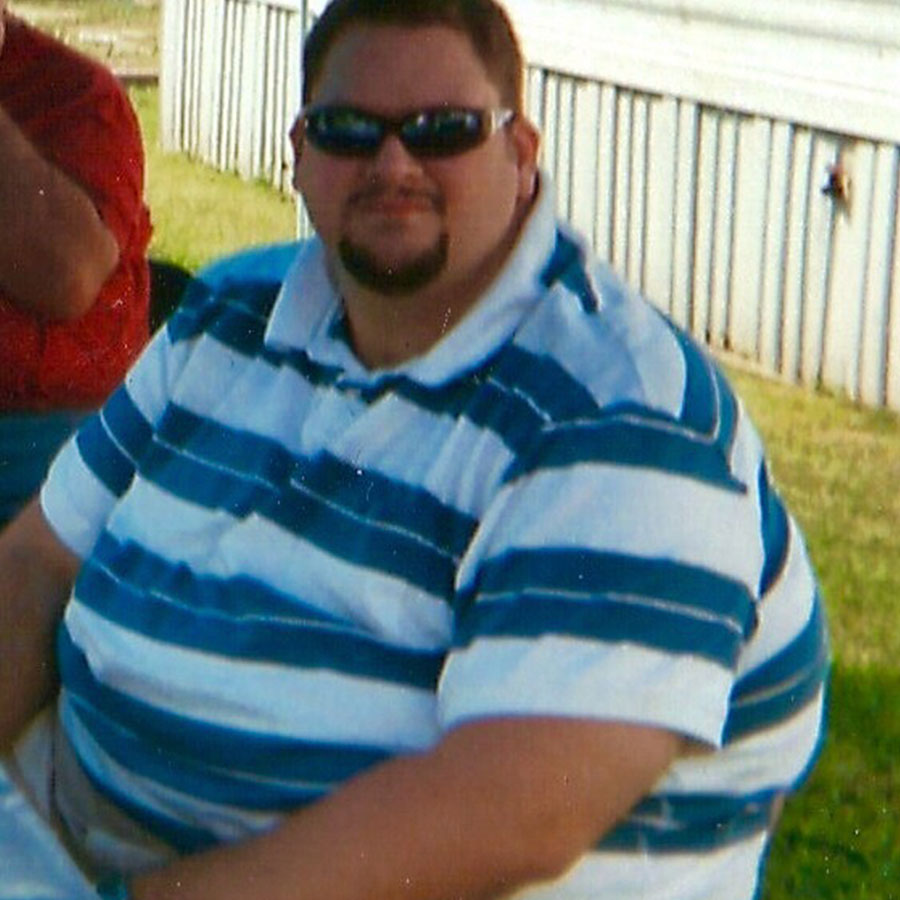 Not fitting in
By 6th grade, John was 5' 9" and 240 pounds (109 kg). As he grew up, so did his height and weight, ultimately reaching 6' 4" and tipping the scales at 410 pounds (186 kg). Attempts at dieting and exercise would be temporarily successful but then quickly fail, again and again. He was wretched and depressed, which triggered a vicious cycle of emotional eating.
He didn't fit in. In society. In seats. In clothes off the rack. And he was in physical pain all the time. The back. The legs. The knees. The feet.
"I constantly worried about fitting into things or breaking chairs. I had to request a seatbelt extender when I flew and often had to be reseated in restaurants when I couldn't fit into a booth," John says.
It was a huge disincentive to exercise.
Bad labs
In the fall of 2011, after finishing his medical rotations, John became a clinical staff doctor of pharmacy at the Charleston Area Medical Center. He was 37 years old, 360 pounds (163 kg), and miserable.
It was time to have his health condition evaluated. His labs were decisively bad. Hemoglobin and triglyceride counts were dangerously high. He had the start of fatty liver disease. His blood pressure was soaring.
"I was a walking time bomb. The test results were the turning point for me."
Taking control of his weight-loss journey
In January 2012, John got back on the weight loss wagon. He started by doing what he always did: join a gym and start a diet. But this time it was different. This time John began exploring the why of his condition.
He had long understood the physiology and nutrition aspects of weight loss but had spent little time focusing on the mental and emotional aspects. Now he wanted to find out why. Why was he morbidly obese? And why did he have these food issues?
Delving into the psyche
Exercising was hard because of his chronic pain, but as the weight came off, the pain began to subside. Harder yet was John's commitment to analyze his own behaviors and better understand the psychological influences fueling his disease.
"Delving into the depths of your psyche to figure out how you became obese is not fun. It's taxing, so people tend to neglect working on this aspect of their weight loss," John says.
He started by reading books focused on emotional eating and the psychology of being obese. He used this information for personal introspection and analysis. This wasn't easy, he says, but he thinks it is the most crucial piece of the weight loss puzzle.
John's reading list
"The Beck Diet Solution: Train Your Brain to Think Like a Thin Person" by Dr. Judith S. Beck.
A better way to think about your relationship with food using cognitive behavioral therapy.
"Shrink Yourself: Break Free From Emotional Eating Forever" by Dr. Roger Gould.
A practical guide to help you identify and stop emotional eating to overcome fear, anxiety, and other life stressors.
Dealing with triggers and temptations
John still struggles with how he psychologically approaches food and probably always will.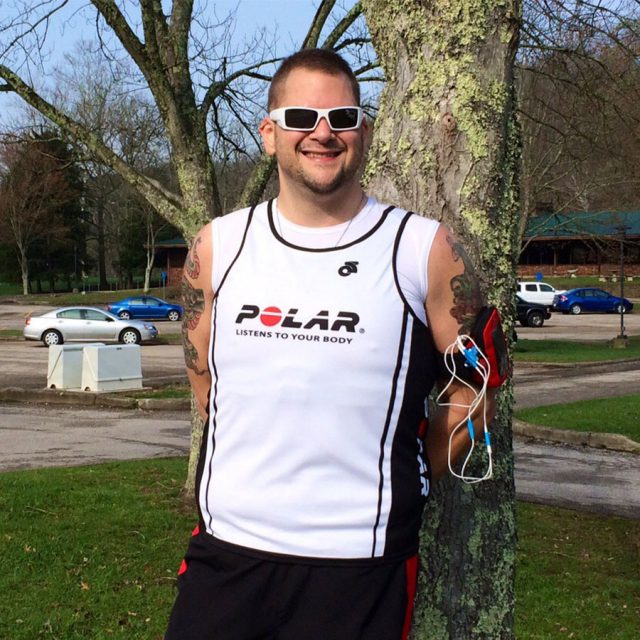 But he says now he's aware of his triggers. That helps him squash them quickly. John knows if he starts feeling the urge to munch while watching TV, it's time to shut it off. Time to do something else to help break a habitual pattern that encourages mindless or emotional eating.
And it works. At least most of the time.
"Sometimes the cookie wins, but that's okay. Being overly regimented about diet or exercise can set you up for failure," he says.
John's philosophy on losing weight
Just because you snuck one from the cookie jar or listened to the siren call of the ice cream cone doesn't mean you should give up altogether. You can make adjustments to the balance of your day to compensate for the indulgence with less food later on or a bit more exercise. And there are plenty of tools to help you do that. We'll talk about those in a bit.
Targeted training with a personal trainer
In addition to dealing with the psychological aspect of eating, John also sought the help of a personal trainer. Hiring a certified personal trainer can be expensive, but John found it well worth the costs to help kick start his exercise program.
"The important challenge was finding the right trainer. I look at it like I would for any hiring proposition," he says.
It set him on the path toward a healthy lifestyle and helped him learn how to design his own workout plans down the road.
John's tips for finding a personal trainer
Meet and interview personal trainers before you sign a contract. Find one that specializes in your needs and speaks your kind of motivational language.
Ask them about the type of person they typically train to see if their focus is your focus.
Ask them if they have any customer testimonials or success stories they can share.
Make sure they are certified and ask them if they have any additional certifications that might help you, such as certifications in nutrition or weight loss.
The utility of tracking tools
Another critical thing that helped John on his weight loss journey and his ongoing commitment to health was taking advantage of today's tracking and tabulating technology.
"My metrics are all tracked by the device I'm wearing and are viewable in real time on my smart phone. I love the immediate feedback. It's the coolest thing," he says.
Keeping track of his workouts and nutrition intake ensures he's sticking to his training schedule and caloric needs. Since everything is tracked in real time via his wearable devices and automatically captured on his smartphone, he can easily check how he's doing throughout the day.
John's tool box for tracking his training
Weighing in on long-term success
This time John's efforts have paid off for the long haul. Four years after his weight loss journey began, he's 160 pounds (73 kg) lighter, off diabetes medications, and his labs are back to normal.
In the process, he's become a changed person.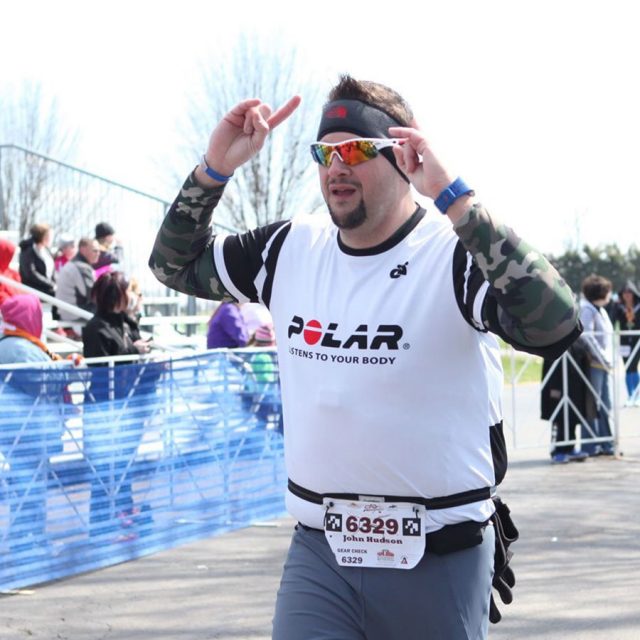 "I have gained so much by losing weight and getting fit," he says. "I've discovered I love being active and outdoors. And running has become a passion."
In 2013, John completed his first half-marathon at his alma mater, Marshall University in Huntington, West Virginia. "Crossing over that finish line is something I could not have even fathomed just a year and a half earlier," he says.
Crossing over my first half marathon finish line was a very emotional moment.
Looking toward the future
Today, John is an RRCA (Road Runners Club of America) certified running coach, and he actively coaches with the Genesis Running program in Charleston.
He also is an ambassador for Polar Electro, helping to promote smart training with heart rate monitoring. When he's not out running his 22 miles per week, he's planning for his next marathon or challenge.
John's main goal is to stay active and healthy; doing a triathlon is on his bucket list as well as running the Boston marathon. But one of John's most passionate goals is to help fight obesity: by helping others in their own journeys back to health, and by finding ways to combat the epidemic of childhood obesity.
Anyone can join John's Polar Flow community Running for Weight Loss for motivation, support and advice.
If you liked this post, don't forget to share so that others can find it, too.
Or give it a thumbs up!
I like this article
Please note that the information provided in the Polar Blog articles cannot replace individual advice from health professionals. Please consult your physician before starting a new fitness program.