Paratriathlete Katie Kelly is an Australian Polar Ambassador who lives with the degenerative disease, Usher syndrome. The Paralympic gold medallist and World Champion has overcome many obstacles and is a true inspiration as she leads a life in which every challenge and opportunity is embraced.
Holding Gold – reflecting on the opportunities and challenges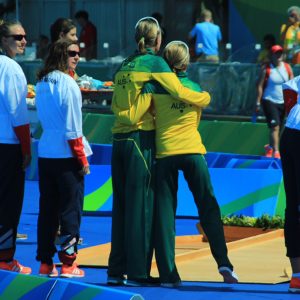 Katie often reflects back to that fine day in September 2016. Standing on the winner's podium at the Rio Paralympics, with Copacabana Beach providing the most magnificent back drop. Gold medal around her neck.
"I love reliving that special day and key moments prior to and during my race. It was such an enriching and rewarding experience."
"The Gold Medal itself, it is so much more than the tangible medal it is. It captures more than finishing first, in many ways, it represents many aspects of my life and the journey I've travelled."
Early Years: Feeling the Need to Work Harder
For Katie, many of her earliest memories are those central to the person she has become today, as she explains.
"From as early as I can remember, the life circumstance that was most defining for me was having to wear my clunky hearing aids from age 5. They make them much smaller these days!"
Her early years were filled with speech therapy and additional tuition as she strived to catch-up to her peers.
"In some ways, it felt like opportunities were going to pass me unless I maintained this need to 'catch-up'. I guess you might say it was a driver for me to keep pushing a little harder in my mind and perhaps that was due to a fear of missing out and being left behind."
"Whatever it was, I've always felt the need to work harder."
Life is a Gift
Progressing through her teens, the hearing loss she suffered was manageable. The significant technological advancements in hearing aid devices, meant that her hearing impairment was able to stay at the same level.
She suffered a crushing blow, when at age 22, she was told that her eyesight would deteriorate and eventually lead to blindness.
Katie Kelly had inherited a deaf blind condition called Usher Syndrome.
"It was the luck of the DNA draw I suppose. I was initially shocked and numb when receiving the news about my condition."
Katie's strong character and determination prevailed.
"After the initial shock wore off, I thought to myself, I have to just keep going as I always do. Life is a gift, and I have the capacity to really give this time I have a good nudge."
Taking advantage of Opportunity
As her sight deteriorated, it became obvious that her condition was going to be a persistent and increasing challenge to her every day. It was then, Katie made the conscious decision to embrace her situation.
Her parents had a great influence on the mindset of Katie and her four siblings.
"I remember my Dad putting the Daniel Day Lewis movie 'My Left Foot' on. It was his way of saying 'if you think you've got it tough, there's always someone with more adversity than yours'."
It has always been instilled in me that my circumstances are nothing other than that. They are simply what I make it.
"I never really asked myself, why I have this condition. I think what I always focussed on was what opportunities presented themselves. In saying that I had no idea that it would ultimately take me down the path I now find myself on."
Be kind to your Heart
During her early 20s, Katie really came into her own. It was an exciting period in her life. She had secured her dream job and was working in a sports marketer role in Sydney, Australia. In many ways, Katie felt as though she had finally "caught up to her peers."
She no longer questioned her capability against her peers or the value she could add in her day to day life.
"One thing I always had from a young age and this took on another level in my early 20s, was that I loved my pursuit of personal efforts."
Exercise and competition became central to her wellbeing.  A self-confessed weekend warrior, Katie concentrated her efforts on competing in marathons around the World, including Alice Springs, New York and Norway.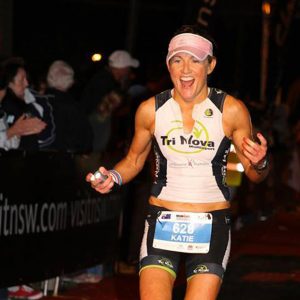 During this period, she embarked on a high intensity endurance training regime, which would ultimately lead her to the opportunity to challenge for the Paralympics.
"I completed the Port Macquarie Ironman and have finishing medals (with one or two place gettings!) for ocean swims, half-marathons and fun-runs across Australia and abroad."
In many of these events, Katie has recorded her efforts with her various Polar devices, including her first Polar, the original Polar F4, and later the Polar V800 and Polar M400.
"I could never forget my first Polar watch, my dad sent it to me a few days out from the New York Marathon, which coincided with my 30th birthday."
"In the parcel was a card from my Dad, and he wrote 'be kind to your heart.'"
"This message has a few meanings obviously, but it sits well with me in my life pursuit!"
Personal Bests
Katie has fond memories of those preparation years and enjoys pulling up an old personal best (PB) on her Polar watch. To her, all those moments lead to her special day, standing on Copacabana Beach, gold medal in hand.
"Looking back on a PB, takes your mind back to that time, remembering the race-day conditions, preparations and your execution. It is such an adrenalin rush."
"One PB I have wrestled with many times over the years, is my 21km run PB – it currently sits at 91.33 but I think there is more give in it yet.  I might be literally running out of time, but I'd love to get it under 90mins. And if I don't, I can live!"
Overcoming Obstacles
In life, we are shaped by all sorts of obstacles; personal or otherwise.
Some of us may have had learning difficulties, others have life changing circumstances that lead to loss of mobility or mental capacity.
Some of us lose our parents at a young age, or have parents who are simply not present in our lives as loved ones. Others of us are struck by serious illness.
Whatever it is, we all have an opportunity to make the most of who we are and on any given day.
Katie Kelly lists the establishment of her own Foundation, Sport Access Foundation which provides grants for children with a disability to play sport, as one of her proudest achievements.
"I've always tried to keep close to mind, a promise to stay in the present and enjoy the day before you.  With this mindset you can put your energies to where they matter most. My Sport Access Foundation and achieving that win in Rio, I think were in many ways an outcome of striving for a path of growth to continually open yourself to new challenges and learnings."
---
Information in this article is not intended as medical advice and is the opinion of the featured athlete. Before pursuing any physical activity or program, you should consult with a medical professional.
If you liked this post, don't forget to share so that others can find it, too.
Or give it a thumbs up!
I like this article
Please note that the information provided in the Polar Blog articles cannot replace individual advice from health professionals. Please consult your physician before starting a new fitness program.