After 2 prior attempts at dramatic weight loss, Elizabeth Josephson discovered she had overlooked the most important aspect of losing weight and keeping it off: her mindset. Altering her perspective has allowed her to permanently change her relationship with mirrors, scales, and food. She is 8 months and 70 pounds into her weight loss journey and feeling better and more empowered than any time in her life. Here's her story.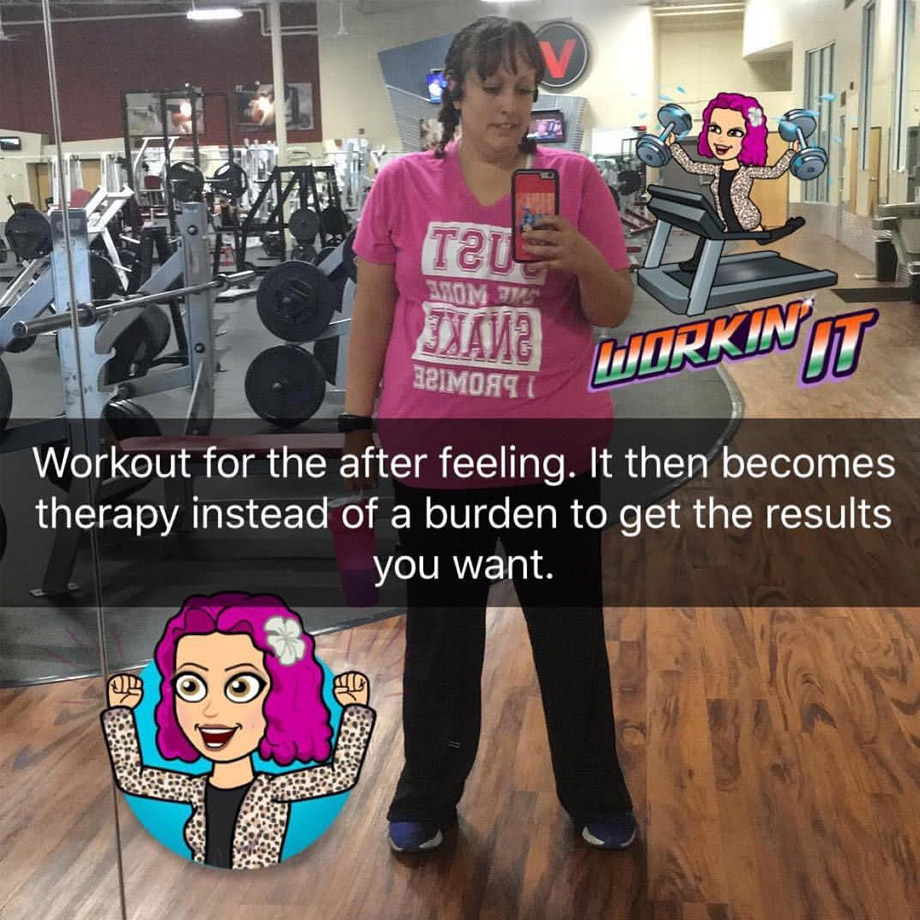 THE MIRROR
At age 32, Elizabeth knows all about obesity, having battled with it all her life. Her first mirror was society, reflecting back onto her shame about her size. This shame was helped along by a well-intentioned grandmother suggesting Elizabeth perhaps shouldn't eat so much while the rest of the family indulged. It led to a destructive eating pattern of binging and purging and a fair bit of self-loathing from an early age.
Elizabeth's first real attempt to change her body shape began at age 26 after a group trip to Hawaii. "I was the fat one. The odd one out," she says. So in January 2011, Elizabeth got serious about making a change. She dropped 100 pounds in 13 months.


"I wanted to be accepted. I wanted to attract the attention from guys. I wanted to be like the other girls."
THE SCALE
Elizabeth's first attempt was all about losing weight. She weighed herself daily and let it be her mirror-mirror-on-the-wall. She let it dictate how she felt about herself. She focused on calorie consumption rather than nutrition, cutting out large swaths of food groups. All of it was unsustainable and didn't arm her with the tools she needed to overcome disappointments or adversities along the way. She quickly gained back the weight after months of effort.
Although Elizabeth gained back the weight, all was not lost. She also gained new insight about how living at a lighter weight could liberate her from the physical limitations of a larger body. Shortly after her first failed attempt, she decided to try again.
THE FOOD
For her second weight loss attempt, Elizabeth briefly considered undergoing a gastric bypass after her mother was able to lose 150 pounds from the surgery. But then Elizabeth witnessed a friend undergo bypass surgery only to regain a lot of the weight back.
Elizabeth decided to go old school. Exercise and calorie restriction.
She figured that was her best chance at success, especially given her history of binge eating. Her second attempt, however, was half-hearted. And she developed an all-or-nothing mindset. If she slipped up on any one day, the entire day's effort was shot. Then came the devastating news that she could never have a baby. The binge and purge behavior pattern was back and her weight spiraled out of control.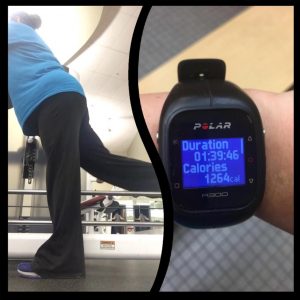 In early 2016, at age 32, Elizabeth once again found herself reflected in a mirror of her own making. It was her first wedding anniversary. As she gazed in that mirror she didn't like seeing all the broken promises to herself and to others that reflected back at her. It was getting harder and harder to do simple tasks. And it was putting a self-imposed damper on her intimacy with her loving and supportive husband.
"I'd lost confidence in myself. I felt I had let myself go and that translated into not wanting to be touched or close with the one I loved," she says.
THIRD TIME'S THE CHARM
In March 2016, Elizabeth committed to another weight loss attempt, going down a well-worn path, repeating the going-at-it-alone methods she'd always used. This time it wasn't working.
Instead of giving up, she reached out for help. She began working with a nutrition trainer for guidance with meal planning. Her trainer helped her determine the macro nutrients that were needed for her body, designing a similar eating plan for each day. Each week, Elizabeth plans and prepares her meals. And she no longer beats herself up for infractions or failures.
"Failure is an opportunity to tap into how I feel and then do better next time."
Elizabeth also joined a gym instead of doing her workouts at home. It provided her with accountability and motivation. And she's doing a combination of both cardio and weight lifting, helping to build more muscle for a better all-day calorie burn. Perhaps most importantly, she began working on behavioral changes to use outlets other than food to deal with life's trials. 

Elizabeth threw herself into her new weight loss effort and immediately began seeing progress.
"The combination of weight loss and balanced nutrition was really making me feel good and motivated to do more," she says.
After 8 months into her program, Elizabeth has dropped 70 pounds and is on track for losing more. But even better than the weight loss is the new change in perspective she's achieved.
CHANGING PERSPECTIVE
Elizabeth says sometimes you have to treat weight loss, exercise, and healthful living like you would work. Sometimes you just have to dig in and do things even when you don't want to. "Pretend you're out of sick time and have to go to work. Just get up, go do it, and 10 minutes into your workout you'll be glad you stayed on track. Then grab onto that great after-feeling. It will help you look at your workouts as therapy instead of a burden," she says.
Elizabeth has enjoyed the mental and physical transformation a healthy lifestyle has brought. She wants to help others do the same and is currently working on her certification to become a health coach. Her particular interest is in helping others develop habit changes in relation to exercise and nutrition to successfully reach and maintain their fitness goals. 

For her, her new perspective has been life-changing. Elizabeth says working toward improved overall health has helped her have a better outlook. She says she's learned that people aren't born with success. It is a cultivated skill and involves failures along the way.
"By making the choice to change what I can and accept what I can't, it's given me the tools I need to change my perspective on life and relationships, to focus on all the good aspects instead of a few bad things."
Elizabeth says she has no defined end-game goal weight. Her goal is overall health and strength. And once she feels she's achieved a stable and healthful weight for the long haul, she'll then pursue "mommy makeover" surgery. "Dramatic weight loss leaves behind a lot of extra skin," she explains.
"There are some things you can't change without some helpful intervention. And for me, feeling good about myself is the best motivator."
ELIZABETH'S TIPS FOR SUCCESS
• Have a plan and prepare meals in advance
Elizabeth likes to plan each week's meals in advance so she isn't rushed for time or put in the position of settling for fast food.
• Join a gym or workout group
Elizabeth says she's much more likely to work out hard and on a regular basis now that she goes to a gym. But she also admits going is scary at first, "You're afraid you'll be judged." She advises to have workout plan in hand so that you can be more confident when you go.
• Find a group of cheerleaders
In addition to having a wonderfully supportive husband, Elizabeth started sharing her journey online with her training program partners in 2011. The positive, encouraging comments inspired her to start sharing on other social media. At first she got involved for encouragement from others. Now she tries to be an inspiration and cheerleader for others in return and has large followings on Facebook and Instagram.
• Use tracking tools
To help Elizabeth track her progress, she uses the free MyFitnessPal app and the Polar M600 smart sports watch. Both sync to her free Polar Flow account to help her balance her workouts and caloric intake each day. She also uses the Polar Balance weight management scale to help her monitor and tweak her training program and nutrition. This time, however, she doesn't let the scale dictate how she feels about herself. Instead, she only weighs in 2–3 times per week, and it is always accompanied by a lot of positive self-talk rather than any recriminations.
• Seek out motivation
Elizabeth likes listening to motivational speakers to gain new insights and inspiration. One of her current favorites is Andy Frisella's The MFCEO Project podcast aimed at succeeding in life and business. His motto: "The only person that limits you stares back at you in the mirror every single day." There's that mirror again.
• Be your own unique self

Elizabeth advises to never compare yourself to others. "Be confident," she says. "Confidence is not trying to make others like you but rather being okay with it if they don't." Elizabeth is proud to admit she is the caretaker of 7 beautiful ball pythons. "Many people have phobias about snakes, but I don't let that dictate how I feel. When you really look at them, they are quite beautiful and interesting," she says. Yep, this girl is one all-around courageous lady.
If you liked this post, don't forget to share so that others can find it, too.
Or give it a thumbs up!
I like this article
Please note that the information provided in the Polar Blog articles cannot replace individual advice from health professionals. Please consult your physician before starting a new fitness program.