Bored with the same old running routine and routes? If so, trail running could be exactly what you need – a way to explore new paths and expand your horizons. On the trails, you can forget pace and mileage and focus on the journey instead of the destination.
This trail running guide will help you get started with the journey, whether you're a complete newbie or an experienced road runner looking to make the transition from road to trail.
This trail running guide Covers
Why Start Trail Running: Trail running can be both soothing and challenging and brings benefits for both body and mind. Discover why in this introductory trail running guide.
How To Start Trail Running: If you're puzzled by how to find trails near you, what to pack with you and what to be mindful about, read this beginners trail running guide.
How To Improve Trail Running: Once you've gotten the hang of trail running, here are some tips to improve your technique in this advanced trail running guide.
Let's start this guide with Polar Running Coach Maria and the tenth episode of our running videos series. In this episode, she goes over everything you need to before heading out to the trails.
Why start trail running
Trail running brings benefits for both body and mind. While varying terrain will challenge your physical fitness, you'll be surrounded by the soothing beauty of nature with no distractions (unless you choose to put on your favorite running podcast).
Trail running can help to revive your inspiration for running as pounding the same routes and repeating the same routines can get monotonous and boring.
Here's are some of the benefits of trail running for both body and mind.
Benefits Of trail running For the body
Looking at trail running from a physical point of view, the soft surfaces of most trails are better for your joints, as it absorbs some of the impact.
With a variety of obstacles to go over and around, the trails will challenge you to adapt, forcing you to change your gait and the length of your steps to adjust to the surface. In that sense, running trails can be a great way to develop balance and build strength in muscle groups you haven't used before.
If you stick to a moderate running pace, you can also minimize, or even avoid, some of the common running-related injuries that stem from pounding the pavement day after day. With inclines, declines, switchbacks, and high altitude, running on trails will require your body to work in a more versatile way.
Benefits of trail running for the mind
It's a well-known and researched fact that the forest is good for the soul. Stress and tension melt away more readily outdoors than indoors.
Studies prove time and again that spending time in the woods is beneficial for your brain and cognitive functions – the pleasant views don't hurt either.
On the trails, you can just focus on putting one foot in front of the other in an environment that refreshes your mind and soul.
The mindset of trail running can be quite different from road running:
Runners often adopt a more relaxed, easy-going approach, using it as a way to balance the ultra-competitive attitude of road running.
Trail running is seen as a more meditative approach to running and exercise, offering the chance to get in tune with nature physically and spiritually.
Trail running can be your chance to let go of numbers and targets and make it more about creating your own zen moments as you leave the stress of the city behind you.
reasons to fall in love with trail running
Michael Wardian is a marathoner and ultra-runner who has completed some of the most difficult ultra races in the world and set several world records. You could say he knows a thing or two about trail running, so here he shares some trail running tips everyone should follow.
1. Soft surface
Trail running enables you to run on a softer surface, which can decrease the risk of overuse injuries and reduce the impact your body needs to absorb – especially as the volume of training increases.
2. Change of pace
The terrain on the trails lends itself to slower and more careful running, which can allow your body to get used to running at a different pace, leading to adaption.
3. Getting dirty
There's something awesome about getting a bit dirty and muddy. It makes you feel primal and visceral.
4. Building toughness
Running on the trails makes you a grittier runner. Trail running challenges you to mind your feet, watch you pace, push up hills, descend with skill, and face consequences, but everyone involved tends to be supportive and encouraging.
Trail Running FOR Beginners: tips and advice
To put it simply, all you need to do to start trail running is find a trail near you and head there for your next run. Of course, there are some basic trail running tips that can help you to get started.
Read on if you're puzzled by any of these questions:
How to find trails near me?
What trail running gear do I need?
What to keep in mind on the trails?
FIND A TRAIL AND PICK A ROUTE
Some trails are printed on maps at park entrances and some aren't. Some are well-maintained and others less so, but discovering new trails is one of the exciting aspects of trail running. When running on a trail for the first time, sometimes you just don't know what's ahead of you, and that can be scary, too.
To help you be more comfortable and safer exploring the trails around where you live, there are a few apps you can try to find a trails near you.
gear up: ESSENTIAL TRAIL RUNNING equipment
Since trail running is a bit different from road running, you'll need to bring along a few essentials. This will ensure you're as safe and comfortable out on the trail as possible.
Here are a few items you should consider:
1. Smartphone
For those rare instances when you may get lost or injured on the trail, a smartphone will allow you to reach out for help when needed. It will also allow you to communicate with loved ones to let them know when you expect to be back.
2. Map
When you're venturing off into an area that may provide limited connection to your smartphone, bringing along a trail map is a good backup plan.
3. Hydration pack
On longer runs, keeping your energy stores topped off is a must. And since there likely won't be any water fountains on the trail to hydrate, you'll need to carry water too. A hydration pack made for trail running will allow you to carry all of your essentials easily.
4. Trail running shoes
Dedicated trail running shoes will give you more traction and stability over rough surfaces while also protecting your feet from sharp rocks and other hazards.
5. Windbreaker
The weather on trails, particularly at elevation, can change quickly. Packing a light windbreaker in your hydration pack can save you when the weather is colder than you expect.
6. GPS watch
In addition to tracking your running metrics – like distance, pace, calorie burn and heart rate – an outdoor GPS watch can provide you with a long battery life, altimeter, route planning and fueling guidance. This can make or break your trail running experience.
When you're planning to face the world head-on, you need something you can trust to get you through the most demanding situations. Polar Grit X Pro is designed and built to help you do exactly that: conquer mountains, explore uncharted territories with a rugged and rough outdoors watch that gives ultra-long battery life, maximum durability, accurate GPS with turn-by-turn guidance, and more.
Trail Running Tips from the pro
Michael Wardian is a marathoner and ultra-runner who has completed some of the most difficult ultra races in the world and set several world records. You could say he knows a thing or two about trail running, so here he shares some trail running tips everyone should follow.
1. Bring water, food, and lighting
If you're doing a longer trail run, take a pack to carry water, a headlamp (when visibility is low) and food – but again, you can do most of your trail runs in whatever you were wearing on the roads.
2. Find a trail running group
When getting started with trail running, it makes sense to find a trail running group and explore the trails with company. Sometimes the environment can look the same and you can find yourself lost.
3. Get familiar with trail markings
Find out how trails are marked and what different trail markings mean. Then, get out there to explore and enjoy.
4. You can always slow down – it's not about speed
The terrain turns out to be very technical, don't be afraid of slowing down and walking. Going fast is not at the heart of trail running. Take your time and enjoy the activity instead of focusing on your speed.
5. Check the weather
Trail running is a fantastic summer activity, but be mindful that heat and humidity can pose an extra challenge to your exercise. If the temperature is high, follow best practice and recommendations to running in the heat.
GET BETTER: How To Improve Trail Running
Eventually, you'll begin to progress from the beginner stage of trail running and move on to bigger goals. These can include things like improving your trail running technique, running farther or faster or completing your first trail race or ultra.
While trail running is technically running, it's a different sport than road running. This means that if you're looking at the performance side of things, you'll need to take a slightly different approach to your training routine.
To help you run farther and faster, you can and should adjust your trail running workouts with these tips.
Hill intervals
Including hill repeats is a necessary evil if you want to get better at.
Almost all trails and trail races will force you to climb. Improving your technique and fitness on hills is one area where most runners have room for improvement.
To get started, pick a moderate hill on one of your current routes:
Try to find a section that's technical and has a moderate gradient that forces you to make decisions.
Focus on the uphill section five times and walk down.
Follow this by walking to the top five times and running down.
This will not only improve your fitness but also boost your confidence to handle technical terrain safely.
Pro tip: Running power is a very useful to train hill intervals. It gives you instant feedback on your effort, so you can always run at the right intensity regardless of the terrain.
Run further
Remember, the goal isn't speed or technique in this session — all you need to focus on is running more than you usually do.
One way to boost your cardio is to simply run further. Set a goal to just go one more mile, alternating walking and running if needed.
Do this once per week and eventually you'll build toward a distance you wouldn't have thought you could complete a few months before.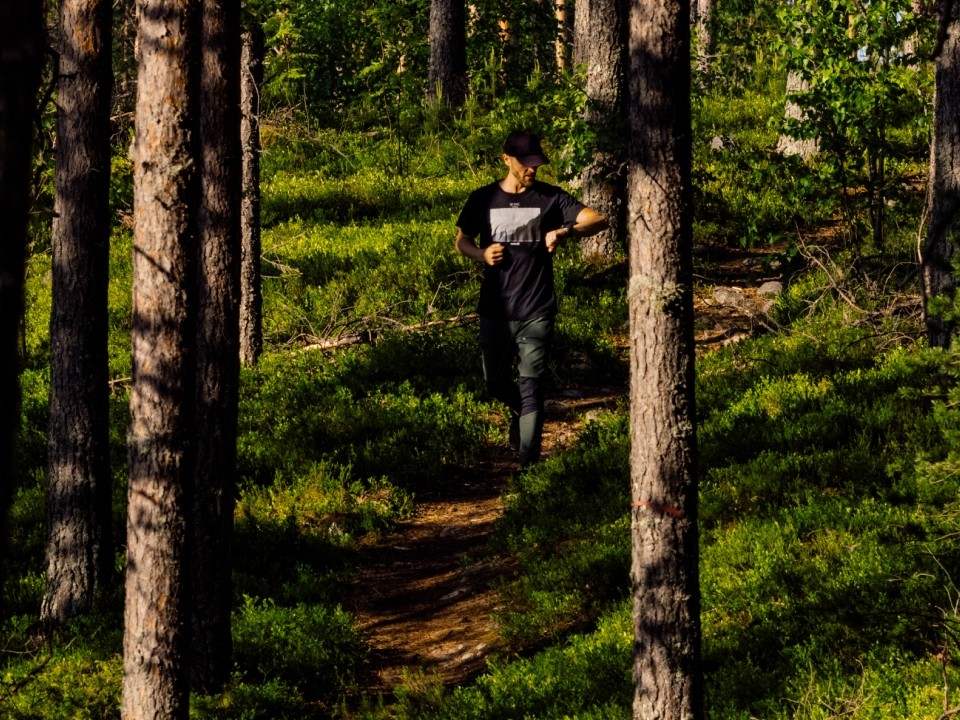 Focus On Form
Form is a big part of trail running, and it can be quite different from the form you use on the road. Here's how to adjust your running form on the trails:
When running uphill, you'll want to lean forward slightly and place your weight over the balls of your feet.
Exaggerating your arm swing a bit more will also help you carry your momentum and improve your balance over rocks and uneven terrain.
For downhills, get used to scanning about 10 to 15 feet ahead of you. This will help you pick a good line well before you're in that section.
Keep your steps light and short, as a quicker turnover is more efficient and much safer than long, lunging steps.
Avoid leaning back too much, as it can stop your momentum and burn out your quadriceps.
Focus on an upright posture when heading downhill to improve your efficiency.
CROSS-TRAIN
Getting stronger can also help you power up hills a bit easier and speed up your cadence.
Improving your balance and strength will help you run more efficiently on the trail while allowing you to adjust on the fly to changes in terrain.
Plyometric exercises like jumping lunges and squats and box jumps are excellent additions to a strength training routine to improve agility, balance, and power.
WHEN TO SIGN UP FOR A TRAIL RACE
Maybe you're nervous about running your first trail race, or perhaps you're thinking about trying an ultra but not sure if you're ready. The truth is there is no perfect time, and you probably won't be sure if you're ready until you give it a try.
Of course, you can prepare by training yourself physically and mentally as much as possible to endure the challenge, but part of the fun is in not knowing.
Questions like 'Will I be able to make it? Have I prepared enough?" are a big part of what makes trail racing fun and exciting.
Aside from embracing this personal challenge, here are a few guidelines you can go by to help you determine if you're ready or not:
Does your training mileage match your race distance?

While you don't necessarily have to run the exact distance during training, you should be approaching your race distance. Having a new distance to reach for on race day can be motivating, but it shouldn't be so far away that the goal is unreasonable. Increasing mileage drastically will also lead to injury.
How much elevation change is there?

If you have a specific race in mind, take a look at the elevation change and altitude. You'll want you training runs to be similar so that your muscles and cardiovascular system are ready for the challenge.
Are you training consistently?

Runners will have peaks and valleys during training. But staying consistent week after week without extended breaks is a good sign you're ready for a race.
Are you motivated?

We all find inspiration from different places. If you're motivated to conquer a new distance, and the training is just as important to you as the race itself, then you're probably in the right frame of mind.
TIPS FOR A SUCCESFUL TRAIL RUNNING RACE
Trail running offers an incredible avenue for new adventures, but a trail race can be a challenge difficult to tackle – unless you prepare. Here are two prep pointers from runner Michael Wardian.
1. Mimic the race
Do training runs that mimic the trail race you're signing up for. That way you'll know what it feels like to run 1,000 feet uphill in a single push or how to manage not getting water every few miles.
2. Test your trail running gear
Test out your trail shoes, hydration vests or bottles and headlamps beforehand so you know how everything works – one less thing to be worried about on race day.
So, whether you have your eyes on a trail race or just looking to vary your road running routine, trail running is a perfect way to explore new paths and to challenge yourself in a new way.
If you liked this post, don't forget to share so that others can find it, too.
Or give it a thumbs up!
I like this article
Please note that the information provided in the Polar Blog articles cannot replace individual advice from health professionals. Please consult your physician before starting a new fitness program.