Wrist-based heart rate monitoring is one of the simplest ways to track your heart rate: all you need to do is tighten the wristband and you're ready. The Polar A370 fitness tracker measures your heart rate from your wrist and displays it during your workouts, but did you know that you can also turn your Polar A370 into a heart rate sensor and broadcast your heart rate to other devices via Bluetooth?
Here are three ways to make the most of this nifty little feature:
1. For app lovers
Some of us are really into phones. And apps. Some of us bring our phones with us everywhere. Some even track all workouts with apps.
If one of the many popular fitness apps (like Polar Beat, free training app available for both iOS and Android) has a special place in your heart, you can use Polar A370 to broadcast your heart rate to your phone and the app during your workouts. Many apps offer features that are based on heart rate measurement, so heart rate tracking with Polar A370 can help you make the most of your app.
By the way, did you know you can also link your Polar Flow account to some of the most popular fitness apps, such as MyFitnessPal, and get all your training and activity data directly to into the app?
2. For bike commuters
Many of us prefer the freedom of riding a bike past the morning rush hour traffic jams. If you're a keen cyclist and a happy owner of a Polar M460 GPS cycling computer, Polar A370 can make your commutes just a little simpler. You can use the heart rate sensor mode on Polar A370 to track your heart rate from your wrist and broadcast it to your Polar M460. This way, you can track your heart rate during your commute while optimizing the amount of gear you need for the day. With Polar A370, you get a heart rate sensor for the commute and an activity tracker, calorie counter, and an activity reminder for your day at the office.
If you have a bike mount for your phone instead of a bike computer, this solution also works with Polar Beat. Using an app to display your heart rate when you cycle can even promote safety: when you don't need to check your heart rate from your wrist, you can keep your hands to the bars and your eyes to the front and focus on the commotion around you.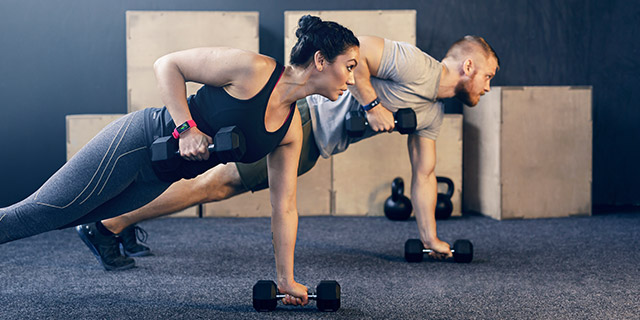 3. For gym and group fitness freaks
Many gyms have workout equipment that connect to Bluetooth devices. If your gym has a Bluetooth-compatible treadmill, for example, you can broadcast your heart rate to the treadmill from Polar A370.
For some, group fitness such as LES MILLS classes is the most motivating form of exercise. One of the best things about group fitness is the support you get from everyone around you, and we at Polar came up with a great way to share the fun: Polar Club. If your gym isn't using Polar Club yet, here are the basics: Polar Club is a group fitness app that displays the names, heart rates, and calories burned for everyone in the class on a screen.
Fitness clubs lend heart rate sensors for Polar Club classes to those who don't have one, but if you have a Polar A370, you can use it to broadcast your heart rate data to the screen. Read this to learn how it works.
HOW DO I USE MY POLAR A370 AS A HEART RATE SENSOR?
You can find the detailed instructions here. Remember that if you broadcast your heart rate to another device, your Polar A370 can't save the training session directly into Polar Flow.
POLAR A370 FITNESS TRACKER IN A NUTSHELL
Take a balanced approach to activity, rest and overall fitness
Continuous wrist-based heart rate, Polar Sleep Plus sleep tracking, and 24/7 activity tracking
Color touchscreen, changeable wristbands available in 6 colors
Waterproof (WR30)
GPS via mobile (uses phone's GPS to track speed, distance, and route)
Works with Polar Flow, the free fitness and training app and web service
Up to 12 hours of training with mobile GPS
4 days of activity tracking with continuous heart rate and 1 h of training per day
The utility of traditional heart rate monitors has been limited to workout sessions only; but what about the other 23 hours of the day? Understanding those hours – whether spent training, resting, or doing light activity – is crucial to achieving fitness goals.

Polar developed continuous heart rate to fill that critical gap. Now, we're enabling users to take charge of their fitness with a 24/7 perspective on their heart rate profile, activity levels, and even rest and recovery. This is a game-changer for athletes of all levels from beginner to pro.

Tom Fowler, President of Polar U.S.A
WHO IS THE POLAR A370 FITNESS TRACKER FOR?
With Polar A370 you can track your daily activity and sleep as well as your training sessions to get a complete picture of your overall fitness based on the intersection of activity, rest, and recovery. It's for anyone looking for a sleek, light-weight, and waterproof fitness tracker. To complement your style, this take-it-anywhere fitness tracker comes in six different colors.
WHAT'S NEW IN POLAR A370?
Polar A370 adds continuous heart rate tracking and advanced Polar Sleep Plus analytics to the mix. Furthermore, GPS via mobile enables you to track distance, speed, and route when Polar A370 is connected to the Polar Flow app on your phone and you're doing outdoor sports. You'll also need to keep your phone with you while you train for the GPS via mobile to work.
Polar A370 can be used as a heart rate sensor with any other compatible Bluetooth device or mobile app. For example, you can use the Polar A370 as a heart rate sensor with a bike computer, such as the Polar M460.
The new features have been designed and optimized for the new Polar A370. Because of service and software restrictions, we're unable to bring them to its predecessor: Polar A360.
COMPREHENSIVE ACTIVITY TRACKING WITH POLAR A370
One of the most exciting new features is the introduction of continuous heart rate tracking. Polar A370 measures your heart rate automatically throughout the day and night which gives you two main benefits:
Comprehensive daily activity tracking
Heart rate highs and lows for spotting trends in your heart rate
Thanks to the introduction of continuous heart rate, activity tracking on Polar A370 is based both on your wrist movements as well as your heart rate. Polar A370 combines this data to provide immediate guidance toward reaching your activity goals. A more detailed daily overview and insightful fitness guidance are available in the Polar Flow app.
If you've used our products before, you may even notice that you reach your daily activity goal faster, due to a new level of precision of our new fusion of heart rate and activity algorithm.
Discover more insights into continuous heart rate tracking.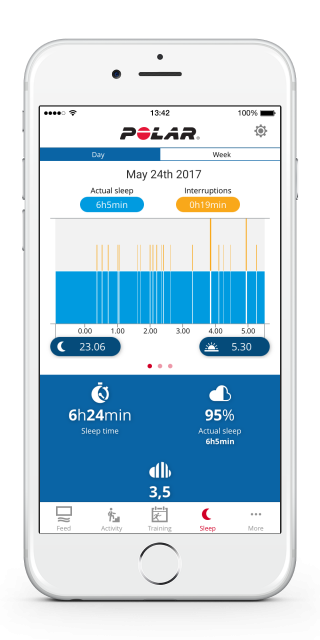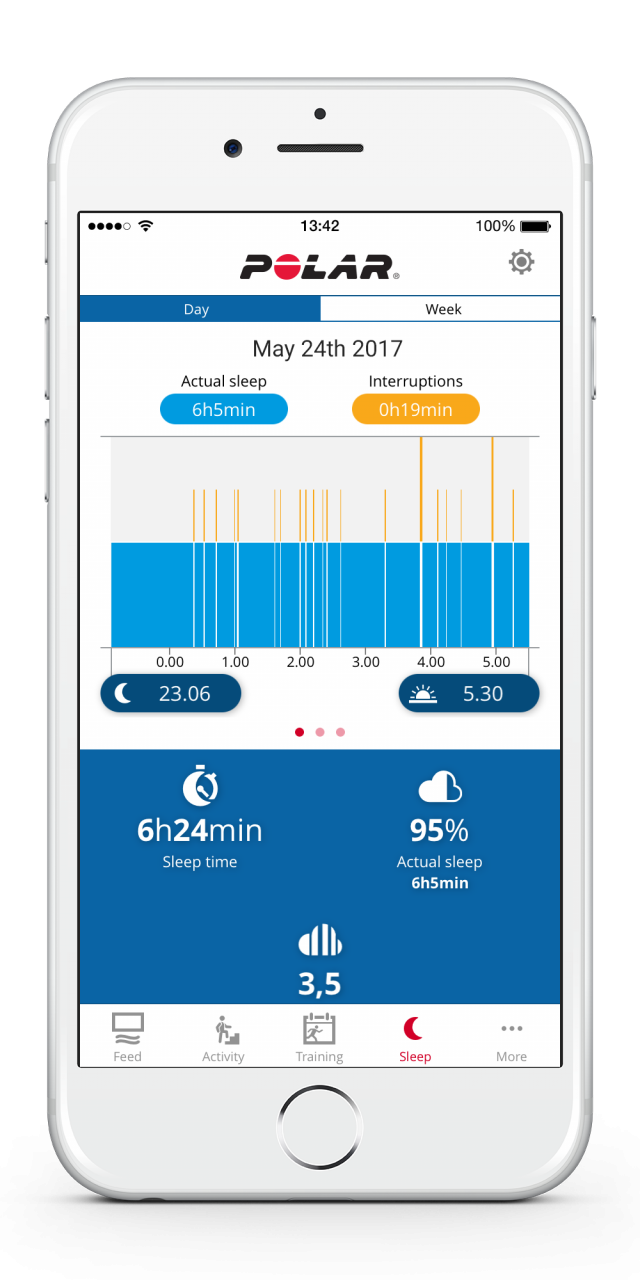 ADVANCED SLEEP TRACKING WITH POLAR SLEEP PLUS
Another exciting evolution is Polar Sleep Plus™, an intelligent sleep system with a smart algorithm that tracks the timing, amount, and quality of your sleep with the 3D accelerometer within Polar A370.
Our proprietary Polar Sleep Plus algorithm uses polysomnography as a reference measurement, the golden standard to assess sleep in science and medicine. Designed to provide accuracy in sleep detection at the same level of the polysomnography standard, Polar A370 provides precise measurements that offer increased accuracy and guidance.
Polar Sleep Plus is designed for people looking to find a balance between activity and rest, which includes learning healthy sleep patterns.
Polar A370 tracks a variety of different metrics, including:
Total duration of sleep
Actual sleep time
When you fall asleep and wake up
Interruptions that occur during sleep
Based on these metrics, Polar Sleep Plus can provide you with a continuity score on a scale of 1–5 to show how continuous your sleep was. You can also rate your sleep the next morning. By following your sleep routines, amount and quality of sleep over time you can adjust your sleep schedule in order to reach your goals.
Look here for more insights into tracking sleep with Polar Sleep Plus.
HOW CAN YOU GET THE NEW POLAR A370 FITNESS TRACKER?
Polar A370 is available in the official Polar webstore.
If you liked this post, don't forget to share so that others can find it, too.
Or give it a thumbs up!
I like this article
Please note that the information provided in the Polar Blog articles cannot replace individual advice from health professionals. Please consult your physician before starting a new fitness program.