As a runner, you've probably suffered from running-related injuries at some point. They're no fun and can quickly put the kibosh on your exercise regimen or race aspirations.
But what if you're a pro athlete and your sponsors pay you for getting out there on race day? What do you do? To find out, we caught up with Portugal's pro triathlete Pedro Gomes at his home in Scottsdale, Arizona, USA.
Running is risky business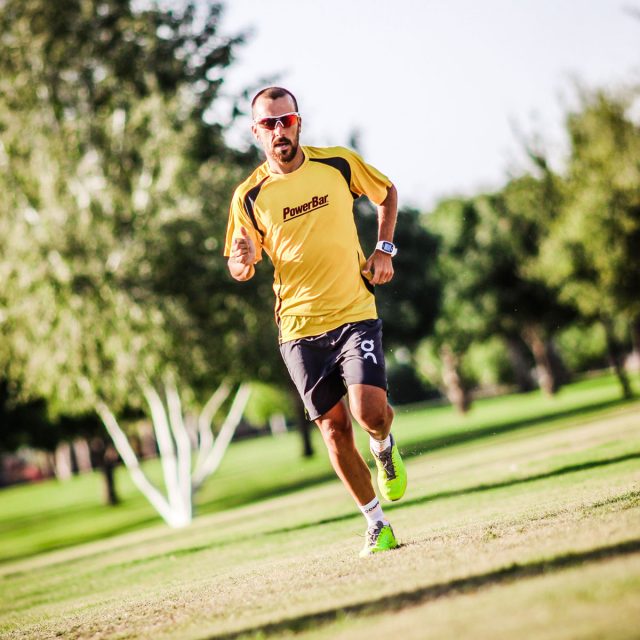 As a professional athlete and year-round competitor, Pedro is always working all of his body all of the time. While each sport in the triathlon places demands on his body, running is by far the worst.
I've been doing this sport for over 10 years, and 90 percent of my injuries have been running related. It's the only high-impact sport of the 3, and when you push your body to the limit – as athletes so often do – it can break down.
Over the years, Pedro's been plagued by smaller running-related injuries on his right side: a stress fracture in the tibia, a muscle strain in the soleus, and so on. Always on the right side. Always something he could just work through with a bit of rest, ice, and a foam roller.
Seeking balance
Then in March 2016, it all changed.
Pedro was struck down with debilitating pain in his hip and could barely walk. This time it was his left side. With two important Ironmans rapidly approaching in May, he sought out immediate help. His physical therapist discovered a hip imbalance. The left side of his pelvis was tilted forward to compensate for weak glutes and chronic tightness on his right side.
The result of the imbalance was a severely inflamed piriformis, a gluteal muscle that can prove to be a real pain in the butt for runners.
We triathletes are all type As. We want to do more, push through pain, and continue to train, often ignoring issues in the process.
The PT put Pedro on a regimen of stretches for the right side and an overall core strengthening program. By the end of the 5th week, the PT had Pedro doing short 20 minute jogs. At the end of week 7, Pedro was almost back to full throttle and closing in on his next Ironman just 2 weeks away.
Lessons learned
Pay attention to your body. The pain is telling you something.
Deal with injury at its onset to stop it from escalating to something more serious.
Focus on what you can do, rather than what you can't, both to allow recovery and to maintain fitness during the healing process.
Training through the pain
Pedro says the good thing about soft tissue injuries (muscles, tendons, etc.) is that the body regenerates mostly by itself. But you need to have the blood flowing to aid in recovery. To expedite healing, Pedro did a lot of stretching, hip exercises with bands, icing, and more than a month off from running.
With age and experience, I am becoming a bit wiser and better about listening to my body. The upside of each injury is that I learn more about my body and its imbalances.
Recovery would have been faster, he says, if he'd rested completely but he need to preserve his fitness. To maintain his cardio capacity during recovery, he continued to swim and cycle along with doing hip flexor exercises to keep them tuned for running.
He also incorporated aqua running and elliptical training into his mix (and confesses that both are horribly boring).
Training takeaways
Pedro's two main takeaways from his recent hip issue:
I learned that your pelvis is a fundamental piece of your skeletal mechanics. It often rotates to compensate for any tightness on either side of the body. It's important to do a lot of core strengthening to make every muscle around the pelvis strong and healthy. I've always neglected core and stability work at the gym, preferring to be out there swimming, cycling, and running. I need to change that.
I was reminded that quads are always stronger than glutes and hamstrings. As a rule of thumb, focus your efforts on building strong glutes and hamstrings since the quads almost build themselves. Balancing the strength of these muscle groups dramatically improves both running and cycling performance.
Pedro on Polar
Pedro says his key training tool has always been a heart rate monitor. And like many Europeans, it's always been a Polar monitor. He says when he was growing up, if you saw a runner with a Polar, you would immediately know he was serious about his training.
"Way before all the GPS technology came out, I remember my dad had a Polar monitor that you could use to program laps and intervals. For me that was just astonishing", he says.
Twenty years have gone by and brought about lots of cool tools and metrics. But Pedro believes that Polar is the best at counting beats. For him, it's the metric that matters most.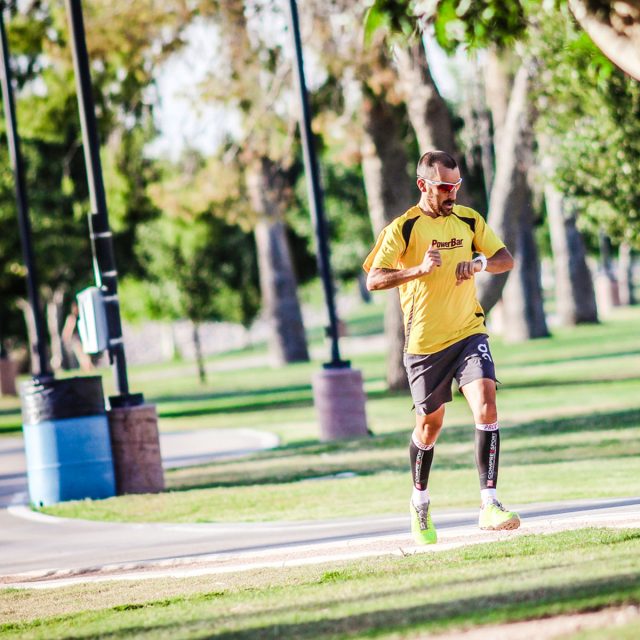 Pedro says he takes his heart rate when he wakes up each morning. That tells him if it's going to be a good training day or if he needs to back off. "My waking heart rate is usually around 36, so if I'm up above 40, I know that I either haven't fully recovered from my prior day's training or else my immune system is in overdrive and I'm about to get sick," says Pedro.
Pedro's Polar Products
Pedro says having a good, reliable heart rate monitor helps him become a better athlete. He uses:
What he loves:
Bluetooth connectivity that quickly allows him to upload the activity to his phone for a closer look
A power meter to track and measure his output on the bike
Heart rate monitoring on everything
Next challenge
After an impressive 10-year run in competitive triathlons, Pedro is not done. At 32, he says he still has at least 4 good years before he reaches peak performance. His big dream goal? Win the IRONMAN World Championship in Kona, Hawaii, in the next 3–4 years.
But even after he hangs up the pro title, he'll still keep racing just for the fun of it. Go Pedro!
About Pedro
Growing into the pro role
Age 11: First foray into "sports" – Super Nintendo's World Cup '94 video game.
Age 15: First time coaxed off the couch by athletic dad. Not an easy transition.
Age 16: First time making it across pool without having to touch bottom.
Age 17: First indoor triathlon. Second to last place. Not dead last – there was hope after all!
Age 24: First big break. Invited to join Portugal's national team in 2007 to train for the Olympics.
Age 25: First wins in the half triathlon (Triatlon de Guadalajara 2008, Spain) and the long course (National Long Course Championship 2008, Portugal).
Age 27: First Ironman (CHALLENGE Barcelona 2010, Spain). Sixth place. Making progress.
Age 30: First Ironman wins (IRONMAN Kalmar 2013, Sweden, and CHALLENGE Vitoria 2013, Spain).
Age 32: First venture into private coaching. Opens Ambition Coaching (LINK TO ambitiontri.com) for competitive athletes.
Ironman highlights
WINNER | IRONMAN Kalmar 2013, Sweden (8h19m30s)
WINNER | CHALLENGE Vitoria 2013, Spain (8h38m36s)
SILVER | IRONMAN Florida 2010, USA (8h19m26s)
BRONZE | IRONMAN Austria 2012, Austria (8h26m31s)
BRONZE | IRONMAN Wisconsin 2014, USA (8h36m56s)
4th | REV3 Cedar Point 2011, Ohio, USA (8h46m14s)
5th | IRONMAN North American Championship 2015, USA (8h26m42s)
5th | IRONMAN Arizona 2013, USA (8h11m40s)
5th | IRONMAN Florida 2013, USA (8h08m34s)
6th | CHALLENGE Barcelona 2010, Spain (8h25m52s)
8th | IRONMAN New York 2012, USA (8h38mXXs)
12th | IRONMAN Frankfurt 2013, Germany (8h22m28s)
If you liked this post, don't forget to share so that others can find it, too.
Or give it a thumbs up!
I like this article
Please note that the information provided in the Polar Blog articles cannot replace individual advice from health professionals. Please consult your physician before starting a new fitness program.