Jana Motschnig met her husband, Simon, 4 years ago through their shared passion for all things sporty, and they are each making their mark in amateur athletics. This German couple not only found common interest in running, triathlons, and fitness but also in healthful eating and active living. Their newest adventure? A baby girl, due in September.
We talked with Jana during her third trimester to see how she's adapted her running, training, nutrition, and goals now that "mom" is being added to her list of life adventures.
First love – running
Jana has played sports her whole life. By age 4 she was kicking the soccer ball with the best of the boys and continued the sport through her university years.
Then she became a full-time kindergarten teacher, and her soccer aspirations took a back shelf. To stay fit, she started doing some running and strength training. The runs got longer, she got faster, and the bug to compete bite her big time.
"I love running. I am allergic to standing still," she says.
A life and marriage in motion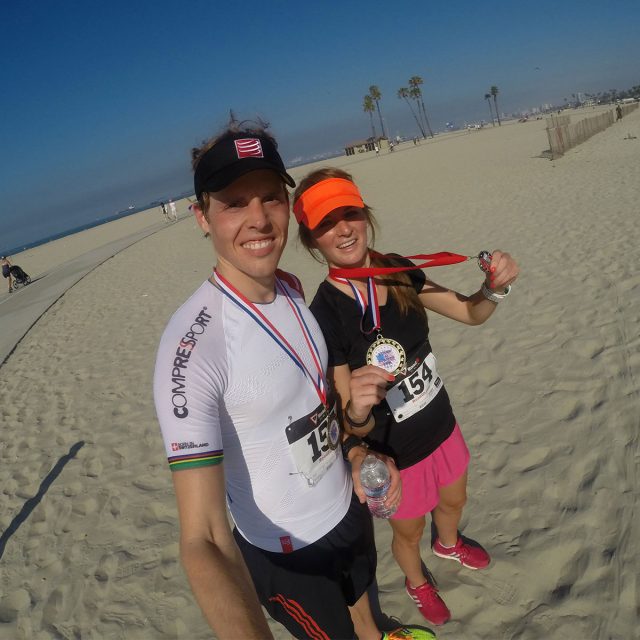 The urge to keep moving is how, at age 22, Jana met Simon. This time it was her fingers that were moving, doing some online sharing with like-minded athletes via Facebook. And there she met Simon. A fit and fabulous triathlete brimming with the same joie de vivre and love of food, fun, and fitness.
They met. They ran. They swam. They biked. They fell in love. They got married. They started a blog. And now they're going to have a baby girl in a couple of months.
Fitting it in
Since both Jana and Simon work full time, Jana says it means their daily routines have to be well-structured to ensure they also leave enough time for training and blogging about peak performance by balancing workouts and nutrition.
Jana particularly loves researching and sharing paleo recipe ideas with her blog followers. "It amuses me to occupy myself designing a healthful, balanced diet based on my individual training needs and sharing my insights with others," she says.
Fitting it all in is feasible, especially if you are doing something you really love.
For Jana, "fitting it all in" now means also incorporating cycling and swimming into her training. She's been infected by Simon's enthusiasm for triathlons and wants to join in the fun. She says the hardest sport of the three to embrace was swimming.
"I'm truly not a natural talent when it comes to swimming. Until 2014, I even avoided the water. I've had to learn how to make the water my friend," she says.
But running remains Jana's first love and favorite activity, letting her play in her second home, the great outdoors.
Changing fitness priorities
Jana says with the discovery of her pregnancy in January, her goals have changed.
It's all about giving our daughter a beautiful life, staying fit, and coming back strong.
It has become about looking for activities, exertion levels, and food choices that are good for both Jana and the growing baby. She's taken an extended two-year leave from her teaching career to stay home with her daughter. And she's been working on staying fit and healthy to ensure she is in good shape for delivery and for rapid recovery postpartum. But her top priority has been ensuring the safety and health of their baby.
Let your body be your guide
Jana says she did a lot of reading and research about exercise and nutrition during pregnancy, which encouraged her continue her running, cycling, swimming, and strength training but with some modifications.
I love to run fast and didn't think being pregnant would slow me down. But it has. I run like a snail now … and that's okay.
To start, she chucked her regular training plan, which was focused on competition-level fitness. Instead, she routinely adjusts her workout based on how her body feels, making adjustment in time and effort according to her energy level from day to day and trimester to trimester.
Running while pregnant – Jana's quick tips
Make sure to have your doctor's approval to continue running, and modify your running and training plans appropriately.
Adjust your speed, distance, and terrain as you advance through your pregnancy.
Always listen to your body to ensure you don't overexert yourself. Using a heart rate monitor can help you track how you are doing during both exercise and recovery.
Make sure to hydrate well before, during, and after workouts and avoid any form of fasting during pregnancy.
Adjust your food choice to fuel both your workout and your growing baby. Jana, who normally minimizes carbs, found that they were both helpful and healthful for her baby moving into the 3rd trimester.
Taking precautions
Jana's also taken precautions in her running and triathlon training, like moving her cycling to an indoor trainer to avoid road traffic; watching her heart rate to ensure she doesn't overexert herself; running increasingly shorter distances and at a slower pace; walking the hills when necessary; lifting only very light weights; and modifying her strength training and core workouts.
She says she feels great while moving and has experienced no nausea or headaches throughout her pregnancy.
Workouts during pregnancy – Jana's list of favorites
Running – it is her most loved activity, even during pregnancy.
Stationary bike – this helps Jana with her tri training, is easy on her body and joints, and ensures the baby is protected from the hazards of traffic and falls.
Swimming – Jana has found that she feels particularly great in the water during pregnancy and incorporates it as a regular part of her exercise program.
Strength training – Jana radically altered her strength training to eliminate heavy weights and exercises that compress her core, such as ab crunches or sit ups. Instead she focuses on core exercises like planks and extensions to boost her back strength and eliminate pain while she is carry the extra abdominal weight.
Life with baby
Jana and Simon are expecting baby Motschnig around September 30. Once Jana and the baby have settled in and she gets the doctor's okay, Jana plans to ease back into her running and triathlon training for 2017 competitions. Once their daughter is old enough, she'll also incorporate stroller running to spend time with her daughter outdoors.
To motivate her after delivery, Jana's set some new goals for herself. She is planning on competing in her first sprint distance triathlon sometime in 2017 as well as making her marathon debut in September in Berlin; she's shooting for a finish time of 3:30:00.
She'd also like to beat her current personal best at the half marathon distance (1:34:59, 2015, Koblenz) to break 1:30:00. And down the road, she's set her sights on running the Boston marathon. Life is looking good in the fast lane!
Relying on technology – Jana's Polar picks
Jana has been using heart rate monitoring as part of her training ever since she began running in earnest. But it wasn't until she tried out Simon's Polar V800 that she fell in love with the advanced features of Polar products. Her two go-to devices include:
Polar V800: Since Jana trains across a spectrum of sports, she likes the PolarV800 as her main tool for monitoring and analyzing her running, swimming, and cycling efforts.
Polar A360: Jana uses this wearable fitness tracker for more leisurely and indoor fitness activities. She loves that it measures heart rate directly at the wrist, eliminating the need to wear a heart rate strap.
---

Please note that the information provided in the Polar Blog articles cannot replace individual advice from health professionals or physicians. Please consult your physician before starting a new fitness program.
If you liked this post, don't forget to share so that others can find it, too.
Or give it a thumbs up!
I like this article
Please note that the information provided in the Polar Blog articles cannot replace individual advice from health professionals. Please consult your physician before starting a new fitness program.