The beauty of humanity lies in our uniqueness. Every one of us has our own individual needs, goals, ambitions, and dreams. It's the choices we make that determine the lives we live. 
You made the choice to read this (good choice!). Maybe you made a choice to start being more active or to work harder in your daily workouts, or maybe you made the choice to train for another triathlon.
It's time to Come Back Stronger, so whatever your goal is and however big your dreams are, you now have another choice to make:
The smart, all-in-one Polar Vantage M2 multisport watch, or the ready-to-wear, 24/7 lifestyle Polar Ignite 2 fitness watch.
Which is the right choice?
Vantage M2 or Ignite 2? That is the question!
Of course, we can explain all about the features that make these two so unique, and we will, but the only one who knows the answer is…YOU!
So, let's break it down in the simplest of ways.
POLAR VANTAGE M2 is the choice for anyone who has ever thought there are just not enough hours in the day. This watch has been designed to optimize your training and multisport performance, and assist your normal, everyday life. It provides you with all the tools you need for that athlete attitude. 
POLAR IGNITE 2 is the choice for anyone who wants to feel good all day, every day. This watch has been designed to balance your lifestyle, wellbeing, and fitness goals. It empowers you to live boldly, express yourself, dream big and own your days so you can exude confidence in action.
POLar vantage m2: for that athlete attitude
The Polar Vantage M2 is made for performance and is designed for function. 
It works as hard as you do to level up your training, providing you with personalized guidance and data to help you smash your goals, as well as smartwatch features such as music controls, weather reports and push notifications to keep you connected when you're in the zone. 
The saying goes, "Work hard, play hard!" — we like that, but we prefer to be smart about it which is why we believe, "Train smart, rest smart!" is a better fit for this watch.
Whatever your training goals are, the Vantage M2 offers customized guidance to optimize your training intensity and ensures you get enough quality rest for a full recovery. 
With the adaptive Polar Running Program, you'll get training plans based on your individual metrics to maximize your running performance whilst FitSpark™ daily training guide offers ready-made, on-demand workouts matching your recovery, fitness level, and training history so you can work out without burnout. 
The Training Load Pro™ feature gives detailed insights into your training sessions and the strain they are putting on different systems within your body, and with FuelWise™ you get a smart fueling assistant to help you find the optimal ways to refuel your body during long sessions and keep performing to the best of your ability.
After you've seized the day, Nightly Recharge™ will help you recuperate and regroup ready for the next morning by automatically measuring your overnight recovery and guiding your choices for optimal everyday living.
And, with Sleep Plus Stages™ sleep tracking, you'll learn about your sleeping behavior and begin to understand how quality sleep is vital for your overall health, wellbeing, and performance.
Polar ignite 2: for everyday confidence in action
The Polar Ignite 2 is made for life and designed for fitness.
It's beautiful, easy to use, and it's packed with tools to ensure you stay on top of your game. It exists to harmonize the balance between your fitness goals and the demands of daily life.
With a suite of clever applications such as Nightly Recharge™, Sleep Plus Stages™ sleep tracking and Serene™ breathing exercise, as well as FitSpark™ workout guide, you'll get ready-made, personalized workout suggestions, sleep and recovery guidance, and essential smartwatch features such as music controls, weather reports and push notifications so you can feel confident 24/7, 365. 
With clear and simple personalized data and guidance, plus weekly summaries for you to track your progress, the Ignite 2 will help you develop healthy habits and fitness routines whilst Training Load Pro and Polar Running Program give you training plans and insights to support and boost your sessions.
You'll also get sleep and recovery tracking to help you understand how the quality of sleep affects your health and wellbeing, as well as energy sources so you can learn about your energy expenditure and make adjustments to support your goals.
All this comes in a beautifully designed, customizable watch with a variety of colors and accessory bands to choose from to boldly express your personality and ambitions. It's a little bit of beauty for the beast in you!
So, what's the difference?
Well, of course, both watches come equipped with our industry-leading technology and world-renowned wrist-based heart rate monitoring as standard, they both have integrated GPS, and they both also have power-save options, but the unique qualities of each watch come to life in the environment or situation they were intended for. 
With Polar Vantage M2 vs Polar Ignite 2, it all comes down to the needs, goals, ambitions, and dreams of the person wearing the watch and the activities they want to focus on and progress in.
POLAr vantage m2 is perfect for…
People who want to push themselves to the limits, train hard and perform to the best of their abilities in a range of multisports.
You are goal-oriented and want to monitor your progress, track training sessions and analyze the data to develop yourself and improve your performance in swimming, running, cycling, or any other sport. 
If you are an ambitious athlete whose goal is to train for marathons, triathlons, endurance sports, and competition, you should choose the Polar Vantage M2.
polar ignite 2 is perfect for…
People who want to exercise regularly, improve their overall health, and find the right balance between their mental and physical wellbeing. 
You put life first, but you would like to focus more on your fitness, fitting it into your busy lifestyle. You want personalized guidance and daily motivation to keep you on track to reach your goals for body and mind so that you look and feel good.
If you work out for pleasure and leisure, play team sports for fun, take part in group classes, go to the gym, practice yoga, enjoy the strength, functional or cross-training and you like to walk, run, swim or cycle, you should choose the Polar Ignite 2.
the wrap-up: Polar Vantage M2 vs Polar Ignite 2
Both watches have been designed to support the lifestyles and demands of the wearer. They both come with smartwatch features, they both look great and they will both help you to Come Back Stronger – but just for clarity, here is the Polar Vantage M2 vs Polar Ignite 2 side by side, in an easy-to-understand, no-frills, straight-to-the-point comparison chart: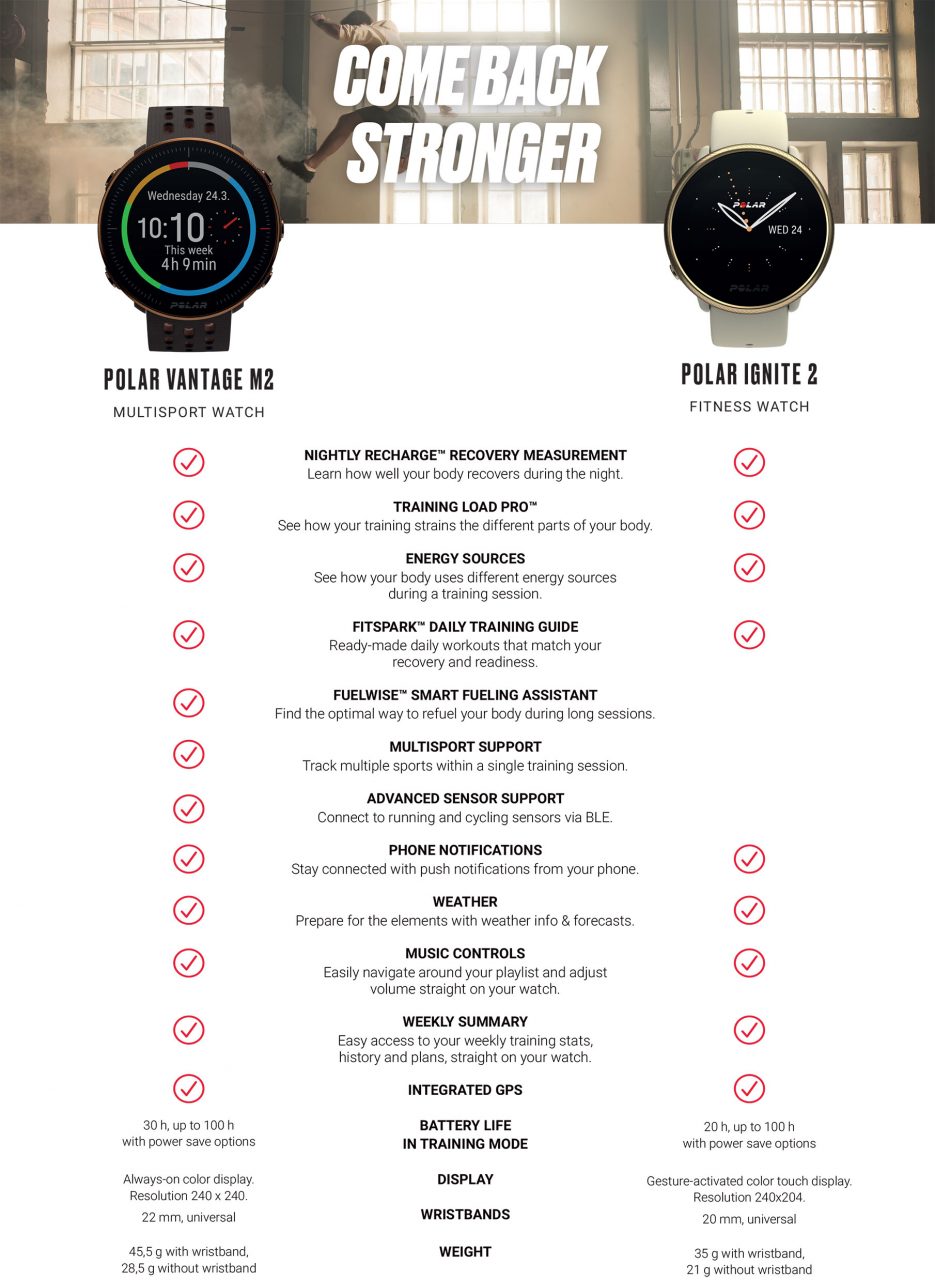 If you liked this post, don't forget to share so that others can find it, too.
Or give it a thumbs up!
I like this article
Please note that the information provided in the Polar Blog articles cannot replace individual advice from health professionals. Please consult your physician before starting a new fitness program.