The Ironman World Championship in Kailua-Kona, Hawaii, is a special race. Every year top age-group and professional athletes gather on the Big Island for triathlon's ultimate test of endurance and performance. The race brings out the best (and worst) of the day, including unexpected headlines and mid-race fireworks.
The 2018 edition, its 40th anniversary, proved no exception. Several longstanding records were broken throughout the day, including a new women's swim course record set by Lucy Charles (GBR) and a new men's bike course record set by Cameron Wurf (AUS).
Polar athlete and Kona veteran Bart Aernouts (BEL) broke the elusive eight-hour mark, with an almost flawlessly executed race that earned him an impressive second-place finish.
Most notably, though, were the finishing times. Heavy race favorite Daniela Ryf (CHE) shattered her previous year's record-setting time by over 20 minutes, and Patrick Lange (DEU) also broke his course record by almost ten minutes and became the first person to break the eight-hour mark.
Polar athlete and Kona veteran Bart Aernouts (BEL) also broke the elusive eight-hour mark, with an almost flawlessly executed race that earned him an impressive second-place finish.
We caught up with Aernouts to discuss everything from race strategy to mid-race motivation while reflecting back on his breakout Ironman World Championship performance.
Photo credits: Ingo Kutsche
What was your race strategy heading into the race?
It was my seventh time racing in the Ironman World Championship Hawaii and my race strategy was to race smart and focus on my own pace the whole way. You learn from other experiences my coach Luc Van Lierde and I were confident in the preparation. But we also know from our experience on the island that this race strategy was the way to go.
How is racing in Kona different than other Ironman races?
Kona is the biggest and most-watched triathlon event of the year. Every pro-athlete is dreaming about this race and the ones that are on the start line are fully prepared to give it their best shot. This makes Ironman first of all a race with the strongest field at the start line. On top of that, the climate and challenging course make it a very hard race and the conditions are unpredictable and could have a big impact on the race.
Were there any setbacks throughout the race, or was it pretty smooth?
I didn't have my best swim ever, but I was comfortable sitting in a bigger group. I just saved some energy this way and there was no need to worry this early in the race, but I only excited the water in 40th position.
At the start of the bike, I didn't feel great yet and I also decided to stick to my own race plan and pace so I was not following other athletes. I chose to race solo but it was also the best decision I made.
Halfway through the bike I started to feel strong and by that time I also moved up to some places as well. The last 1.5 hours on the bike I felt the strongest ever in an Ironman event and I was able to move up to the fifth position.
I even felt very strong at the start of the marathon. After 10K of running, I all of a sudden started to struggle a little bit and felt weak, but this feeling was only there for a few minutes. For the rest of the marathon, I focused on my own pace again and finished in second place.
On a good day even an Ironman can be pretty smooth, so this was for me as close to a perfect race as I could get.
What motivated you to keep pushing out on the course? Any mental tricks?
What motivated me the most is the experience I have in racing in the Ironman World Championship Hawaii. I know the race really starts to unfold after nearly four hours of racing. Everything that happens before doesn't mean that much.
I also focus on my nutrition and this way I only think about my next drinking or eating moment. This is a great way to break up the race into small sections instead of thinking about how many hours of racing you still have. In general, I think the most important thing is to stay very positive along the way, no matter what happens.
Were there any competitors you had your eye on specifically?
Not really. I know Ironman Hawaii is a race where it's best to focus on your own pace and your own race in general. For me, the only tactical part could start later in the marathon if needed.
What metrics were you keeping track of on the bike and run? How?
On the bike, I was tracking my power, as this gave me a good idea about my pacing in the first half of the race.
It helps me focus on my own pace and it's a great tool to help not overdo it early in the race. The second half of the bike I went more by feeling.
On the run, I used my Polar Vantage V to track my running pace, but I always pace by feeling. The watch is there to make sure I don't do crazy or stupid things early on the run.
Apart from that, my Polar watch is a crucial tool for my nutrition strategy as I rely on both distance and time. The racecourse markers can always be wrong but I'm sure my Polar is not!
When did you realize you had placed second at the Ironman World Championship? What was it like crossing the finish line?
I was running in the second position after 17 kilometers on the run and I was confident in my running pace and strategy. But Kona is very unpredictable and you always have to watch out for the last part of the marathon.
The last 5 km I felt my second place was safe, but I also realized that the first place was impossible. From then onwards I just tried to enjoy everything that was happening to me.
Crossing the finish line is always a relief after an Ironman. It was great to share this moment with my girlfriend and of course all the spectators.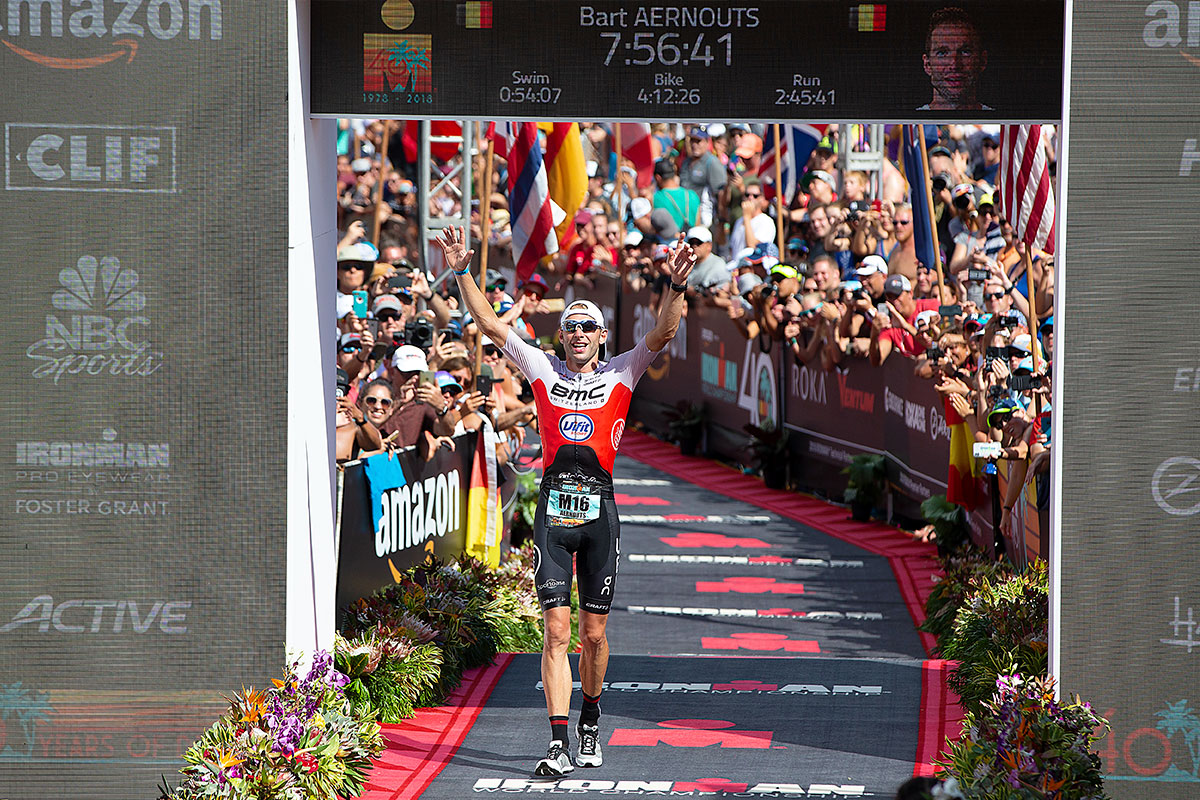 Has your podium finish sunk in yet? Any notable congratulations?
Yes, by now I know it's not a dream. I got a crazy amount of messages and it was great to see how many people were touched by my performance.
It means a lot to get so many nice messages from friends, family and colleagues. Even during the race, I got a lot of support from other pro athletes and age groupers on the way back from the Energy Lab. I'm thankful that my competitors at the start line are also happy to see me finish on the podium.
What would you do differently during next year's ironman world championship?
I think 2018 was a perfect edition for me. I'm not planning big changes in the preparation at the moment. It's great to know I'm capable of competing for the podium in Kona. Next year will be all about trying to have a perfect day in Kona again. I think I still have some room for improvement in all disciplines, but the future will show if it will happen again in Kona.
If I get the chance again to battle for the win in Kona I'm ready to take more risks as I already have a podium finish under my belt.
How will you spend the offseason? Anything fun?
I don't have plans for the off-season yet, but I'm sure I'll find the time to fit in a nice holiday. My daughter will get a lot of attention in the next few months as she has to miss me a lot during the season.
For me, it's important to spend time with my loved ones as they are always there to support me during the busy season. Now it's time to give them the much-deserved attention.
If you liked this post, don't forget to share so that others can find it, too.
Or give it a thumbs up!
I like this article
Please note that the information provided in the Polar Blog articles cannot replace individual advice from health professionals. Please consult your physician before starting a new fitness program.