If you've ever trained with a specific goal in mind, you already know this: progress doesn't happen on its own. It takes plenty of work and dedication, and it requires you to leave the comfort zone from time to time.
However, once you start putting in the hours and the sweat, it's deceitfully easy to get swept away by the flow and keep going, but after a while you might end up asking yourself some basic questions.
Am I doing enough? Am I doing too much? How do I know if the work is paying off?
When you understand your body better, you plan better, train smarter and recover fully.
Hard work is not the only thing that counts. Making progress takes knowledge. You need data that puts your work into numbers, and you need science-based expertise to turn those numbers into guidance. When you understand your body better, you plan better, train smarter and recover fully.
The more you know, the better you can become. That's what Polar Vantage V2 is all about.
POLAR VANTAGE V2 – KNOWLEDGE IS PROGRESS
Every athlete from the beginner or weekend warrior to the world-ranking pro deserves the best possible tools, so that they can monitor progress easily, reliably and conveniently.
We believe that an athlete shouldn't have to make compromises between materials, style and features.
This is the core of Polar Vantage V2 – it's a uniquely lightweight product for a premium watch, but doesn't sacrifice high-quality materials or design. And of course, it comes with all the features that you need to make progress towards your training goals, including old favorites and some exciting new additions!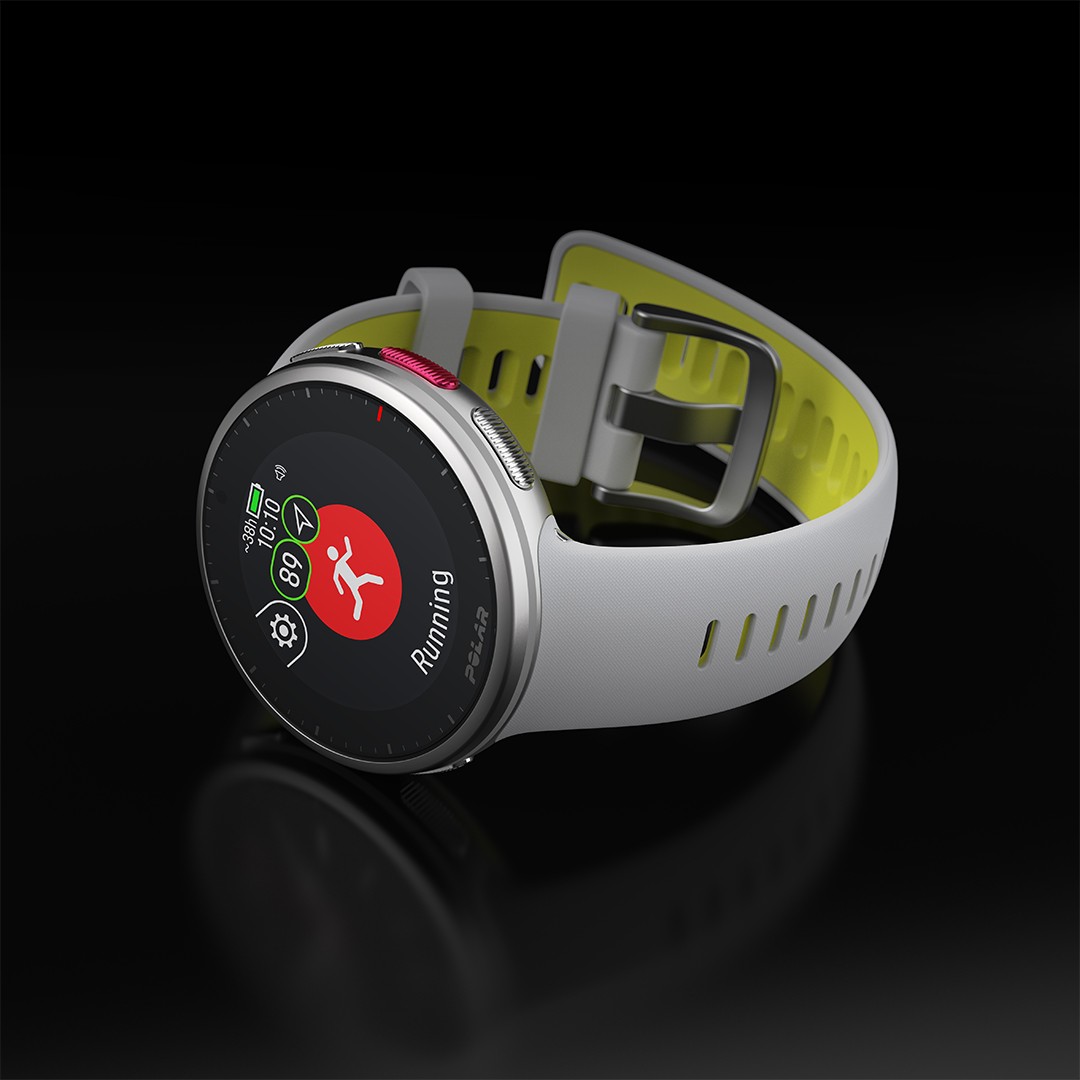 KNOW WHERE YOU STAND WITH YOUR PERFORMANCE
The first step of improving your performance is knowing your current situation. With Polar Vantage V2, you'll know exactly where you stand with your training: it comes with performance tests that put your running and cycling performance into clear numbers. When you repeat the tests regularly, you can easily keep track of the progress you've made.
When you're training with a goal and want to keep your training productive, it's important to train at the right intensity: not too hard, but not too light either.
This is the core of heart rate training and everything we do at Polar. This is also where the new performance tests play a big part: they allow you to personalize your heart rate, speed and power zones, so you'll know each training session is taking you towards progress.
The Running Performance Test gives you new insights into your running, such as maximum aerobic speed (MAS), maximum aerobic power (MAP), maximal oxygen uptake (VO2max), and maximum heart rate (if you go all out with a maximal test). You also get individual running training zones for heart rate, speed and power, so you'll know you're training at the right intensity.
The Cycling Performance Test is aimed at cyclists who want to track their performance. It's based on the classic FTP test (every cyclist's favorite!), and you can choose between a full 60 minute test or a 20, 30 or 40 minute-version. The test tells you your functional threshold power (FTP), and allows you to define your personal power zones, so you can train at the right intensity and make the most of each ride. This test requires a cycling power meter, but no worries – Polar Vantage V2 is compatible with power meters that use BLE.
MAINTAIN THE BALANCE
The right balance between training and recovery is the key to making progress safely and stably. Just like the original Vantage V, Polar Vantage V2 comes with top tools for training load and recovery tracking, so you'll know whether you've been training too much, too little or just right.
Polar Vantage V2 helps you keep track of your training load with Training Load Pro™. It turns your training load into tangible numbers and tells you whether your training is productive or if you need to step up a notch or take it easier.
For recovery tracking, you can choose between Recovery Pro™ (if you have a Polar H10 or H9 heart rate sensor) and Nightly Recharge™. Recovery Pro is designed for athletes who want specific recovery data provided by the Orthostatic Test, whereas Nightly Recharge is an automatic night-time measurement that does not require a separate heart rate sensor. Both are paired up with detailed sleep metrics, so you'll be able to see how your night went.
When you want to get everything out of your strength and speed sessions, you need to know the current condition of your leg muscles. We wanted to create a simple way for you to find out whether your legs are recovered and ready for an intense workout, so we set out to build a solution that doesn't require any specialist equipment: the Leg Recovery Test. It's a quick and simple countermovement jump test you can do anywhere – all you need is your Polar Vantage V2. When you do the test regularly, it's also a great way to keep track of your lower body muscle performance.
If you're not training with a specific training plan but still want to maintain a solid exercise routine and work out effectively, Polar Vantage V2 comes with the FitSpark™ training guide. FitSpark™ gives you daily ready-made workouts that are built to match your recovery, fitness level and training history, so you'll always have the right type of workout available on your watch when you need it.
NEW TOOLS TO KEEP YOU IN CONTROL
We've added new smart features to make your experience with Polar Vantage V2 smoother than ever.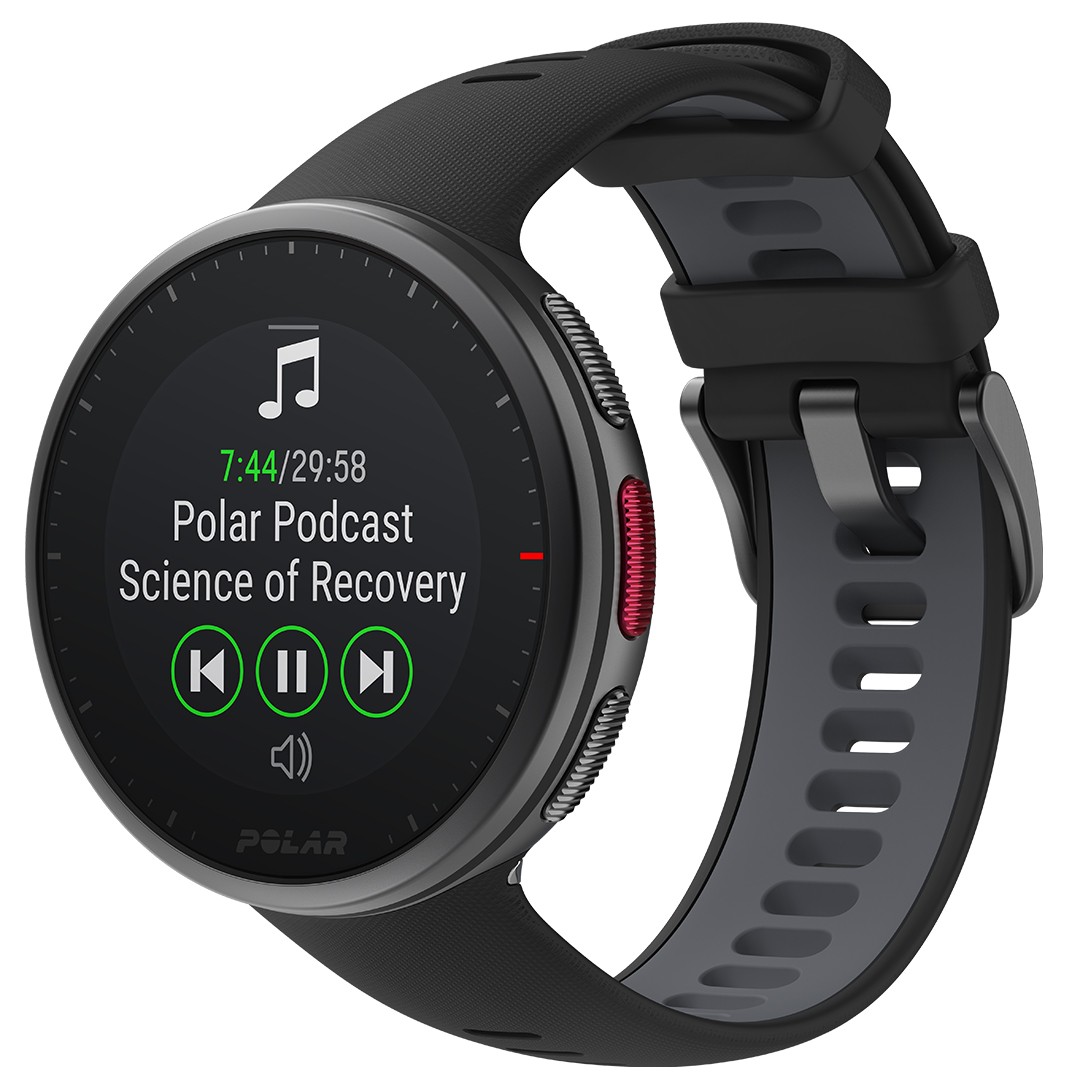 If you like to listen to music during your workouts, here's a treat: Polar Vantage V2 comes with music controls, so you can easily navigate around your playlist and adjust volume straight on your watch without having to take your phone out of your pocket every time.
The customizable watch faces, dashboards and swipe-down menu allow you to personalize your watch and see what you want where you want. The weekly summary dashboard keeps you up to date with your training plan: it shows every workout you've done and all your upcoming sessions as well.
We also included some familiar essentials: weather and phone notifications.
BEHIND THE DESIGN
Polar Vantage V2 is a great demonstration our main design principles: sportyness, functionality and simplicity. It's optimized to work well for both sports performance and everyday life, and the high-quality materials give the watch a premium look and feel.
The design of the original Polar Vantage V is still strongly present.
"The Vantage V design has received excellent feedback from our customers, and it has won both the iF and the Red Dot design awards, so we wanted to build strongly on that legacy", says Juhani Savolainen, Business Product Manager for Polar Vantage V2.
There are a few key elements that really showcase the evolution.
"The biggest thing is weight", says Lauri Lumme, Senior Industrial Designer from the Vantage V2 design team. "The Vantage V2 watch casing is nano-molded aluminum composite, which allowed us to decrease the weight by over 20%, making the Vantage V2 only 52 grams. And that's quite something, because we've still retained the full metallic case and I don't think you can find something as stylish and lightweight anywhere else."
The aluminum case makes the watch ideal for both sports and everyday 24/7 use. It feels great on the wrist, but looks great too, as the aluminum is not only light but it also has a beautiful shimmer.
One detail where you see the difference with Vantage V2 are the buttons.
"They're simpler, there's less elements and they are more functional", Lauri says. "We're putting the user at the center of the design. The buttons need to be fully functional during the hardest sport performance and still look good!"
The wristband adds it's own finishing touch to the design: the silicone has a 3D-lasered microtexture that gives it a unique fabric-like feel. The proprietary design gives a perfect fit around the wrist and makes sure the optical heart rate sensor functions optimally.
There's also another new perk: improved battery life. Polar Vantage V2 offers up to 40 hours of continuous training time, and with the new power save options you get up to 100 hours.
For us, the Polar Vantage V2 design is a beautifully balanced combination of lightness, style and functionality.
POLAR VANTAGE V2 IN A NUTSHELL:
We believe you don't have to be a pro athlete to deserve the best tools.
Polar Vantage V2 is for anyone who wants to make progress towards their training goals with pro-level features and values streamlined design, premium quality and lightness. It helps you to really get under the skin of who you are and gives you the knowledge you need to make progress.
To put it short: We've given our best, so you can reach yours.
Find out more Polar Vantage V2 here and start your journey towards progress.
If you liked this post, don't forget to share so that others can find it, too.
Or give it a thumbs up!
I like this article
Please note that the information provided in the Polar Blog articles cannot replace individual advice from health professionals. Please consult your physician before starting a new fitness program.