Whether you're training to meet a specific goal or running to stay fit and healthy, seeing progress is a big part of what keeps us motivated. Watching progress will drive your performance, but it's the accurate and actionable data that is truly giving you the information needed to reach those milestone moments.
Polar M430, our newest running watch, takes your training to an entirely new level by featuring our most advanced running technology and smart coaching features yet.
WRIST-BASED HEART RATE TECHNOLOGY
Perhaps the most apparent new feature on Polar M430 is the addition of a 6-LED wrist-based heart rate monitor, featuring Polar's proprietary heart rate technology.
"Polar M400 has been a nearly perfect companion for many runners across all levels of experience," says Sanna Meriö, Segment Manager at Polar. "For years, it's been a customer favorite, so we wanted to build on the success and ultimately create a new running watch that makes heart rate training even more approachable. Wrist-based heart rate, paired with advanced running and smart coaching features, makes Polar M430 a very compelling running companion as well as a great value."
With 40 years of experience in heart rate, reliable heart rate technology is not something Polar takes lightly. When Polar develops any new product, the team looks at everything holistically.
"Based on structure, weight, ergonomics, use cases and several other factors, we design the optimal LED structure within the product's form factor," says Sanna Meriö. "In the case of Polar M430, we chose the 6-LED solution to account for weight, form factor, pendulous motion, and more. We develop our algorithms all the time and Polar M430 builds on our latest developments."
RUN SMARTER WITH POLAR RUNNING PROGRAM & TRAINING GUIDANCE
In addition to wrist-based heart rate, Polar M430 also touts advanced running technology and Polar Smart Coaching features. Polar Running Program, paired with Polar M430, will guide your daily training and help you achieve performance goals.
Runners can upload daily training programs to their Polar M430, and be off to achieve new goals each time they train. Not only does Running Program help you train with the right intensity but also builds other key areas of your training program via strength and core training videos.
"With a simple and intuitive process, Running Program helps to improve running performance and results for a specific event," says Dr. Raija Laukkanen, Director of Science Collaborations at Polar. "The program will also inform runners how long they'll need to recover during training and after the event, and can even be applied to broader fitness programs, such as getting in shape for the upcoming summer months."
Polar is not new to personalized guidance and Smart Coaching, though. For 20 years, Polar has incorporated pieces of Smart Coaching in various programs such as Personal Trainer, Keeps U Fit, and the Star Training Program.
"The technology and development of Running Program is ultimately a combination of various pieces that worked well in previous Smart Coaching programs," says Dr. Laukkanen.
"We then added functionality and intelligence that allows for adaptation, event dates, and integrated strength training exercises. What's important to remember is that every piece in the program – from incorporating strength training and recovery to help you avoid injury to planning your entire training session to build speed or endurance – serves the purpose of making you a better runner."
SEE YOUR PROGRESS WITH RUNNING INDEX
With Running Index, another advanced running feature for Polar M430, athletes can easily monitor their progress and see how their running performance develops over time. The score is calculated automatically after every run, based on heart rate and from the speed data collected via GPS.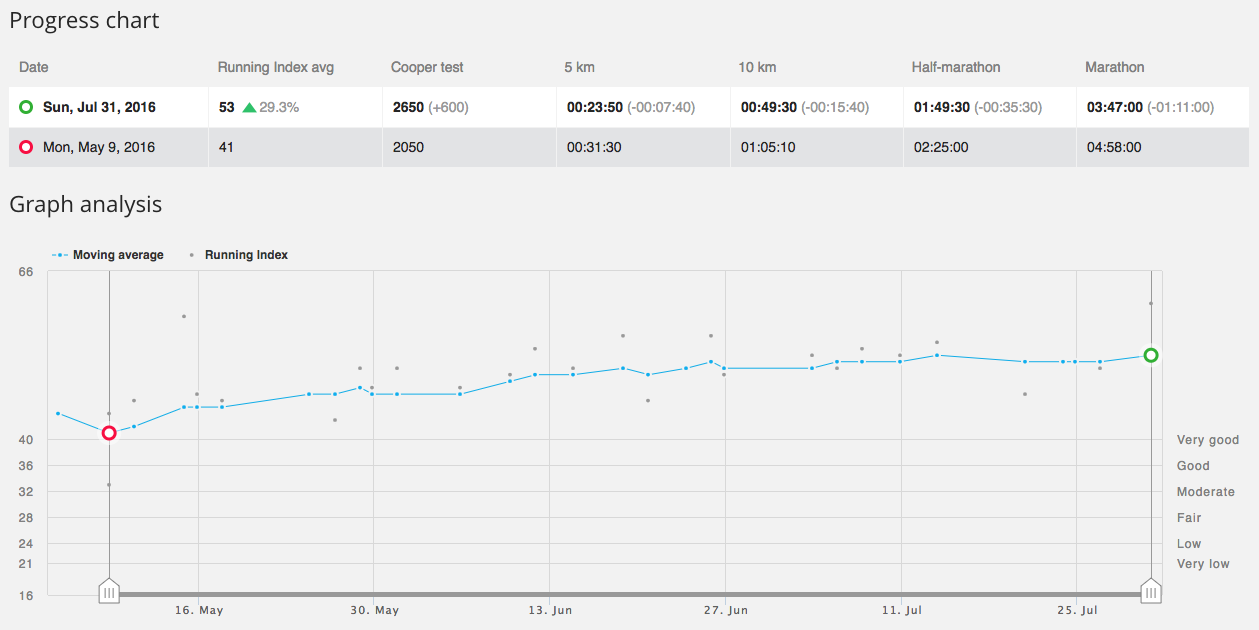 The relationship between running speed and heart rate changes when you gain or lose fitness. When you gain fitness, your heart rate typically decreases at any given submaximal speed. Similarly, when you lose fitness, your heart rate typically increases at any given submaximal speed. Running Index takes advantage of this well-known phenomenon, and allows you to easily monitor changes in your running performance.
With Running Index, another advanced running feature for Polar M430, athletes can easily monitor their progress and see how their running performance develops over time.
"Not only will Running Index give you insight into your performance over time, but also comparing your Running Index value with others will give you an idea of your own running fitness level. For example, you can determine whether you're fitter than average in your age group, or if you have some work cut out for you," says Sanna Meriö.
Paired with Polar's proprietary and reliable wrist-based heart rate technology, Polar M430 empowers performance-driven runners and goal-minded athletes to effectively set and achieve goals, and visualize their progress every step of the way.
Excited? Learn more about Polar's newest running watch in the official Polar webstore.
If you liked this post, don't forget to share so that others can find it, too.
Or give it a thumbs up!
I like this article
Please note that the information provided in the Polar Blog articles cannot replace individual advice from health professionals. Please consult your physician before starting a new fitness program.