The Polar M430 GPS running watch with wrist-based heart rate is the much-awaited successor to the award-winning Polar M400.
Here we take a look at the main improvements in the Polar M430 compared to the Polar M400 and at the end of this post, we put the Polar M430 side by side with other Polar products to help you decide which Polar product is right for you.
Polar M430 is the ideal tool for serious runners aiming to reach their personal best.
The main improvements compared to the Polar M400 are:
The revamped design
Stopwatch
Vibration alerts
(Check out a more detailed comparison at the end of this post.)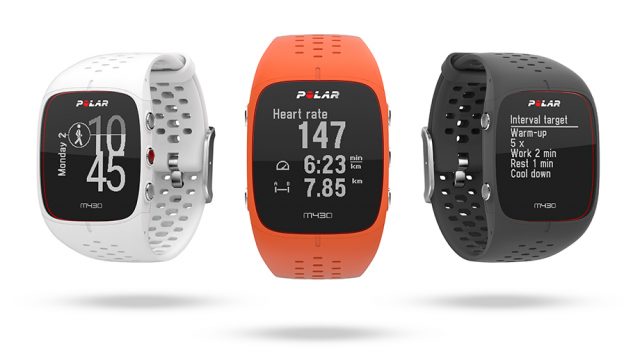 Polar M430 GPS running watch in a nutshell
Designed for serious, goal-driven runners
Successor to the award-winning Polar M400 GPS running watch
Integrated GPS, wrist-based heart rate and 24/7 activity tracking
Waterproof (WR30)
8 hours of training with GPS and optical heart rate, fully charged
Works with Polar Flow, the free fitness and training app and web service
Comes with Polar Smart Coaching features, such as the Running Program
Price: $229 / 229 €
Best GPS running watch of 2017?
Reliable running metrics is only a part of the Polar M430 experience.
What truly sets Polar M430 apart is its ability to help you turn running data into insight and action. Paired with Polar Flow, the Polar M430 turns into a reliable running coach that provides personalized feedback, an adaptive training plan, and live guidance for athletes during different stages of their training sessions.
The Polar Running Program considers your training history, gauges your current activity levels, accounts for a final goal date and target distance (5K, 10K, half and full marathon) and then builds a personal running program in seconds. Polar Running Program also isn't your run-of-the-mill spreadsheet running plan. You can upload your training plans to the Polar M430 and let it guide you during your sessions.
Watch the video below to get a feel for what the Polar Running Program is like:
Other advanced Polar Smart Coaching features include Running Index, which uses data to show the efficiency of your running, Fitness Test, which enables athletes to gauge their current fitness levels and see progress along the way, and Training Benefit, which provides feedback immediately after a training session to explain the benefits of a workout.
For more info on this, read how Polar M430 helps you run smarter.
What's new with the design
The design is fully waterproof and features a lightweight, breathable wristband and vibration alerts. Polar M430 comes in dark grey, dark blue, white orange and neon green. Polar M430 features the same 5-button design as Polar M400, suited for easy handling in difficult conditions.
The black-and-white screen is easy to read even – or should we say especially – in direct sunlight. We've also added in new watch faces.
Accurate optical heart rate tracking with Polar M430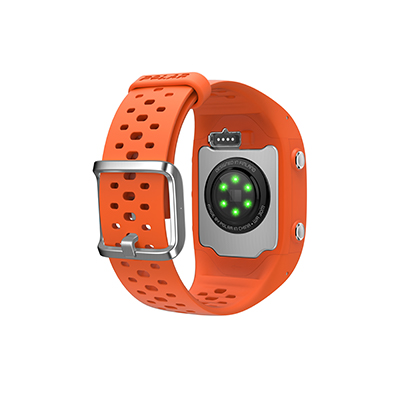 Polar M430 has our proprietary wrist-based heart rate technology with 6 LEDs. This mean that inside the watch, there is the technology that detects (which includes the LEDs) the pulse waves. There's also the heart rate algorithm that interprets the raw data it's getting.
Compared to other Polar products the Polar M430 is also different in form factor, size, weight and how it sits on the wrist.
All these three (tech, algorithm and the form factor) form the heart rate solution, and we can tweak each one of them to get optimal results. For Polar M430 we have noticed that the 6-LED solution gives us (and you) the best results.
With the Polar M430, you can for the first time do the Polar Fitness Test with wrist-based heart rate. We feel that this speaks volumes of the accuracy and reliability of the heart rate tracking on Polar M430.

How does Polar M430 compare to other Polar products?
Polar M430 is the successor to the popular Polar M400 GPS running watch and builds on its success.
Here's how Polar M430 compares to the M400 and other Polar products. You can also use our comparison tool for more in-depth comparisons.
M430
M400
A370
M200
M600
V800
Wrist-based heart rate
X
X
X
X
GPS
X
X
From mobile device
X
X
X
GPS power save mode
X
Sleep Plus
X
X
Speed and distance from the wrist
X
X
X
End time estimator
X
X
GLONASS
X
Smart Notifications
X
X
X
X
X
X
Smartwatch OS
(Android Wear)
X
Music storage and playback
X*
Swimming metrics
X
X
Multi-sport mode
X
Connectivity with Bluetooth smart sensors
Heart rate, Stride
Heart rate, Stride
Heart rate
Heart rate
Heart rate
Heart rate, Cadence, Speed, Power, Stride
Battery life with activity tracking
20 days
30 days
4 days
6 days
2 days with Android
1.5 days with iPhone
30 days
Battery life with GPS
8/30 hours (low-power GPS)
8 hours
13 hours w/ mobile GPS
6 hours
8 hours
13/50 hours (low-power GPS)
Display
Black-and-white display, 128×128 px
Black-and-white display, 128 x 128 px
Color touchscreen
Black-and-white display, 1342 px
Color touchscreen, 240×240 px
Black-and-white display, 128×128 px
*Music storage available when Polar M600 is connected to Android devices
How can you get the new Polar M430 GPS running watch?
Polar M430 is available in dark grey, dark blue, white, orange and neon green (limited edition) in the official Polar webstore.
Now, get ready to chase that destiny!
If you liked this post, don't forget to share so that others can find it, too.
Or give it a thumbs up!
I like this article
Please note that the information provided in the Polar Blog articles cannot replace individual advice from health professionals. Please consult your physician before starting a new fitness program.