Polar M600
Smart coaching meets smartwatch
Polar M600 is the GPS sports smartwatch from the pioneers of heart rate tracking and smart coaching.
Find retailer
Watch video
Robust design
The smartwatch built for sports
Polar M600 is robust and built to last. In addition to the color touchscreen, it has 2 buttons for quick control during training. Changeable silicone wristbands available in black, white and red.
Exclusive Polar Smart Coaching features
Running Program
Train for a running event with a personal and adaptive training plan in Polar Flow. Choose from four different targets, 5K, 10K, half marathon and marathon, and get a training plan that fits you and your goals.
More
Running Index
Shows how your running performance is developing.
More
Polar Sleep Plus™
Sleep is vital to your recovery and overall well-being. With Polar Sleep Plus™ you get valuable insights to your sleep. Learn about the quality of your sleep, get to know your sleeping patterns and let good sleeping habits push you towards better performance.
More
Activity Guide
Shows how active you've been during the day and gives practical guidance for reaching your daily activity goal.
More
Activity Benefit
Gives feedback on your daily, weekly and monthly activity, showing how your active choices help you stay healthy.
More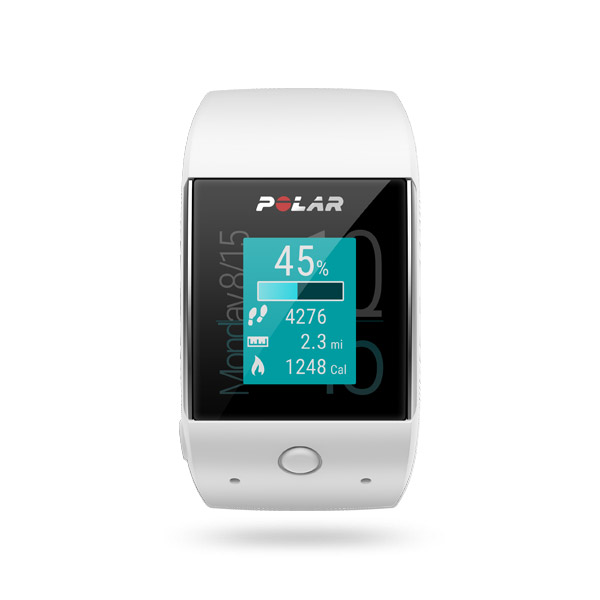 Smart Calories
Lets you know exactly how many calories you've burned based on your weight, height, age, gender, your individual maximum heart rate (HRmax) and how hard you're training.
More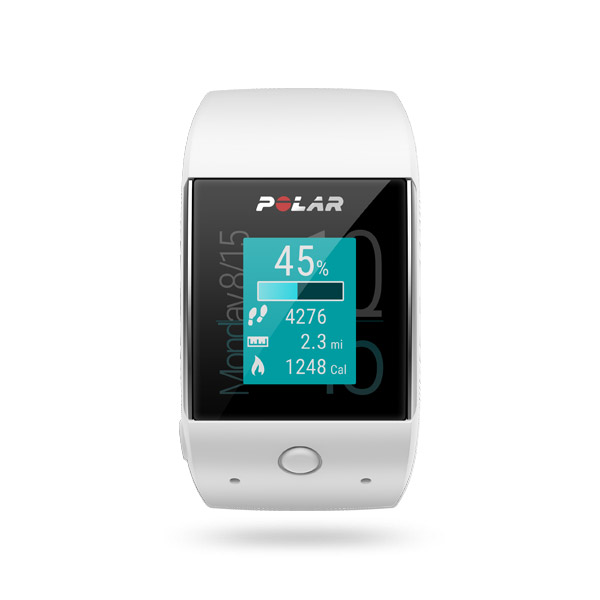 Training Benefit
Delivers motivating feedback immediately after training describing the effect of your session.
More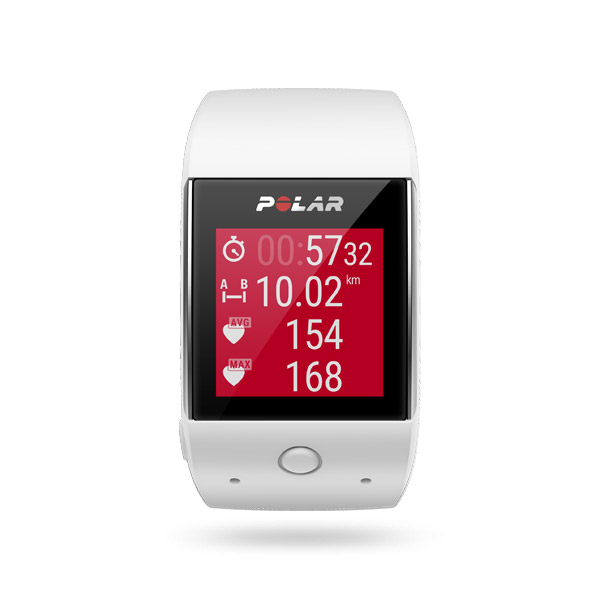 Customizable Sport Profiles
Polar provides over a hundred different sport profiles which enables you to choose the right one for your training sessions, and get sport-specific reports and feedback. All sport profiles are based on specific logic and give you the most accurate data, for example, about calories burned. Manage your sport profiles in the Flow web service.
Wrist-based heart rate measurement
Polar M600 features the proprietary Polar wrist-based heart rate measurement technology, optimized for Polar M600. Simply tighten the band and you're ready to train.
Integrated GPS
Polar M600 includes fast and accurate GPS functionality, allowing you to see your speed, distance, and route.
Swimming metrics
See your indoor swimming metrics such as distance and pace, as well as strokes per minute and strokes per pool length with the waterproof Polar M600 (IPX8).
Sleep tracking
Automatically tracks your sleep time and quality. Check and learn more about your sleeping patterns in the Polar Flow app and web service.
Sensor compatibility
Polar M600 is compatible with the Polar H10 heart rate sensor.
24/7 activity tracking
Track your 24/7 activity, steps, distance and calories burned with the waterproof Polar M600.
Polar Flow: A world of fitness
Polar Flow is the online window to your training, activity and sleep. Track your activity, analyze your progress and achieve more with Polar Flow – the complete fitness and training platform available on desktop and mobile.
Get organized
Plan your training sessions and set targets. Track your training with Polar M600 and analyze your overall fitness and health in Polar Flow.
Get motivated
Draw motivation from tracking your long-term progress. See an advanced analysis of your achievements with graphs and statistics.
Get social
Share your training with friends – or the whole world. Explore what other users have been doing and where.
Create account
Support
Get support and the latest updates
Update your product to take advantage of the latest features and functionalities. Get support and user manuals.
FAQ
Frequently Asked Questions
Quick answers to quick questions.
Yes. However, battery life and smartwatch functionality is optimized for phones running Android.
Android Wear 2.0 is Google's smartwatch OS that enables both Android and iOS users to access the Google Play store via the watch, download apps and operate them directly on the Polar M600.
Polar M600 is a smartwatch. Smartwatches can run different apps, like the weather app, the calendar app or – in the case of the Polar M600 – the Polar App. The Polar App is what opens up when you press the front button on the Polar M600.
With the Android Wear 2.0 update, battery life with the iPhone should be better than the promised 1 day / 8 hours of training.
Polar M600 is suitable for swimming (IPX8).