"I want to work out but I just don't have the time to exercise." Sounds familiar?
If so, you're not alone – lack of time is the number one reason for skipping exercise but is it a real obstacle or an excuse? It's not really a question of finding time, but making time for exercise. Also, you don't need a lot of time to exercise effectively and you don't necessarily need a gym.
If you're short on time, high intensity interval training (HIIT) with short bouts of intensity and quick recovery periods is your best bet to get an effective workout that increases your VO2 max and helps build lean muscle mass.
Work out anywhere, anytime with these three quick HIIT workouts – and with a fitness watch, you can make sure you're exercising enough and at the right intensity!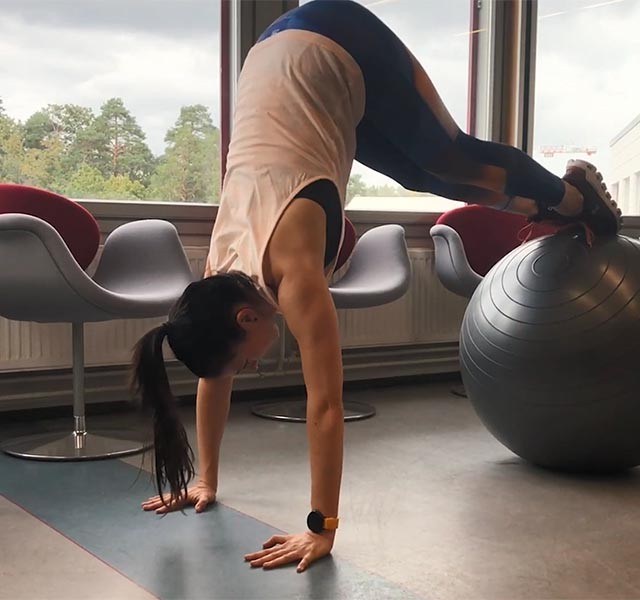 Office Workout
6 x Knee Tucks With Pikes
10 x Tricep Dips
s12 x Chair-Hover Squat Jump
8 x Plyo Pec to Tricep Push-Ups
8 x One-Leg Plyo Lunges
8 x Push-Up Knee Tucks
Stair Workout
Up 2, Down 1
Lateral Stair Sprints
10 x Plyo-Reach Push-Ups
8 x Plyo-Fly Lunges
8 x Bunny Hops
10 x Inverted Push-Ups
5 x Inverted Superman Push-Ups
Outdoor Workout
6 x Ball Push-Ups
10 x Front Taps and 10x Lateral Taps to 6x Front/Back Squat Jumps
30 x Russian Twists
8 x Ball Reverse Burpees
12 x Plyo Circle Lunges
Looking for more HIIT-spiration? Discover more quick HIIT workouts on the Polar blog!
If you liked this post, don't forget to share so that others can find it, too.
Or give it a thumbs up!
I like this article
Please note that the information provided in the Polar Blog articles cannot replace individual advice from health professionals. Please consult your physician before starting a new fitness program.