Every athlete is different, and so is every sports watch.
At the end of the day, it all comes down to you: what are your goals and needs? What are your favorite sports? Are you looking for the most extensive set of features and functionalities, or is the right look and feel more important to you?
Looking for the best possible training partner to suit your needs can be daunting. That's why we put together this Q&A that maps out some of the most notable differences between our new premium multisport watch, Polar Vantage V2 vs Polar Grit X, our outdoor multisport watch.
We answer some of your key questions so you know which one is right for you.
I'm training for a marathon. Which MULTISPORT watch is better for running?
Both watches are great training partners for runners, but Polar Vantage V2 has some advantages here.
Polar Vantage V2 comes with the new Running Performance Test that makes it easy for you to follow your progress: it gives you tangible numbers about your running, such as your maximal aerobic power (MAP), maximal aerobic speed (MAS) and maximal oxygen uptake (VO2max). When you repeat the test regularly, you can easily see your improvement in the data. It also gives you personal training zones for heart rate, speed and power, so you know you're training at the right intensity.
Another new runner-friendly tool is the Leg Recovery Test, a quick and simple jump test that tells you whether your legs are recovered and ready for an intense strength or speed session. When you do the test regularly, it's also a great way to keep track of your lower body muscle performance.
Which watch would be more useful for a cyclist?
If road cycling's your thing, Polar Vantage V2 has some great perks for you. It comes with a brand-new Cycling Performance Test that helps you follow the development of your FTP (functional threshold power). You can also personalize your training zones for power, so you'll be able to train at the right intensity and make the most of every ride.
And since cycling puts plenty of strain on your leg muscles, Polar Vantage V2's Leg Recovery Test is another useful tool for cyclists, too (check out the previous question for more).
I'm really into trail running, mountain biking and other outdoor sports. Which MULTISPORT watch would suit me best?
Both watches include many useful tools for outdoor enthusiasts, such as the FuelWise™ fueling assistant, Hill Splitter™ for detailed uphill and downhill stats, weather and turn-by-turn route guidance (powered by Komoot).
It really comes down to which design you think would better suit your outdoor adventures. Polar Vantage V2 is very light (52 g) and minimalist, whereas Polar Grit X, while also lightweight (only 64 grams), boasts a rugged and durable design that is optimized for rough conditions.
I want to track my sleep and recovery, are there any differences?
Both watches come with Nightly Recharge™, our automatic overnight recovery measurement. If you're a hardcore athlete and need more detailed data and feedback about your recovery and training readiness, Polar Vantage V2 gives you the option to choose Recovery Pro™ instead (note that you can only use one recovery tracking feature at a time).
No matter which tracking method you choose, you get detailed sleep stats from Sleep Plus Stages™, including sleep stages and a Sleep Score.
Of course, we're all different sleepers, so the design of the watches is something you might want to consider here. As we already mentioned, Polar Vantage V2 weighs a little less, so if you prefer a lighter watch on your wrist during the night, this could be a differentiating factor for you.
This really comes down to personal preferences, though – like all our watches, Polar Grit X is designed to look and feel great 24/7, and we know Grit X owners are happily using their watch to track their sleep.
I like to listen to music during my day and my workouts. Which watch should I opt for?
Polar Vantage V2 comes with music controls that allow you to navigate around your playlist and adjust volume right on your watch, without having to take your phone out.
Polar Grit X doesn't have this functionality, so if music is an important part of your workouts and other daily life, Polar Vantage V2 might just be the right choice for you.
What sports I can track with each watch?
There's no difference, really. Polar Flow has over 130+ different sport profiles available, and you can choose the ones you want to add to your watch.
Both watches come with some default sports, but you can switch and add up to 20 sport profiles to your watch and adjust what you see on the watch screen during your training session.
I don't want a heavy watch. Which MULTISPORT watch is lighter?
Compared to many other GPS sports watches, both are very light. Polar Vantage V2 takes the win here: it weighs only 52 grams, whereas Grit X, while being one of the lightest outdoor watches out there, weighs 64 grams.
Are there differences in materials?
The most notable difference is the case: for Polar Vantage V2, it's full aluminium, which gives the watch a slightly more premium look and feel. Polar Grit X comes with a stainless steel case and glass fiber reinforced polymer back cover.
Both watches have a Gorilla Glass touch display.
Can I change wristbands on both watches?
Yes you can.
Polar Vantage V2 comes with proprietary silicone wristbands that are optimized to give you an extra streamlined fit around your wrist. The bands are easy to change and come in a selection of six different colorways.
Polar Grit X gives you plenty of options with wristbands: there are three different materials and several colors to choose from in our selection, and it's also compatible with any universal 22 mm quick release watch bands.
Which watch has longer battery life?
The battery specs are the same: both Polar Vantage V2 and Polar Grit X boast up to 40 hours of continuous training time (with GPS and wrist-based heart rate), and the multiple power save options give you up to 60 hours more, totaling up to 100 hours of continuous training.
In watch mode with continuous heart rate tracking on, the battery lasts up to 7 days (depending on how you use the watch, of course: long training sessions and phone notifications will drain the battery slightly faster).
Finally, here is Polar Vantage V2 vs Polar Grit X in a nutshell: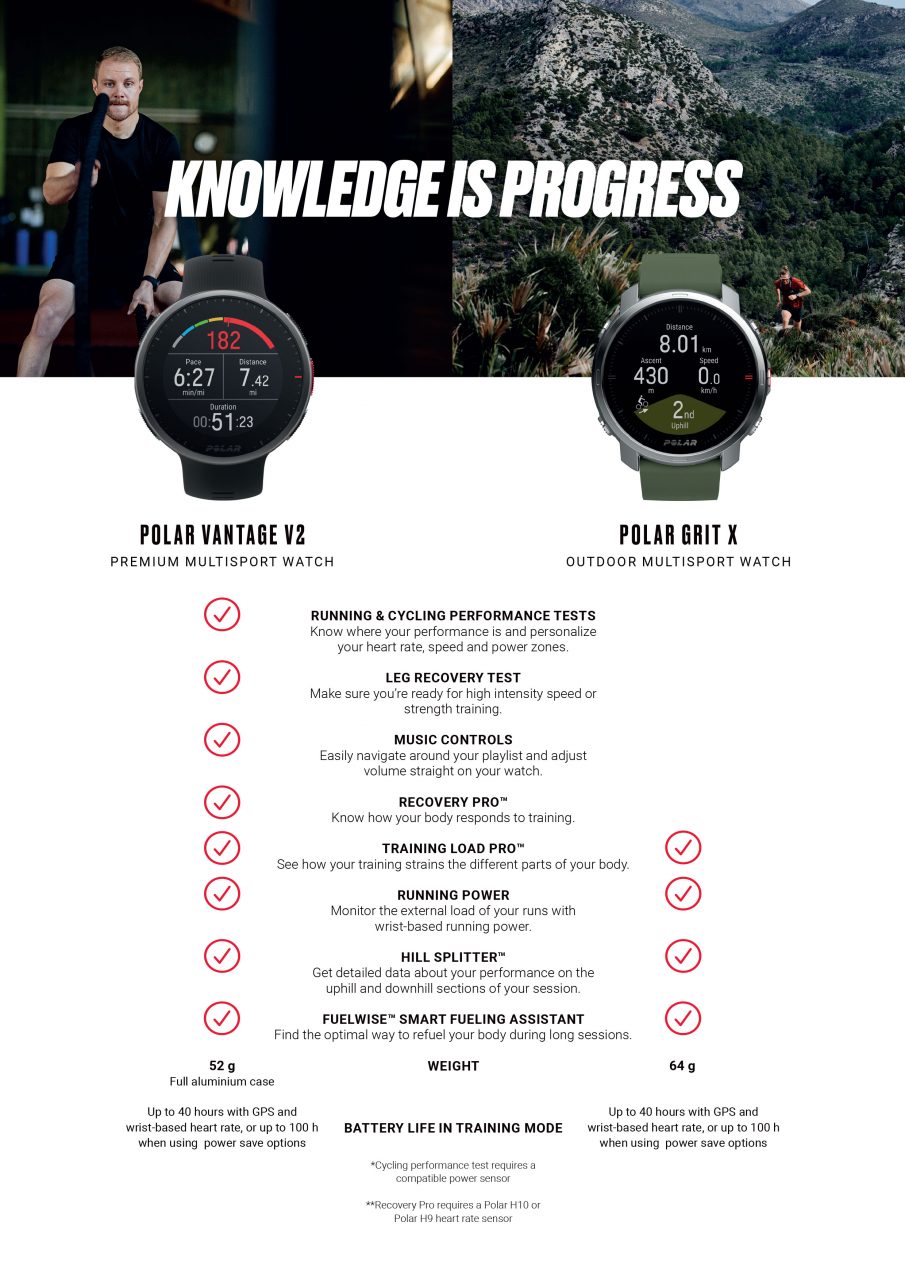 If you liked this post, don't forget to share so that others can find it, too.
Or give it a thumbs up!
I like this article
Please note that the information provided in the Polar Blog articles cannot replace individual advice from health professionals. Please consult your physician before starting a new fitness program.