What do pro cyclists love about Strava Live Segments? We talked to Reto Indergand from BMC Mountainbike Racing Team to find out. Available for Strava Premium users, Strava Live Segments are supported by our Polar M460 GPS bike computer (which comes with a free 60-day Strava Premium trial).
WHAT'S THE BEST PART ABOUT STRAVA LIVE SEGMENTS?
For me, the best thing is the real-time data: where the segment starts, how much distance is still to be covered, and if I'm ahead of time or late.
DO YOU HAVE ANY FAVORITE SEGMENTS? WHAT ARE THEY AND WHY ARE THEY YOUR FAVORITE?
Amsteg – Sustenpass the challenge is my favorite. This pass is just outside my parents' doorstep. It's 28,5 km long and 1647m of vertical climbing. I have the KOM there with 1:31:50.
Valley of the Tears in Gran Canaria is also one of my favorites. Every year during the training camp with the Swiss National Team we try to crack the record. It's actually super fast and impossible to crack without being prepared for it. It has become a prestigious segment.
HOW DO STRAVA LIVE SEGMENTS COMPARE TO AN ACTUAL RACE?
It's somewhere between a time trial and a race in a peloton. You're alone on your bike (like in a time trial) but you can see where your competitors are (like in a peloton race). Everyone gets to compare themselves with others. With Live Segments, racing became possible at any time and almost everywhere.
WHAT TIPS WOULD YOU GIVE TO ANYONE GETTING INTO STRAVA LIVE SEGMENTS?
Keep your eyes on the road and always pay attention to traffic. It's easy to get totally into your computer and data. And always keep it fun, even if you're going for the KOM!
POLAR M460 GPS bike computer IN A NUTSHELL
Integrated GPS
Barometer and GPS based inclinometer
Advanced power metrics
Compatible with a multitude of Bluetooth Smart power meters
Strava Live Segments with Strava PREMIUM
16 hours of training with GPS and front LED light
128×128, black-and-white display
Water resistance: IPX7
Price: $179.90 / 179,90 € (or $229.90 / 229,90 € with Polar H10)
Includes a two-month Strava PREMIUM membership
Available in any color, as long as it's black
WHO IS THE POLAR M460 GPS bike computer FOR?
Polar M460 packs enough punch to be the number one choice for pros and serious amateurs alike but it also has the built-in fun factor with Strava Live Segments.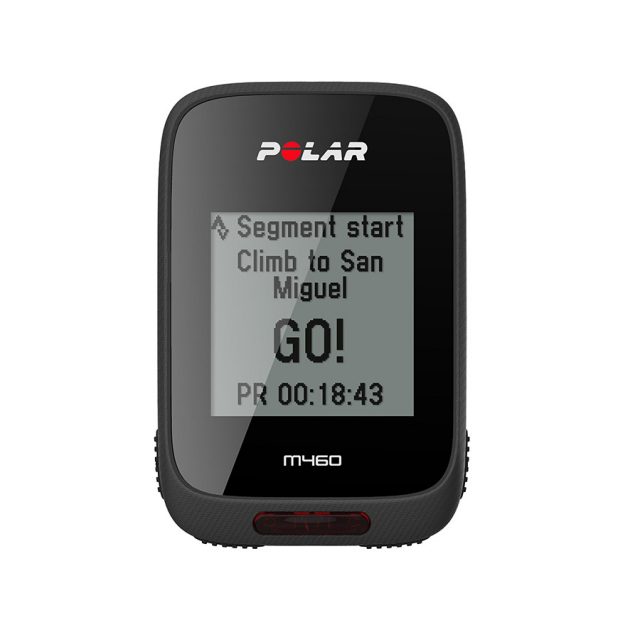 Advanced connectivity: Strava and TrainingPeaks
You can link your Polar Flow and TrainingPeaks accounts and transfer your training sessions automatically to TrainingPeaks. Polar M460 boasts compatibility with an extensive list of third party power meters so that you get to take advantage of advanced cycling power metrics, such as TrainingPeaks' Normalized Power®, Intensity Factor®, and Training Stress Score®. You'll be able to see the metrics on Polar M460 as you train.
Polar M460 comes with a two-month Strava PREMIUM membership and support for Strava Live Segments. You can mark up to 20 segments as favorites on Polar Flow and then sync them to Polar M460. Strava Live Segments allow cyclists to see real-time stats to help them reach peak performance while bringing the excitement of the social network for athletes to each ride.
Even if you don't have a Strava PREMIUM account, your training data will be transferred from Polar Flow to Strava if you link your accounts.
Polar M460 and the Polar H10 heart rate sensor
When paired with the new Polar H10, athletes benefit from our industry-leading heart rate technology, designed and tested for reliability. You also get access to the Polar Smart Coaching features via Polar Flow.
These features include:
Polar M460 vs Polar M450 and Polar V650 – comparison table
| | Polar M460 | Polar M450 | Polar V650 |
| --- | --- | --- | --- |
| Advanced power metrics (NP, IF, TSS) | x | | |
| GPS | x | x | x |
| Polar Fitness Test | x | x | |
| Strava Live Segments | x | | |
| Barometer | x | x | x |
| Smart Notifications | x | | |
| Sensor connectivity | Bluetooth® Smart | Bluetooth® Smart | Bluetooth® Smart |
| Route import & guidance | | | x |
| Sport profile settings | x | x | (support for 4 sport profiles) |
| Water resistance | IPX7 | IPX7 | IPX7 |
| Weight | 50g | 50g | 120g |
| Display | 128×128, black-and-white display | 128×128, black-and-white display | 240×320, color touch screen |
| Battery life with GPS | 16h | 16h | 10h |
Where To Buy POLAR M460 GPS bike computer?
The Polar M460 is available on the official Polar webstore. 
If you liked this post, don't forget to share so that others can find it, too.
Or give it a thumbs up!
I like this article
Please note that the information provided in the Polar Blog articles cannot replace individual advice from health professionals. Please consult your physician before starting a new fitness program.