Over the last 20 years in the fitness industry, master trainer Jim Guimond has seen a lot of fads come and go. But one constant has been the enormous popularity and success of group fitness activities of all stripes, whether you're in a group training for a marathon or on a spin bike beside the Tuesday regulars down at the gym.
Jim isn't surprised by the enduring attraction of group fitness. He said its appeal goes way beyond its social function; it provides the motivation and accountability that can make fitness endeavors more successful, rewarding, and undeniably fun.
TAKING ON FITNESS FOR LIFE
All his life, Jim has loved and excelled at athletic pursuits. He took his high school wrestling abilities with him into the military and then moved on to time trials and triathlons. But it was a hobby, a personal pursuit that that provided a counterbalance to his career as a civil engineer. Then 10 years into his career, his mother passed away. It gave him a new perspective on his personal priorities. He decided life was short and meant to be well lived. It was time to shake things up and pursue his passion for health, fitness, and wellbeing.
He decided life was short and meant to be well lived. It was time to shake things up and pursue his passion for health, fitness, and wellbeing.
And so he did. In 1993, he threw himself into corporate fitness, teaching at various gyms and clinics around Charlotte, North Carolina. But his true interest was formulating a holistic approach to fitness. Instead of looking at physical fitness as an isolated activity or goal, he instead saw it as a lifestyle approach, a way to live life that maximized individual potential while providing life balance.
In 2007, Jim opened his own business, Live Well Charlotte. It was an enterprise focused on helping clients adopt a balanced, healthy, and productive lifestyle.
A couple of factors Jim identifies as key to his clients' fitness and health successes are: (1) seeking out social interaction to bolster motivation and accountability, and (2) using training technology tools to stay on track. Enter group fitness and wearable tech. Two of Jim's favorite specialties.
GETTING YOUR GROUP ON
Jim says it doesn't matter if your "group" is your neighbors collecting you for the morning jog, your gym buddies waiting for you to show up for Tuesday spin, or your online weight loss group standing by to cheer you on. Bottom line, it all equates to accountability.
There's another benefit, too. Motivation.
Jim explains that when someone is watching, waiting, or cheering us on, we all work a little harder and get inspired to excel by the energy or success of the group. When you're working out alone, it's easy to let the mind wander and lose focus. But when a class instructor is up front telling you to hit 120 rpm on your pedal stroke and the class takes off, so do you.
When someone is watching, waiting, or cheering us on, we all work a little harder and get inspired to excel by the energy or success of the group.
Another aspect of group fitness? The fun factor. It's not just you gutting it out alone through a grueling workout. It's you and the rest of the class getting through it together, inspiring each other to keep up in step class, to perfect our downward facing dogs, or to put more power to the pedal
Building on the element of fun inspired Jim to join some associates in recently opening Kinetic Heights, an innovative experiential training and team building space for all ages and abilities – a giant-sized jungle gym meant to challenge both mind and body and incorporate a sense of play into physical pursuits.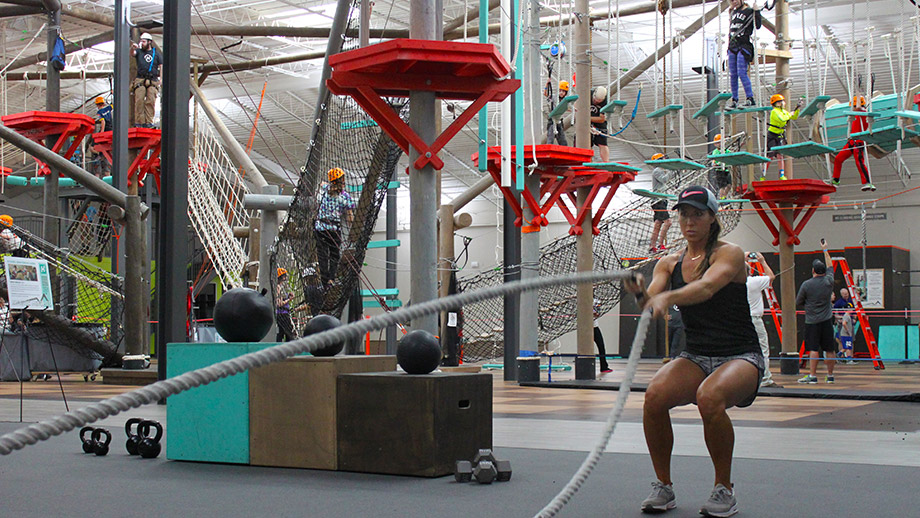 In addition to using the social group dynamic for accountability and motivation, Jim says training and tracking tools also play an essential role in helping you achieve your goals.
Group fitness, TRACKING AND WEARABLE TECH
Jim's introduction to, and subsequent love of, wearable tech came from one of his cycling superheroes. The year was 1989. Greg LeMond had just snatched his 2nd Tour de France victory in one of the closest TdF races on record. It was the first time that Jim noticed LeMond was wearing a heart rate monitor (a practice LeMond started in 1985). Jim figured if the legendary LeMond thought it was a good idea, then it was a good idea.
After purchasing his first Polar monitor, Jim was hooked. He discovered it not only motivated him, but it also ensured every workout was a smart one, helping him push harder or hold back depending on the goal for the day. Over the years technology progressed along with its functionality, advancing it from a self-monitoring device into an automatic activity tracking and recording tool for easy analysis after every workout.
As Jim's life and career swiveled into fulltime coaching, he recognized the huge advantage wearable tech would deliver not only to his personal training clients but to his coaching capabilities as well. It is a mainstay of his personal training programs. It helps his clients adhere to their workout goals while allowing him to monitor and modify their programs via online data sharing.
What's more, Jim has discovered that the integration of wearables in his group fitness classes has amplified the benefits of group fitness by adding in a bit of friendly competition. Jim uses a variety of Polar services: Polar Team, Polar Flow groups and Polar Flow events. Participants can see how they are doing both individually and compared to the others in the group via an online leaderboard and through online challenges that Jim sets up.
The next step for Jim is moving his classes and technology toward live leaderboards inside the fitness studios, with Polar Club.
"Polar has developed some great software for creating and fostering community building in the fitness world. That social engagement, along with wearable tech, greatly improves compliance to any given fitness program," he says.
ACCESSIBILITY FOR ALL ABILITIES
Jim is not only passionate about fitness, he also believes it is an essential life skill – one that improves the lives of everyone, no matter what their ability or disability.
To that end, Jim runs a program called Balance Your Body for Camp Blue Skies, which provides residential camps for adults with cognitive and developmental disabilities, including Down syndrome and autism. He and Kinetic Heights also recently hosted an event for the local non-profit Autism After 18, and he has been involved with the Charlotte chapter of Special Olympics for many years.
When he's not coaching or working on his outreach efforts, you'll likely find Jim competing in a triathlon or racing in time trials. And once a year, you just might find him in the dark going round and round Charlotte's 3-mile loop riding the 24 Hours of Booty for the 24 Foundation. Last year, the foundation raised $2.5 million to support cancer survivorship and wellness programs.
One of Jim's key goals through all of this has been to model health and fitness for his daughter, now age 17. A competitive swimmer since age 7, she decided when she was 12 to help her dad out on one of his triathlons, taking on the swim leg and showing him how it's done. For the past 5 years, she's also joined her dad for some of his laps around the Booty Loop.
"It's become a bit of a family tradition. My wife is a survivor. It is a way for us support those touched by cancer," he says.
GUIMOND ON GETTING GOING
Join a group: Group fitness is one of the best ways to create friendships and accountability to stay motivated. The synergy of the pack will help you get your game back on track and keep you going.
Use technology: Every workout should start with a goal. Wearable technology and tracking software will help you achieve it and keep you honest.
Give yourself a break: Don't sweat the small stuff. If you miss a workout or blow your nutrition for the day, all is not lost. You can start fresh in the morning.
Read an inspirational book: Required reading for Jim's clients include: Younger Next Year (Chris Crowley, Henry Lodge), a guide to living fit into your 80s; and The Rise of Superman (Steven Kotler), which explores the concept of "flow" for feeling and performing at your best.
If you liked this post, don't forget to share so that others can find it, too.
Or give it a thumbs up!
I like this article
Please note that the information provided in the Polar Blog articles cannot replace individual advice from health professionals. Please consult your physician before starting a new fitness program.