Do you find it next to impossible to drag yourself to the gym in the summer when every minute spent indoors is precious time away from bathing in the sun? But, what choice do you have if you need the workout?
Well, you have a choice but it doesn't have to be between the sun and working out. Try these fun and sweaty outdoor workouts to stay fit while still enjoying the summer!
1. Beat the heat
Heat is no excuse – it only takes 30 minutes to break a sweat with these three quick and dirty "Beat the heat" outdoor workouts . Do them all or pick your fav!
Get your heart rate up with the "Hit the road, Jack!" cardio workout

Strengthen your legs and core with some solar strength training

After sweating until you drop, loosen up and boost your recovery by stretching the most important muscle groups
2. Go with the flow
There's nothing as energizing as a morning yoga session outdoors on a beautiful summer morning. Tune yourself into the summer vibe and try this quick and easy 15-minute yoga session outdoors.
Do each of these three yoga sequences for five minutes, at your own pace, non-stop.
Mountain pose, standing forward bend, low plank to cobra, downward-facing dog and repeat

Downward-facing dog, high donkey kick, warrior, triangle pose, warrior, downward-facing dog and repeat to the other side

Sumo squat, side stretch, balancing stick pose, lunge and repeat to other side
3. GO ALL IN
If you're looking to kick it up a notch and go for the all-in-one package, check out these weekly workout plans with HIIT, booty, core and yoga – what's stopping you from doing all of these outdoors?
4. Take it easy
If you're not one of the people who get major kicks out of pushing themselves near to exhaustion in the heat, that's ok – you're allowed to take it easy in the summer. That doesn't mean you shouldn't get up from your sunbed at all, just means you can loosen up a little.
Try switching your running routine to walking and if you feel like you've got energy to spare, try putting some power into your walks.
If it's so hot that breathing alone makes you break a sweat, don't forget the benefits of early morning workouts when it's still nice and cool outside.
No need to take a rain check
Summer doesn't always turn out to be "all that" weather-wise but, as they say, there's no place like home – goes for , too, on those rainy days. Even so, just to be on the safe side, let's keep all fingers, toes, arms and legs crossed that it'll not come to this…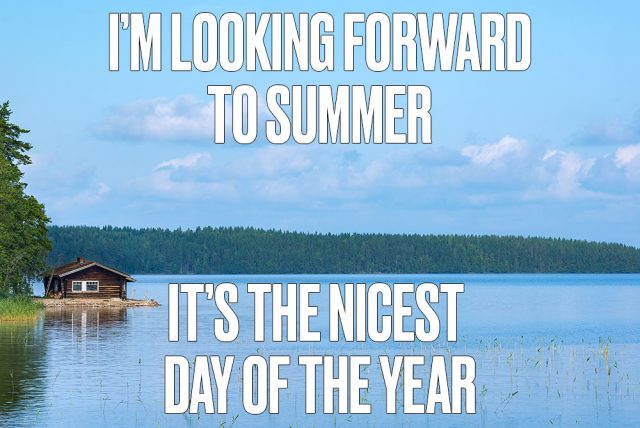 If you liked this post, don't forget to share so that others can find it, too.
Or give it a thumbs up!
I like this article
Please note that the information provided in the Polar Blog articles cannot replace individual advice from health professionals. Please consult your physician before starting a new fitness program.