Yup, that's right. Despite "stay at home" orders, one of the lockdown lifestyle trends during this spring has been exercise moving outdoors.
Based on anonymized data from active Polar users during the rise of the COVID-19 epidemic, exercise habits have been shifting rapidly in the U.S. and Germany.
While overall exercise remained fairly steady from February to March, many people shifted from indoor to outdoor workouts:
In Germany, indoor workouts decreased by 35%, while outdoor workouts increased by 29% in March compared to February.
In the U.S., indoor workouts decreased by 27% in March and outdoor workouts increased by 13%.
So, it seems that despite the lockdown, many have headed outside for their exercise this year as compared to the same time period last year.
Most Popular Outdoor Activities in Germany
In Germany, outdoor activities like mountain biking have more than doubled from February to March, along with increases in activities like:
Jogging (57%)
Cycling (44%)
Hiking (28%)
Running increased in March and mountain biking and cycling were at their peaks toward the end of the month as COVID-19 cases started to rise more rapidly.
Most Popular Outdoor Activities in the U.S.
The U.S. experienced similar increases in outdoor exercise in March (compared to February):
Running increased by 13%
Cycling increased by 19%
With each increasing more in the second half of the month when stay-at-home orders began to become the norm.

Steep Declines in Indoor Workouts
Meanwhile, due to personal precaution and gyms closing their doors, indoor workouts declined rapidly in March in Germany and the U.S.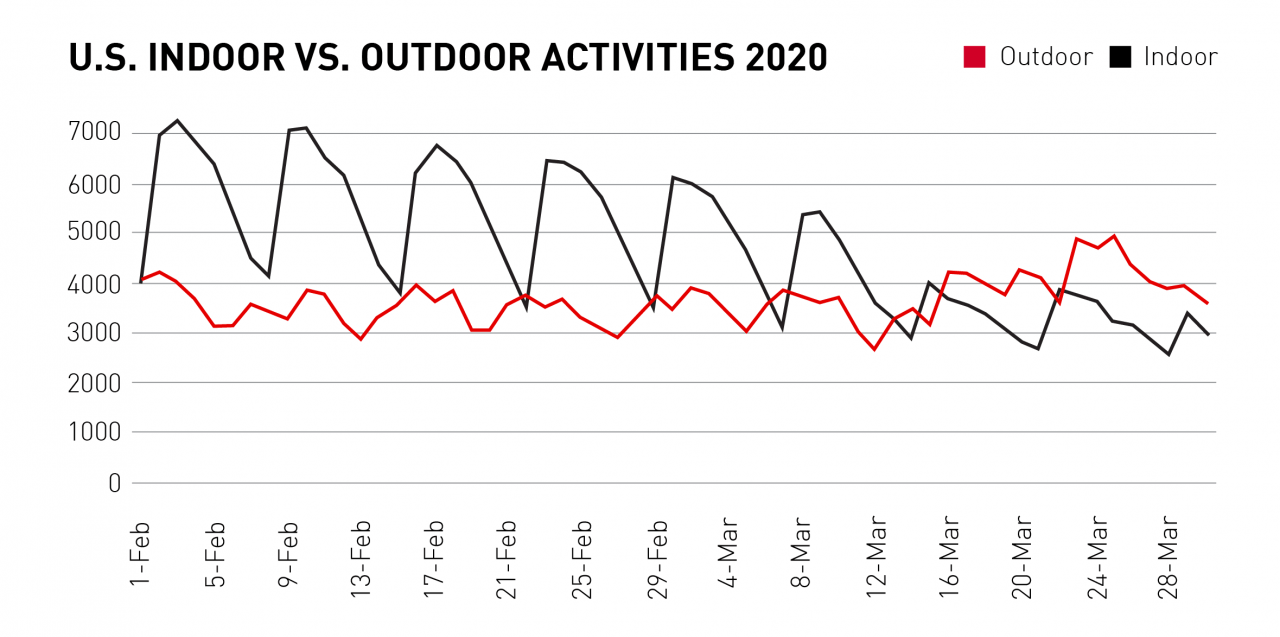 A strong need to find alternative solutions while gyms are inaccessible led to a steep decline in indoor activities, such as:
Treadmill running
Cross-training
Strength training
Indoor cycling
Who said your strength training session needs to be indoors?
You can naturally replace your treadmill workout or warm-up with a run outside, but just because your gym is closed, doesn't mean you need to (or should) forget about strength training altogether.
If you have a private or not-so-crowded outdoor space available (a backyard, terrace or balcony), why not hop outside to build strength, work on your core or increase your mobility?
If you liked this post, don't forget to share so that others can find it, too.
Or give it a thumbs up!
I like this article
Please note that the information provided in the Polar Blog articles cannot replace individual advice from health professionals. Please consult your physician before starting a new fitness program.