Ask anyone who's done one, and they'll tell you running a half marathon isn't easy. You can't casually roll out of bed in the morning and nonchalantly finish — a half marathon takes some serious training and preparation to complete. 
Mirjam Wissink is a 39-year-old mother of two from the Netherlands. She's a self-described running addict, with 70 proudly-earned medals shining bright on her medal board. From the outside looking in, she's no different than anyone else toeing the line at any given event. She's outgoing, always smiling and contagiously positive — despite the special circumstance she finds herself in.   
When can I exercise again?
Wissink was diagnosed with multiple sclerosis (MS) on December 5, 2005. After dealing with headaches so violent she could hardly speak, doctors admitted her to the hospital — and that's when she got the news.  
One of her first questions was "When can I exercise again?" and the answer from her neurologist was short: "Never."
That's when her battle started! 
Taking recovery into her own hands
Applying her competitive spirit and drive formerly channeled through running, Wissink completed two years of rehabilitation and three years of speech therapy. Instead of opting for the drugs prescribed by her neurologist, she adjusted her nutrition and took recovery into her own hands.  
Wissink found a training podcast by Evy Gruyaery, and started following each lesson. The first step? Walking.   
Despite her frustrating performance, Wissink started thinking about what her next goal would be.
"It was hard but also made me curious: curious about the next lesson and whether I would hold it and continue," says Wissink. "When I could run 5K in one piece I wanted to 'reward' myself by taking part in an event in my neighborhood, The Midwinter Marathon of Apeldoorn. I signed up for the 8K and it was the worst I ever did."  
Despite her frustrating performance, Wissink started thinking about what her next goal would be. She and her husband had always enjoyed spending time in Curaçao, so naturally the KLM Curaçao Marathon came to mind. She instead ended up registering for the half marathon.  
"I did it!"
Fast forward one year later, and Wissink found herself in a Curaçao hotel room, with her alarm blaring at 3:30 a.m. After an early shower and breakfast, she and her husband walked across the parking lot to the starting line, where she joined hundreds of other competitors.  
The gun went off promptly at 6:00 a.m. The first few kilometers included some selfies on the Queen Juliana Bridge, then she settled into her pace, chatting with runners from different countries along the way.  
It surprised me that I was there without experiencing the 'am-I-there-yet-not-yet' feeling.
"After three heavy last kilometers uphill with the warm sun and strong wind in my face, I reached the finish," says Wissink. "It surprised me that I was there without experiencing the 'am-I-there-yet-not-yet' feeling nor internal struggles — just a euphoric, happy, grateful feeling that I did it! I had just completed 13.1 miles on a tropical island in 2:26:10 while I was 'written off' to sport." 
Never give up
MS is a disease that effects everyone differently, but Wissink's half marathon finish is a testament to her drive and never-give-up attitude. She recognizes how different her experience could have been if her symptoms were more prevalent.  
"Am I superwoman? Does the MS have no influence? If only it was true, but I prefer to keep my challenges and complaints to myself, but just assume that I am also reminded of the monster in me every day," Wissink says.
"Because of my MS, I constantly have to adjust my training. In the beginning, I found that annoying and even got angry, but now, I can put it into perspective. If today doesn't go as planned because my leg 'sleeps' or I wake up with a migraine, tomorrow is another day." 
The next goal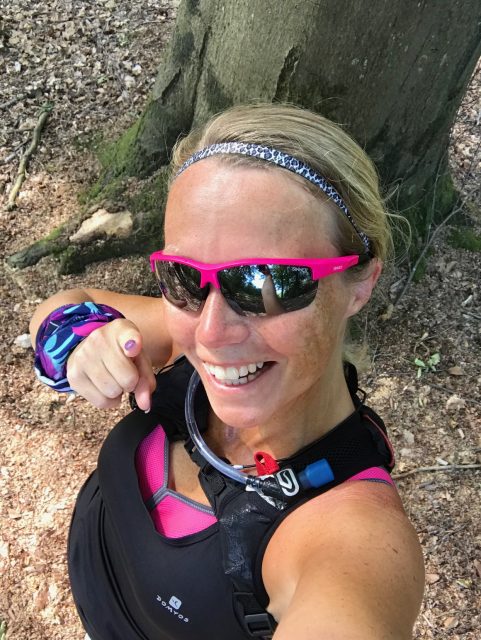 Wissink turns 40 years old on April 2, 2019, and she's already looking ahead towards her next goal: completing a full marathon. She's running four times a week at a maximum of 14K at a time, and she uses her Polar M430 running watch with heart rate to monitor her efforts.  
"One of the biggest problems with MS is your energy supply, which is below minimal. Here I am definitely still gaining and I hope to improve with this program, in combination with my Polar Flow and heart rate monitoring through my Polar watch," says Wissink. "If this succeeds then my goal is the entire marathon — to convince myself that hard work, positivity and perseverance can bring you back from a wheelchair." 
Wissink has chosen to battle MS in an unconventional way — using running as a motivator and outlet for a grim diagnosis. She hasn't conformed to her illness and has since become an inspiration to both runners and others in a similar situation.  
"Every day is a party, because remember, it can always be worse than what happened to you."
If you liked this post, don't forget to share so that others can find it, too.
Or give it a thumbs up!
I like this article
Please note that the information provided in the Polar Blog articles cannot replace individual advice from health professionals. Please consult your physician before starting a new fitness program.