If you've been anywhere near Instagram in the past few years, then you've probably heard the term 'body positive'. It's a hashtag that often accompanies fitness images featuring toned abs and slender bodies. Yet, the body-positive movement has a very different origin from what we see in the mainstream today.
London-based yoga teacher Donna Noble is a pioneer when it comes to creating inclusive fitness spaces. Her 20+-year journey with the yoga community started out as a means of being as flexible as Madonna but led to her training as a teacher and creating the diversity-focused CurvesomeYoga.
We chatted with Donna about the condition that led to her healing journey with yoga, why she has written a book for teachers about accessibility and inclusivity, and what body-positive yoga means to her.
Hi Donna! What originally inspired you to start out on your yoga journey?
I first gave yoga a try in the late 90s. A friend showed me a picture of Madonna in a yoga pose with her leg behind her head and we decided to give it a try.
A friend showed me a picture of Madonna in a yoga pose with her leg behind her head and we decided to give it a try.
Initially, I had an on/off love affair with yoga, stopping and starting depending on what other priorities I had in my life. I initially saw it simply as a form of physical exercise.
What difference did your yoga practice make in your life?
In 2005, I became ill with Bell's palsy, which is a temporary and sometimes permanent weakness or lack of movement affecting one side of the face. I began to pursue yoga for different reasons, pursuing a more holistic path as I began to slow down and heal.
It was through this process that yoga allowed me to return to the person I was meant to be. People told me that when I talked about my yoga practice, I would light up. So, after I was made redundant from my busy corporate job in 2011, I decided to do a complete career and lifestyle change and went to LA for nine weeks to join the Bikram yoga training program.
I particularly liked doing Bikram yoga (a popular style where you practice in a heated studio) in the mornings because it really motivated me to get out of bed and feel that heat. I felt like I could handle anything the day threw at me because in my mind I'd already died and been reborn on the mat each morning.
Yoga has shown me that my body is capable of things I didn't yet realize. It isn't just about how we look; it has made me appreciate everything I am both physically and mentally. Yoga taught me to trust myself, to tune into my feelings rather than my thoughts.
What were your initial experiences with the yoga fitness community?
When I started yoga, I was fortunate to have quite a diverse introduction. My first teachers in London were South Asian and mixed heritage. But as yoga began to move more into the mainstream, the visual representations of yoga were very limited. Especially once yoga became popular online and on social media, it was almost exclusively slim white women in challenging poses.
After spending time in America, I began to see that the yoga community there was much more diverse than in the UK at the time.
What is CurvesomeYoga? How long ago did you start it? What is the ethos behind it? What does it offer people now?
In 2014, I read an article by a curvy journalist who decided to give yoga a try but didn't have a positive experience because they were ignored by the teachers and stared at by the students. I spoke about this article to friends for months until they challenged me to do something about it.
My ethos is that every body is a yoga body.
So, I started CurvesomeYoga. My ethos is that every body is a yoga body. Initially, I was teaching classes that focused on diversity and inclusion but it has now evolved to me offering retreats as well as training other yoga teachers on the importance of this ethos.
What does body-positive yoga mean to you?
Body-positive yoga means everybody can have the opportunity to practice yoga and be welcome on the yoga mat. An inclusive, safe, judgment-free space where you can be just as you are.
The body-positive movement was originally created by black femmes – the movement was rooted in social justice. It doesn't mean you have to love your body every day; you can feel very neutral about it. It is the mainstream who have co-opted the messaging, making it about constant positivity, shifting the focus away from equality and diversity.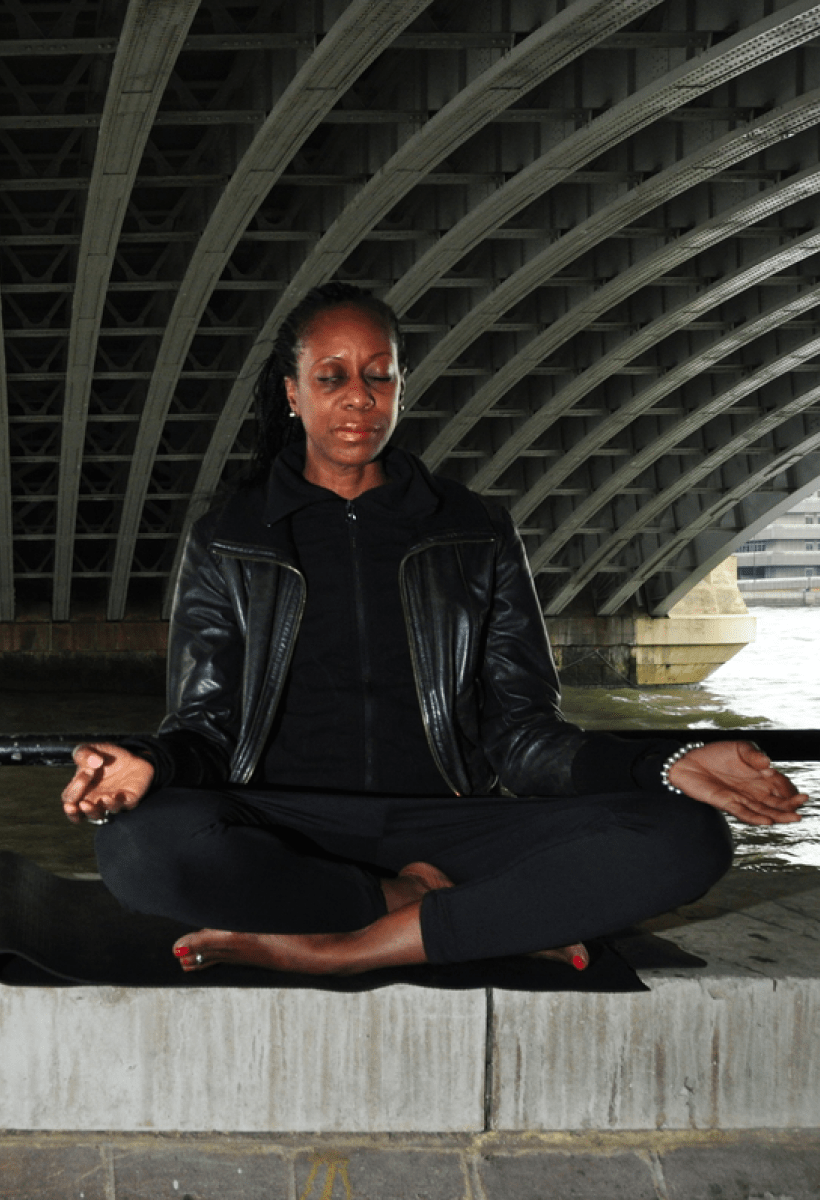 What motivated you to write a book for yoga teachers that focussed on inclusivity?
The opportunity to write Teaching Body Positive Yoga (which will be published this August) came about through a writer friend, who recommended me to a publisher who had approached her. Although I was initially unsure, I eventually saw this as an opportunity to further facilitate what I have been promoting with CurvesomeYoga.
A lot of yoga training programs don't include inclusivity but the teachers themselves understand how necessary this is because not everyone experiences yoga in the same way. So, I teach everything from awareness around the importance of language to obtaining consent before performing adjustments on a student, and how to use props in class, plus how to teach chair and bed yoga.
Why is diversity so essential within all fitness spaces, including yoga classes?
Simply because it should reflect our society. Fitness communities should encompass diverse bodies because we are all different people so the environment should represent that. Representation matters – you cannot be what you cannot see.
Also, wellbeing is a birthright for each of us and I feel yoga is particularly good at enhancing this. Everyone should have the opportunity to be healthy and have the tools to deal with the stresses of life. Yoga is a work-in rather than a workout. It is about the mind-body connection, bringing you home to your authentic self. All of us should have access to this.
Fitness communities should encompass diverse bodies because we are all different people so the environment should represent that.
Is there a woman in yoga who has been a source of inspiration for you?
Jessamyn Stanley because she is true and authentic. She is a yoga teacher/athlete who is not afraid to be unapologetically herself. One of the original disruptors of the yoga and wellbeing space. It was so refreshing to see her on mainstream TV in an Adidas ad – something that would not have been seen a few years ago.
What advice would you offer to someone who looking to find an inclusive, body-positive yoga class near them?
The advice I would offer someone looking for an inclusive body yoga class is to look for ones that are described as body-positive, inclusive, or accessible. Do you see yourself or diverse bodies being used to advertise the class? Do the poses being demonstrated look achievable and inspire you to attend a yoga class? If possible you can ask to observe the class so that you can decide if this class or style of yoga is for you. Speak to the teacher if possible so that any concerns you may have can be addressed. 
If you liked this post, don't forget to share so that others can find it, too.
Or give it a thumbs up!
I like this article
Please note that the information provided in the Polar Blog articles cannot replace individual advice from health professionals. Please consult your physician before starting a new fitness program.