When you were young, did you ever spin a globe and stop it with your finger? Your finger would point at exotic place names, far away countries and you'd be overcome by a tingling sense of adventure. If only you could zoom in a little closer… If only you could get a sense of what life is like… right there – just above your fingernail.
Polar Flow is the online window into your training, activity and sleep. But it's much more than that.
It's an adventure map.
In the Polar Flow web service you can now explore the world in the updated Polar Explore view. To help you get started, we put together five ways to use the Explore view in Polar Flow.
1. Polar Flow Explore for… exploration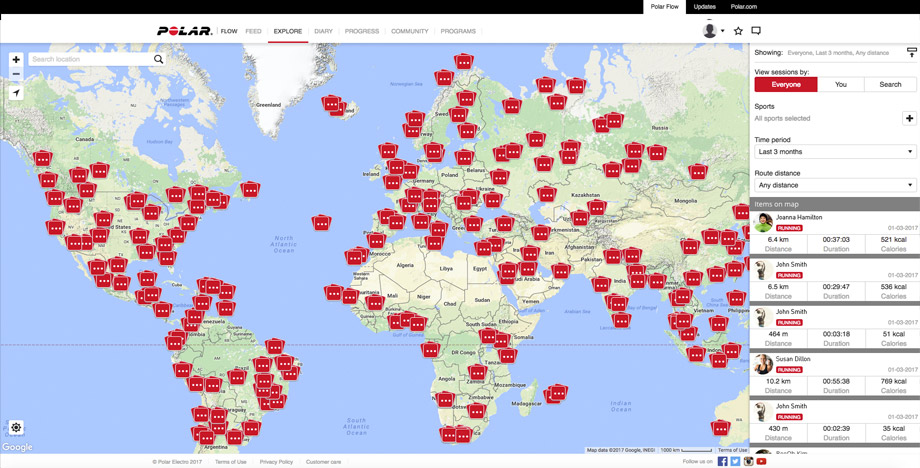 Go ahead. Jump right in. Navigate to the Polar Flow web service, choose the Explore tab and you're set. On the right hand side you'll see the controls:
Who do you want to see?
What sports do you want to see?
What time period do you want to see?
What route distance do you want to see?
Below the controls you can see individual training sessions and by clicking on them you can see more information.
Play around with the controls, zoom in closer, click around and explore.
2. Polar Flow Explore for finding new routes
Let's say you're a mountain biker and you're planning a vacation in sunny Spain with a few rides and plenty of recovery in between.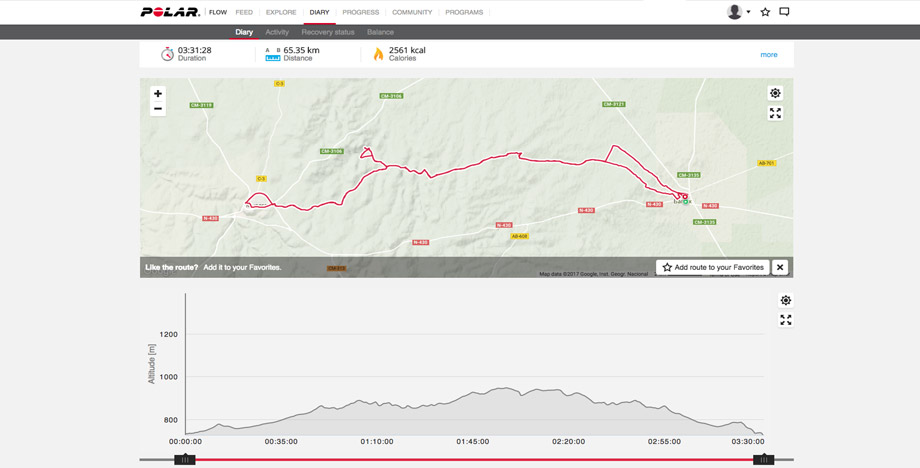 Nothing beats advice from locals when it comes to finding new routes, so hop on Polar Flow Explore, zoom in on your travel destination and see what routes the locals are riding. If you find something you like, you can click on the individual training session and see the details, such as route, altitude and how long it takes (or at least took someone).
3. Polar Flow Explore for adding routes to favorites
When you've found a route (in sunny Spain or nearer to home) and you want to try it, you can add the route to your favorites. In the main view, choose a training session and in the left hand corner you should see a Add route to your Favorites option. Press the star to add it. Once you've synced the route to your Polar product, it'll guide you to the route and then along it. It's perfect for trying out new routes without worrying about getting lost!
For this to work, you need to have a Polar product that supports the Route Guidance feature: either the Polar V800 GPS sports watch or the Polar V650 bike computer.
4. Get prepared for race day with Polar Flow Explore
Polar Flow Explore is curiosity's best friend. You can filter for locations (say, Berlin), certain dates (say, September 25, 2016) and distance (marathon).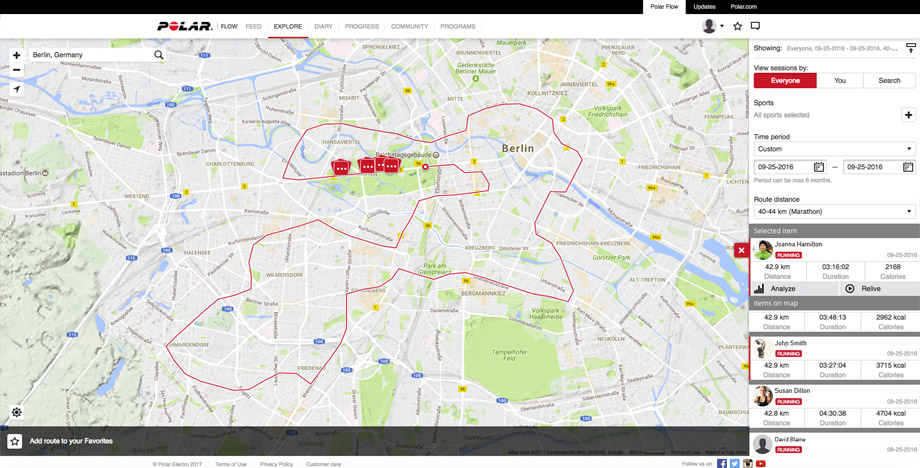 And behold! You get a sample of people who have run the Berlin marathon, you can Relive the route and analyze their stats. And after you're done and you want some more food for thought, you can read this article for last-minute marathon tips.
5. See what your friends have been up to
Type your friend's name in the search bar and see what they've been up to. When you press Analyze on a training session, you can like or comment on their session.
Why not try commenting: "I wish I was in sunny Spain, too!"
Do you want your training sessions to be visible for everyone?
You can choose whether your training sessions are public, visible for followers only or private. If you've set them to private, only you can see them in your personal Polar Flow Explore view. Here are instructions on how to manage your privacy settings in Polar Flow.
Besides these five tips there are ways to use the Polar Flow Explore we haven't even thought of yet. Have fun traveling the world!
If you liked this post, don't forget to share so that others can find it, too.
Or give it a thumbs up!
I like this article
Please note that the information provided in the Polar Blog articles cannot replace individual advice from health professionals. Please consult your physician before starting a new fitness program.