Roger Federer vs. Rafael Nadal. Maurice Greene vs. Michael Johnson. Joe Frazier vs. Muhammad Ali. When sport's greatest athletes collide, sparks fly. So, what will happen when we pit one premium sports watch against another? We're about to find out.
Let's compare Polar Grit X Pro and Polar Vantage V2 side by side.
These two are beautiful watches but they each have their own personality.
Both are equipped with intelligent tools so that you can monitor progress, easily, reliably, and conveniently; but where one is rough and rugged, the other is sleek and light.
You can't go wrong with either of them. But, which one would suit you best?
To answer this, ask yourself, which type of athlete are you?
What type of athlete are you?
No two athletes are the same. Speedsters own the track, endurances monsters can run all day, cyclists tour the world, and adventurers conquer the wilderness.
Beginners, weekend warriors, and world-ranking pros — they all have one thing in common: the desire to improve and perform to the best of their ability.
To be the best that you can be, you want some gear that fits your style. Not the other way round.
That's why Polar Grit X Pro and Polar Vantage V2 cater to two different types of athletes.
The former, Grit X Pro has been engineered for extreme durability for those who explore the world even in the harshest conditions.
The latter, Vantage V2 is a uniquely lightweight product for those who seek peak performance in any sport at any time.
Sleek or Rugged Premium Sports Watch – The Choice Is Yours
The most palpable difference between Polar Grit X Pro and Polar Vantage V2 is the way they look and feel. Each watch tells a very different story about you as an athlete.
Let's start with the latest addition to our premium sports watch family: Polar Grit X Pro.
When we were set to design Polar Grit X Pro, we knew it'd be a challenging project. We wanted to create a watch that could handle any environment, and withstand any weather conditions. It would a watch built with military-grade durability.
To create the toughest Polar watch to date, we chose one of the strongest transparent minerals on earth, sapphire, and built a scratch-resistant, more durable lens. A beautiful stainless-steel bezel with deco detailing around it and compass etchings encircles the glass.
For more extreme demands, we designed Polar Grit X Pro Titan – opting instead for a bezel made form the highest strength-to-density metallic element: aerospace titanium. The result is the lightest, toughest, and most adaptable watch in our Outdoor category.
Polar X Grit X Pro Titan is magically light. But we know that sometimes, you need something lighter.
In sports where every gram matters, Polar Vantage V2 is your best choice. With a sleek, minimalistic aluminum unibody weighing only 34g, you won't even notice it on your wrist.
The design of Polar Vantage V2 goes back to our roots, with a functional and minimalistic approach to all the elements. It's a uniquely lightweight product for a premium watch, but doesn't sacrifice high-quality materials or design.
Polar Vantage V2 is ideal for multisports – for those who are willing face the waves in the ocean as easily as cycling up hill like a pro. Its easy-to-grip buttons won't slow you down for a second, not even in the wettest conditions — or under water.
To recap, these are the different weights without the wristbands:
Our most advanced watches to date.
They might look different, but on the inside Polar Vantage V2 and Polar Grit X Pro (and Grit X Pro Titan) are equal powerhouses.
Both watches have all the latest features Polar has to offer to help you plan and build a complete workout routine, including recovery and rest — yes, rest is training, too!
Polar Grit X Pro and Polar Vantage V2 both come with powerful tools for outdoor training, including Turn-by-Turn guidance powered by komoot, and Always-On Outdoor Dashboards.
These two watches have the top recovery tracking apps built in, so you'll know whether you've been training too much, too little, or just right.
Finally, during the night, Sleep Plus Stages™ automatically tracks the quality, duration, and time spent in each sleep stage, and Nightly Recharge™ will tell you how ready you are for your next workout.
Polar Premium Sports Watch: The WRAP-UP
Polar Grit X Pro and Polar Vantage V2 are phenomenal watches. Whether you're feeling the burn with a HIIT workout or hiking steep rocky slopes, both watches are equipped with essential features to help you train smarter, explore the world, and recover better.
If you're the kind of person who appreciates lightweight, slim design, Polar Vantage V2 is an excellent choice. It's the perfect companion for any sport and any situation.
Plus, now, if you want a more colorful lifestyle, the NEW Polar Vantage V2 Red comes in a striking Polar red color.
If, however, you're into trail running, mountain biking, hiking, climbing and bouldering, or any other outdoor sports, you'll want something that can handle more extreme demands. In this case, choose Polar Grit X Pro or Polar Grit X Pro Titan.
Polar Vantage V2 vs. Polar Grit X Pro: Head-to-head
Finally, the easiest way to round this all off is to put both watches in a simple, head-to-head chart.
So, here you go:
Polar Vantage V2 vs. Polar Grit X Pro.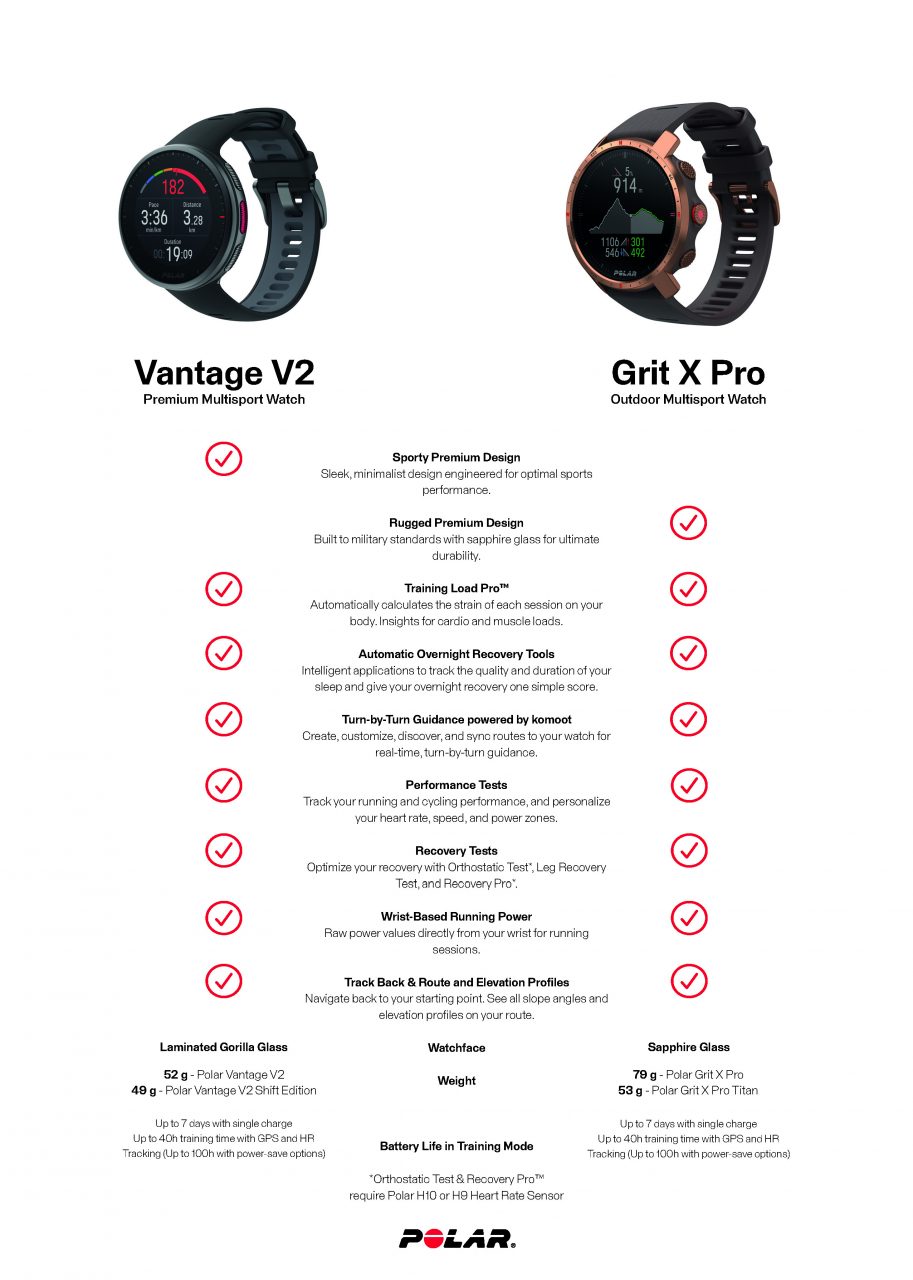 There you have it: our two best watches, side-by-side.
If you want to know more about Polar Grit X Pro, we would highly recommend checking out the post we released for the launch moment: Polar Grit X Pro: Explore With Heart.
If you want to know more about Polar Vantage V2, take a look at the post we published for the release of its updated: Polar Vantage V2: Win With Heart
Already made up your mind? Here's quick access to our webstore:
Shop Polar Vantage V2

or

Shop Polar Grit X Pro and Polar Grit X Pro Titan
If you liked this post, don't forget to share so that others can find it, too.
Or give it a thumbs up!
I like this article
Please note that the information provided in the Polar Blog articles cannot replace individual advice from health professionals. Please consult your physician before starting a new fitness program.