Ready, set… let's run through the difference between our newest running watches: Polar Pacer Pro vs. Polar Pacer – two new-generation running watches for all runners of all levels.
Whether you want to run for the first time or you're ready to jump into marathon training, the journey begins here. We design the Polar Pacer Series for unrivaled running experience, but which watch is best for you? Polar Pacer Pro or Polar Pacer?
Gotta run? No time to read now? All you need to know is this:
Polar Pacer – For those who want to fall in love with running.
Polar Pacer Pro – For those who want to run better.
Now, if you have a moment to spare before you slip on your running shoes and roll out the front door, let's check out the difference between Polar Pacer and Polar Pacer Pro.
Meet the All-New Polar Pacer Series
Decades ago, Polar Pacer was a groundbreaking wrist-based heart rate monitoring device, designed to guide users towards efficient and effective workouts. Today, the Polar Pacer series is an entirely new collection that concentrate everything we know about running.
The Polar Pacer Series gives the modern runner all the essentials such as time, pace, distance, laps, accurate GPS, and precise heart rate tracking, plus the specialized training, sleep, and recovery tools they need to do one thing better: Run.
Both models are made for running, and running is a simple sport… So, what's the difference?
We'll answer this question in a moment, but first, ask yourself, which kind of runner are you?
If you're new to running, ready to learn to love the sport, Polar Pacer is for you – all the essentials, and some more, to fall in love with running.
If you're a seasoned runner that wants the best to be the best, your choice is Polar Pacer Pro and its powerful training tools.
Next, let's take a closer look at what makes each of these running watches unique.
Polar Pacer vs Polar Pacer Pro: Design
Both watches share the same design principles: a running watch that is light, comfortable, and durable – a watch that you barely notice on the wrist while you focus on the road ahead.
The best way to spot the runner in the room is to look at their watch: Polar Pacer and Polar Pacer Pro feel good and look good while running and afterwards. The aluminum bezel of Polar Pacer Pro gives that extra touch when you want to wear your running watch in any occasion.
We also built a new antenna system in Polar Pacer Pro for accurate GPS tracking.
The Polar Pacer Series features breathable 20mm wristbands that comfortably wrap around your wrist. If you decide to change your style and maybe match your running shoes, Polar Pacer is compatible with any standard 20mm bands with quick release spring bands. Polar Pacer Pro also adapts to your style: it comes with the innovative SHIFT™ Adapter, so you can pick any 20mm band and customize the look of your watch.
Polar Pacer Pro: Serious Training
Many people start running to get fitter, lose weight, or simply feel good. Training, however, implies running with a purpose other than fitness. It means you have set a specific running goal (run a 10k in less than one hour, or beat your fastest mile record) and are implementing a plan to achieve that goal.
When running gets serious, you want powerful training tools, data, and coaching to help you run like a pro and reach your goals. You want Polar Pacer Pro.
The Running Performance Test is a a phenomenal way to define your starting point at the beginning of a training cycle. With it, you can figure out your heart rate, power and speed training zones in addition to your VO2max metrics to plan you workouts and monitor your progress. Polar Pacer Pro will indicate the target speed you need to follow to complete a maximal exertion test and determine your maximum heart rate.
Once you know your heart rate training zones, you can easily plan and program interval training sessions with Phased Training Targets and let Polar Pacer Pro guide you through those grueling miles repeats or fartlek runs.
Long runs prepare your body and mind for demanding goal race distances, building the endurance you need to run half-marathons and marathons. These runs are also a great way to explore, find new places to run, or add some sightseeing moments to your training. Polar Pacer Pro is equipped with Turn-by-turn guidance powered by komoot, so you can easily plan and sync new routes to your watch for clear and accurate real-time guidance during long runs.
Running Power from the Wrist
If you're new to running, Polar Pacer provides enough data to help you understand your body, helping you find your pace, and ensure every run is a good run.
For more experience runners that nerd out on the data, Polar Pacer Pro has a built-in barometer that among other things provides a metric that unlocks a new type of training and workouts: running power.
With running power, you can monitor the effort, in watts, required for every segment of your run instantly from your wrist without any additional sensors or pods. This way, you can adjust your intensity, becoming more efficient and economical with your energy expenditure – always finish strongly. Just as you can with heart rate, it's possible to generate power-based target zones for the different types of runs.
Running power can be particularly useful when you run hills. And, seasoned runners know hill training is staple of any training program as it builds strength, boosts your speed, and improves your efficiency. Included in Polar Pacer Pro, Hill Splitter™ gives you get detailed insights based on your speed, distance and altitude tracked automatically.
Polar Pacer vs. Polar Pacer Pro: The Differences At A Glance
It's not a race, but let's put our running watches head-to-head in a simple comparison chart.
So, here you go.
Polar Pacer vs. Polar Pacer Pro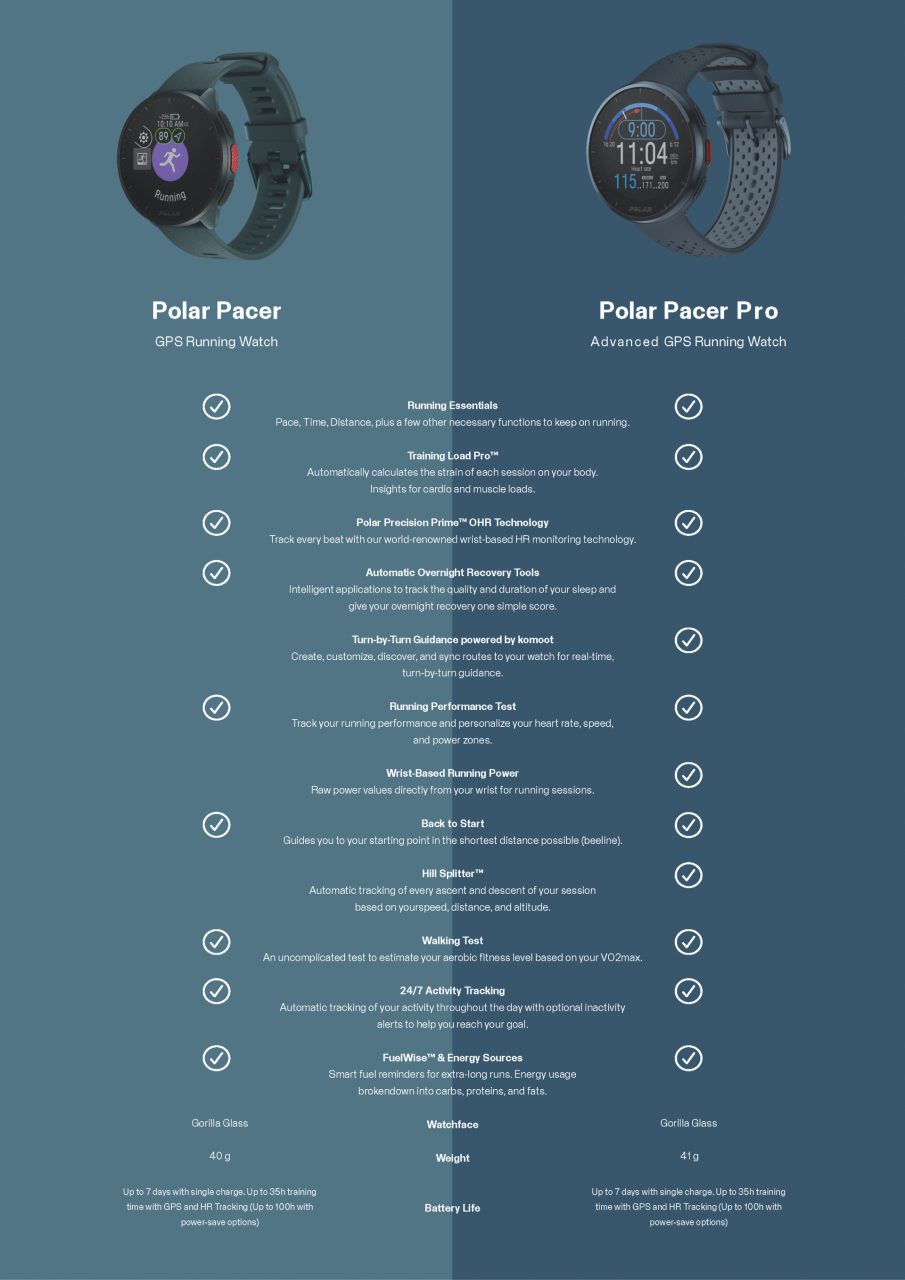 There you have it: an all-new collection of running watches, the next generation of Polar running watches.
Need some extra inspiration? Check out the promo for Polar Pacer Pro on YouTube.
If you've already made up your mind, here's quick access to your webstore:
Shop Polar Pacer Pro
Or
Shop Polar Pacer
If you liked this post, don't forget to share so that others can find it, too.
Or give it a thumbs up!
I like this article
Please note that the information provided in the Polar Blog articles cannot replace individual advice from health professionals. Please consult your physician before starting a new fitness program.