Did someone say lunch? As in lunch break workout? Read on to find out how you can work up a sweat over your lunch break.
No one knows the true meaning of the phrase "make every minute count" until they try squeezing in a workout over their lunch break. 60 minutes might not seem like a lot of time, but it's just the right amount to get a much-needed workout – aka stress reliever – right smack-dab in the middle of a hectic work day.
First thing's first: Why exercise over lunch instead of before or after work? Taking the time to get a little sweaty only to attempt to look presentable again minutes later might seem like a hassle, but it's not as tough as you think. Promise. Getting the chance to move around after sitting all morning will not only work your body, but your brain, too.
A midday workout has been shown time and time again to do everything from boost creativity to lower stress levels. (You know, everything needed to make it through the dreaded afternoon slump.)
So lace up your sneakers and try out one of these mood- and body-boosting exercises over your next lunch break.
Lunch Break Workout 1: yoga or Pilates
If there's a yoga or Pilates studio near your office, take full advantage. Many places offer speedier classes over lunch hours for busy people just like you who are trying to squeeze in a workout over their break. But if there's not a short enough option, stay for as long as you can then sneak out the back when you have to leave. As long as you're not disrupting the class, there's no reason why you should miss out on getting your om on.
A lower intensity class will make it much easier to get work-ready afterward.
Added bonus? A lower intensity class will make it much easier to get work-ready afterward. Since you won't be sweating nearly as much, all you'll need is a quick wipe-down opposed to a full-on shower. In 10 minutes, you'll be back at the office looking completely rejuvenated and refreshed.
Lunch Break Workout 2: Run or jog
The best thing about going on a run is the time and place is totally up to you. Unlike trying to squeeze a class in, it's incredibly easy to just throw on your workout clothes and start doing your thing the second you leave the building.
Whether it's just a jog to loosen up or full-on sprints, you'll have plenty of time to complete your workout… and possibly even grab a smoothie from your favorite shop afterward.
Another perk of running besides the fact that you can do it anytime, anywhere? Based on studies running can help you live longer. As little as <51 mins of weekly total running volume or distances <6 miles per week distance reduced the risk of dying of cardiovascular disease – or any condition, for that matter – compared to those who didn't run.
Has there ever been a better reason to get moving?
Lunch Break Workout 3: HIIT
High-intensity interval training (HIIT) workouts are great when you're short on time but really want to get the best bang for your buck.
Class lengths range, but many get the job done in as little as 30 minutes — just enough time to get your heart pumping and take a nice hot shower afterward. If you don't have a class nearby but still want to get your HIIT on, find an open spot to work out in — possibly outside in a park or in your building's rec room — and turn up the tunes.
Lunch Break Workout 4: Power walking
Running isn't your thing? Power walking, to the rescue. And we're not talking about a stroll around the block while scanning through Instagram — we're talking about putting the pedal to the metal and burning some calories.
A challenging, fast-paced walk won't burn as many calories as running, but it'll still get the job done. If you really want to take things up a notch, find an uphill route and get an added booty burn while you're at it.
If you really want to take things up a notch, find an uphill route and get an added booty burn while you're at it.
On days you've had a particularly hard morning, take your workout somewhere away from traffic, buildings, and lots of people. Many studies have found exploring nature or parks reduces stress levels. Use your power walk as an excuse to visit a nearby park and those bad vibes will instantly disappear.
Lunch Break Workout 5: Elliptical or stationary bike
When you're looking for something that will make you work but won't leave you dripping with sweat, drive or walk to the closest gym and spend some time on the elliptical or stationary bike. When you're on equipment, you control the time and can cater to your needs. If you only have 20 minutes, no problem – pick an intensity level that gives you a good workout in a shorter amount of time. And as the cherry on top, you'll finally get the opportunity to catch up on the book you've been too busy to read.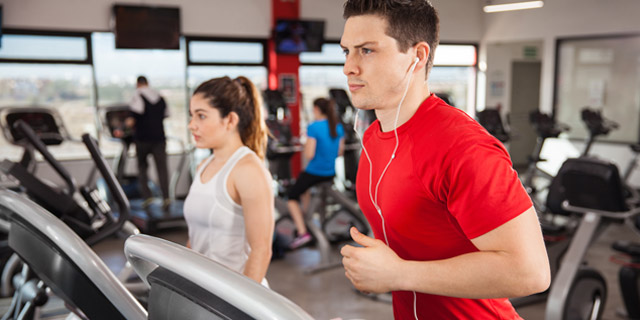 Lunch Break Workout 6: Work out at your desk
Yes, we said it. If you really want to move around but can't get away from your desk, there's a workout for that. The key in working out at your desk is choosing moves you're comfortable with: If you don't have much privacy, doing squats into your neighbor's face probably isn't the best option. But even sneaking in some yoga poses and stretches is beneficial and will help you get through the rest of the work day so you can kill it at the gym later.
The next time you're pouting over a sad desk lunch, just remember: Something as simple as bringing a pair of tennis shoes (and some extra deodorant!) to the office could become your favorite part of the day. And hey – you might even start a new trend while you're at it.
If you liked this post, don't forget to share so that others can find it, too.
Or give it a thumbs up!
I like this article
Please note that the information provided in the Polar Blog articles cannot replace individual advice from health professionals. Please consult your physician before starting a new fitness program.