What is small, black, round and can be worn on the upper or lower arm? It's the new Polar OH1 optical heart rate sensor and armband. This little powerhouse makes heart rate tracking simpler than ever – all you need to do is slip the armband on your upper or lower arm and you're good to go. Polar OH1 is now available in the official Polar webstore for 79,90 € / $79.90.
IN A NUTSHELL: Polar OH1 optical heart rate sensor
6-LED optical heart rate sensor
Optimized for wear on lower or upper arm
Bluetooth Low Energy
Waterproof: 30 m
Updatable software
Internal memory for up to 200 h of HR training
Operation time: 12 h (USB rechargeable)
Works as both a standalone sensor and when connected to Polar products or a smartphone
Price: 79,90 €/$
WHO IS POLAR OH1 FOR?
If you're looking for a simple and affordable way to track your heart rate, Polar OH1 is the right choice for you. It's suitable for countless different sports, offering accurate, stable data in a remarkably comfortable and convenient form factor.
Polar OH1 a works with Bluetooth-compatible Polar products, such as the Polar M460 GPS bike computer or Polar V800 GPS sports watch, so if you're in search for an alternative for a chest strap or wrist-based heart rate monitoring, Polar OH1 is the answer to your problem. It also connects to smartphones and works with popular fitness apps.
Great news for those who prefer doing their training sessions without a phone or a watch but still want to capture their heart rate data: Polar OH1 also works as a standalone sensor. Just slip the armband on, start your workout and transfer your heart rate data to Polar Flow afterwards.
DESIGNED FOR COMFORT, ACCURACY AND VERSATILITY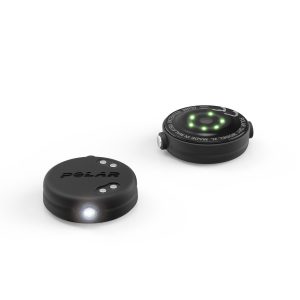 Polar OH1 is all these:
Accurate: it's equipped with Polar's proprietary optical heart rate solution for accurate heart rate tracking.
Versatile: Polar OH1 is a true heart rate monitoring multitalent. You can use it for countless different sports, you can choose whether you want to wear it on the upper arm or forearm, and it works as a standalone sensor, with Bluetooth-compatible Polar products, Polar Beat – our free fitness and training app and many other popular fitness apps.
Convenient: The Polar OH1 armband is easy to put on anytime, anywhere – there's no need to moisten the strap or lift up your shirt. The long battery life (up to 12 hours) makes sure even those longer sessions get tracked.
Comfortable: The armband is made of a soft textile material. It's machine-washable and can easily be adjusted to fit snugly and comfortably around the arm.
WHAT ABOUT POLAR H10? HOW DOES IT COMPARE?
Polar H10 is a chest strap heart rate sensor, so the most notable difference is the measuring method. Polar H10 measures the electrical activity of your heart (ECG), whereas Polar OH1, like other optical heart rate sensors, uses photoplethysmography (PPG). To put it simply, this means that it uses LED lights and a light-detector to measure the changes in the size of blood vessels and turns these measurements into heart rate readings. Learn more about the technology here.
There are some differences in the tech specs of Polar OH1 and Polar H10. For example, Polar H10's internal memory works with Polar Beat and can store one training session, whereas Polar OH1 has space for up to 200 hours of training data. As for the battery life, Polar OH1 has a rechargeable battery that lasts up to 12 hours. Polar H10 includes a replaceable CR2025 battery that lasts up to 400 hours.
If you want to know more about the differences and similiarities, read this.
HOW CAN YOU GET THE NEW POLAR OH1 HEART RATE SENSOR?
Polar OH1 is available in the official Polar webstore.
If you liked this post, don't forget to share so that others can find it, too.
Or give it a thumbs up!
I like this article
Please note that the information provided in the Polar Blog articles cannot replace individual advice from health professionals. Please consult your physician before starting a new fitness program.