Polar Cardio Coaching®
Polar Cardio Coaching is a new way to engage clients who want guidance for more effective and efficient training or to effectively monitor conditioning and recovery. With this software solution, you can create personal heart rate-based training programs for the individuals to perform on their own with their Polar training computers.
BodyAge system's Fitness assessment gives an extensive description of the individuals' current condition including the three main physiological areas of strength, cardiovascular fitness and flexibility as well as the assessment of body composition and blood pressure. This information works as an excellent basis for the Polar Cardio Coaching.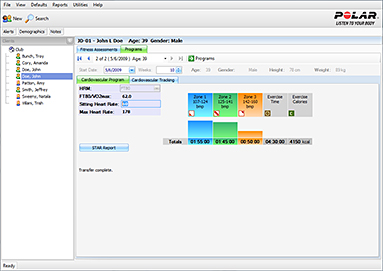 With Polar Cardio Coaching, you can design a personal heart rate-based training program tailored to a member's needs. Polar Cardio Coaching is an excellent way of helping members stay on track in their training, reach their fitness targets and ultimately, achieve their obtainable physical body age. The training program can be uploaded to the member's Polar training computer using the Polar FlowLink® data transfer unit.
After a few weeks of training, the member comes back to download their training files into the system and get a new training program based on their current condition and personal objectives. Both the member and trainer can see the individual progress using Polar Cardio Coaching. This helps in keeping the member focused and allows the trainer to track their client's progress and analyze the results.