Canadian Calum Neff is an avid and winning endurance athlete over every distance and all sorts of terrain. His passion developed at an early age when his dad, a veteran marathoner, entered Calum in his first 1K fun run at age 4 in 1988. Calum was hooked. And he still has that ribbon.
Now, like his dad, he is passing along his passion for play in the great outdoors to his two daughters.
Running BC (before children)
At the Universities of Arkansas and then Houston, Calum excelled in the 1500 m and 1-mile races, but after graduating, longer runs felt more liberating to him. By long, we mean hellishly long. And hard.
For example, in 2013, he took on one of the world's toughest adventure races, the Canadian Death Race covering 125 km (77.67 miles) and climbing 5182 m (17,000 ft.). He came in first in his age group and fourth overall in 13:54:31.
We are family
With the arrival of his daughter Aley 3 years ago followed by Holly in 2015, family became Calum's first priority. He wanted his girls to share his love of being outside.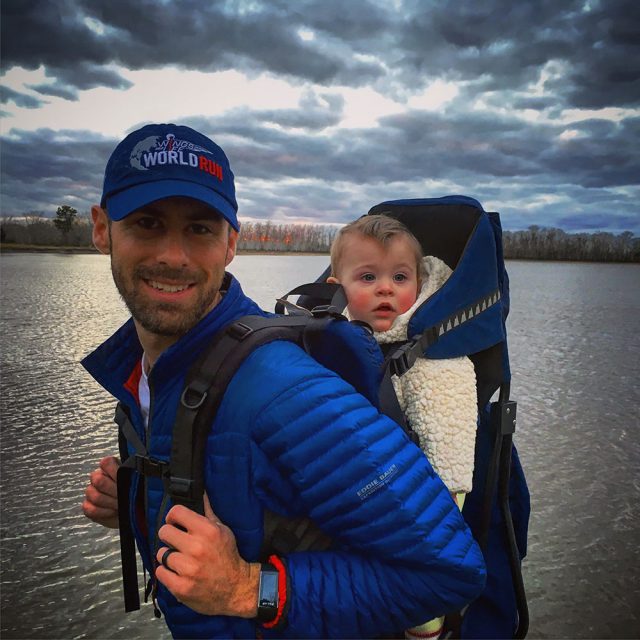 So he began modifying some of his training runs to take one or both of them along and also give his wife, Julie, some quiet time.
Being with family is my top priority in life.
"Being with family is my top priority in life," Calum says. "I love to play with my two little girls and take them on mini-adventures. I love seeing them explore and learn from the outdoors."
Stroller time
After the family made a job-related move to Katy, Texas, Calum decided to run a 5K with Aley (then age 2) and invested in a good running stroller. It was a success – Aley slept the whole way – and strollers have been an integral part of Calum's training mix ever since.
Running with wheels
Avoid running with a stroller in hilly terrain and under windy conditions. On fairly flat terrain, once you get the stroller in motion, it doesn't take a lot of additional effort to keep it moving.
Pick a stroller specifically designed for running. The stroller shouldn't drift or wobble. Give it a test drive before you buy.
Try pushing one handed, alternating occasionally, so that the stroller doesn't alter your gait or running form.
Periodically, run to one side or the other of the stroller to add variety and make eye contact with the kids.
In search of adventure
On the once-a-week runs with the girls, Calum says it's all about keeping it fun – making it an adventure, always with a destination in mind. It might be a run to the creek with the fishing poles on board, or down to the bridge to look for gators and snakes by the water.
And there's always plenty of good music to keep the rolling caravan company.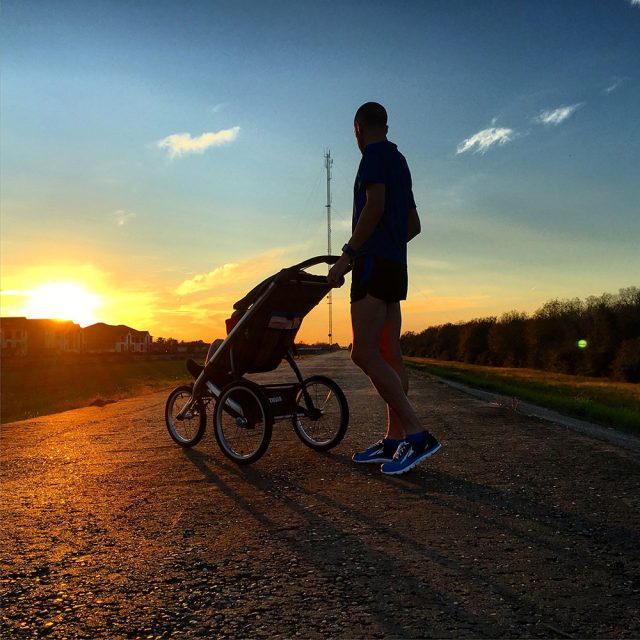 Amping the fun factor
Pick destinations that are fun for your kid.
Mix up the terrain (some road, path, single track, etc.) to keep it interesting.
Stop to let your kid out and explore. Even in concrete jungles, there are a lot of things to see.
Bring along snacks and drinks for longer runs.
If your kid likes a tablet, bring it.
Use Bluetooth speakers instead of ear buds so you and your kid can engage and rock along to the same music.
Balancing act
Finding balance between his job, training, and family has been an organic process for Calum.
Having a family and a full-time job doesn't mean you can't be really good at running. You just have to adapt your strategy.
He says that his family and full-time job are always on his mind, so being able to spend time focused on them is also a good break for his training recovery.
"If I miss a day of running, I don't stress out about it. It's all about consistency over the long term. It really takes a number of years before you see the full benefits of your training efforts," he says.
Mixing it up
No matter what he's training for, Calum tries to hit all the energy systems each week. That means everything from short, hard intervals to long runs of 18–24 miles (28–38 km) with some stroller forays thrown into the mix. If he's training for an ultra, he'll also include some back-to-back long runs and try to be on his feet more throughout the day: standing at the desk, hiking with the family, walking with the girls.
"Heart rate training helps me in three ways: It lets me know when I'm fully recovered, it reminds me to go easy on my easy days, and it ensures I don't go out too hard too soon during a race," he says.
One of the things that helps Calum with his training is his Polar heart rate monitor. He's been a Polar user since high school so he has a wealth of data that helps him regulate his training.
Calum's Polar products
Polar M400 is Calum's go-to wearable device for his less regimented workouts. It's light and sporty and perfect for when he doesn't need all the bells and whistles of the Polar V800.
Polar V800 is Calum's workhorse device with its reliably accurate GPS and HR data. He loves the ability to load customizable workouts and is also looking forward to the upcoming integration with the GoPro.
Record setting
After running the inaugural Katy Half Marathon in Texas in 2015, Calum started thinking and talking. Would the race director for the Katy Half let him compete with a stroller in the 2016 race? With the race director's full support and bringing the Guinness judges on board, it was a go.
If you love something, you find time to do it.
In 2016, two weeks after finishing the Houston marathon, Calum and 11-month-old Holly toed the start line at the Katy Half. And they were off to shatter the world record and break the internet.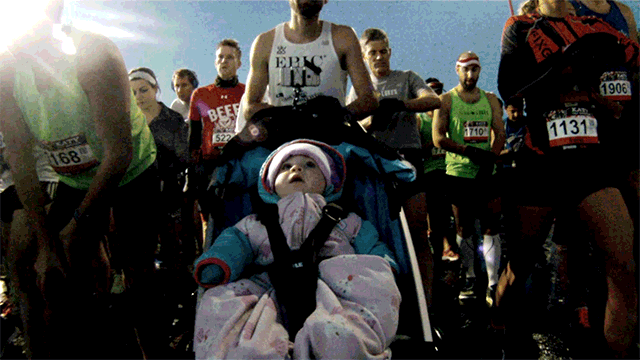 Holly, unlike her sister stayed awake the whole race, babbling and clapping along the way, taking in the sights. A brief bit of fussiness toward the end just made Calum run all the faster, easily pushing his 54 lb. (24.5 kg) load to a lightning-fast finish.
Racing with a stroller
Many races don't allow strollers, so you need to ferret out the ones that do or talk to the race director to find out if they can make allowances, like Calum did for the Katy Half.
Usually, strollers should start at the back of the pack so you don't impede other racers.
If, like Calum, you're attempting something special or head-of-the-pack fast, talk to the race directors to make arrangements where you should be seeded.
Find out if there are any special stroller requirements. For the Guinness record, Holly's stroller had to be standard fare, with no modifications.
Most importantly, make sure your baby has enough neck strength to safely run with them in the stroller. That usually occurs anywhere from 6–9 months.
Next up
The next Neff record attempt is right around the corner: Canada's Scotiabank Toronto Waterfront Marathon on October 16, 2016. This time it will be Aley's turn to go for the record.
And just like in the video stream from Holly's half, Aley will be front and center on the GoPro while the world watches as she and her dad shoot for their Guinness world record goal of 2:32:00 (current ratified record is 2:42:21).
In the meantime, Calum is prepping for the Scotiabank Calgary 50K Ultra National Championship race in May. The day before the race, he'll be part of a 12-man team in a 24-hour treadmill competition at the expo, pounding out 350 km with his teammates on the treadmill to raise funds for MitoCanada to help those affected by mitochondrial disease. He'll also be jockeying for a spot on Canada's ultra team to compete in the IAU 50 km World Championships 2016 in Doha, Qatar, in November.
And the kids? Asked when he'll let them start running, Calum says Aley already has. She recently did her first 1-mile trail run at age 3. She was delighted to get to hold the water bottle and wanted to beat the boys.
Watch out, dad!
---

Please note that the information provided in the Polar Blog articles cannot replace individual advice from health professionals or physicians. Please consult your physician before starting a new fitness program.
If you liked this post, don't forget to share so that others can find it, too.
Or give it a thumbs up!
I like this article
Please note that the information provided in the Polar Blog articles cannot replace individual advice from health professionals. Please consult your physician before starting a new fitness program.