Recovery from exercise is often interpreted as passive rest. For some, the words rest day are the two most beautiful words in the English language; for others, they represent a necessary evil. It's the (only?) day of the week when you can't exercise, because you… shouldn't.
We all need passive rest from time to time, but many times, active recovery is an option for those that get hives from just thinking about spending the day on the couch.
Whether you take a more passive or active approach to recovery, you need to take it. Study after study shows how too much hard exercise too frequently with insufficient recovery can lead to fatigue, decreased performance and injuries.
This we all know and want to avoid, but how do we know when it's time to rest or take it easier than usual? Many of us want to know instead of guess because we exercise junkies see this day as cruel SED, Severe Endorphin Deprivation.
Is there a 'Yield From Physical Activity' sign which we should obey?
Surely, muscle soreness can't be it, because then every other day would be a rest day for many athletes.
Or do we just look at our training calendars and guesstimate? If so, what's the formula we should use? Two days of hard workouts, followed by one day of going easy? How do we then define what's hard?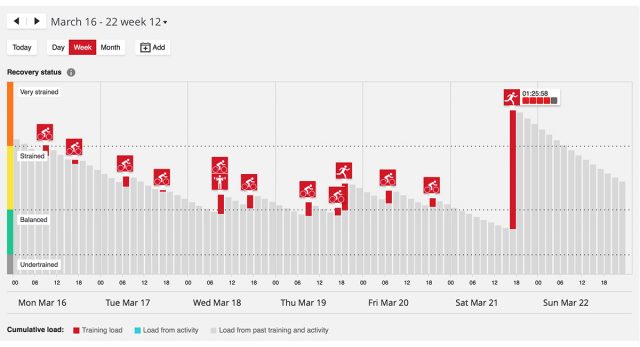 Recovery Data Reveals When You Need a break
The body knows best, they say, and while this may be true in most cases, we shouldn't always believe our gut feeling.
For instance, the fact that it's rainy outside and we've had a long day at work does not equate rest day – at least not on the grounds of a physical need – even if our body seems to show reluctance to get off the couch.
Other times the stiffness we experience might not be from too much exercise, but from the opposite. Contrary to logic, a lot of sitting does not recharge our batteries and prepare us for physical activity. After eight or nine hours in an office chair, our bodies are unwilling to change their modus operandi and so they tell us they are too tired to do anything, when in fact a good, invigorating physical exercise is often exactly what we should give them.
So, yes, it's usually a good idea to listen to your body – except when you're body is trying to BS you and act against your own best interests.
A lot of studies seem to agree on one parameter we can use as an indicator of our body's readiness for physical exercise: our heart rate. You know the feeling when you walk up a short flight of stairs – perhaps the same one you walk up every day to get to your office – but the usually light effort one day gets you disproportionately breathless? And on top of that, your heart rate doesn't seem to come down, even after you're seated?
This is often the most noticeable plead from your body, telling you you're pushing the limits and it can't cope with what you're asking it to do. It can also be a signal of an approaching illness, such as a cold – an equally good reason not to push your heart any harder.
How can I Monitor my recovery?
With the Polar Smart Coaching features you can your training load and recovery status.
Smart features like the Training Load Pro™ and Recovery Pro™ give you a holistic and accurate feedback on where you are on the scale of "Let's Go! vs. Hold Your Horses" if you're game to do the Orthostatic Test three times a week.
If not, the Nightly Recharge™ feature requires zero effort from you – just wear your Polar watch snuggly on your wrist during the night (min. 3 days during a 28 day period) and Nightly Recharge will show you your score in the morning with ANS and sleep metrics.
Moreover, if you're using a Polar product with the FitSpark™ daily training guide, you don't even have to figure out what all the recovery data really means – FitSpark™ will suggest ready-made workouts tailored for you based on your fitness level, training history and recovery status.
Where can I check my Recovery Status?
If you're using a Polar product with Nightly Recharge, you can check your recovery status first thing in the morning straight on your watch. You can also see all your data, including recovery, on Polar Flow.
Final word
The purpose of monitoring recovery is to help you find the right balance between training and recovery. It not only helps you understand your current recovery level, but allows you to learn how much exercise and strain your body can take and how much rest is optimal for you.
Finding the ideal balance between training and recovery is the winning recipe to success – or just, you know, leading a happier and healthier life. Good vibes only? ?
If you liked this post, don't forget to share so that others can find it, too.
Or give it a thumbs up!
I like this article
Please note that the information provided in the Polar Blog articles cannot replace individual advice from health professionals. Please consult your physician before starting a new fitness program.