Leading the way to a more balanced and personalized future of fitness, the new-generation workout partner Polar Ignite fitness watch helps you push your limits the right way and become your true potential – with key focus on personalizing your training and recovery.
This waterproof fitness watch with advanced wrist-based heart rate (Polar Precision Prime technology) and integrated GPS offers you a full view of your day and guides you towards a more balanced life – offering a full breakdown of your sleep, automatic overnight recovery measurement and personalized workout tips based on how well you've slept and recovered.
Whom is Polar Ignite optimal for?
If you're a goal-oriented fitness enthusiast who works out regularly, the Polar Ignite fitness watch is your go-to gear.
Whether your goals include improving your fitness level, taking your performance to the next level, boosting overall well-being, losing weight or just feeling and looking better and fitter, the Polar Ignite fitness watch will help you reach them.
What is Polar Ignite for?
Polar Ignite is a new-generation fitness watch to help you get the most out of your fitness workouts and become your true potential.
What makes it 'new-generation', you ask?
Well, it's not just a fitness tracker – the Polar Ignite helps you balance fitness, life and well-being, giving you personalized daily workout tips, measuring your overall recovery, monitoring your sleep stages, and even helping you relax with guided deep breathing exercises.
Even though the Polar Ignite focuses strongly on overall well-being and recovery, it is first and foremost your ultimate fitness partner that offers more options to track a wide variety of sports, including running (integrated GPS) and swimming (swimming metrics).
What ignited (pun intended) the idea for this fitness watch?
After decades of working with and developing products for pro athletes, it has become evident that recovery is one of the real-life pain points athletes are struggling with. Many find it hard to estimate their recovery level or they tend to overlook recovery and just go full speed with the "more is more" approach to training.
Even if fitness is a key part of your daily routine, it is most likely one of your priorities, not your whole life.
The same mindset is common in the (non-pro) fitness world so the challenges pros face with balancing training and recovery are familiar to many enthusiastic recreational exercisers, too.
We're all about and for taking your fitness to the next level (you bet ya!), but just trying to push harder isn't necessarily the best way to go about it, especially if you have something else going on in your life besides training… and most of us have a lot more!
The risk:

You end up always pushing too hard, training at a (too) high intensity too often, exhausting yourself, yet, not seeing the fitness results you were hoping for.
When you try to squeeze in your workouts into your busy daily routine with work, family, friends and other commitments and responsibilities, it's easy to get caught up in trying to compensate for the limited time you have for working out.
That's why we created Polar Ignite to help people who train several hours per week – but still don't see the results they're aiming for – find a better balance between life and training to achieve better results with the same amount of time spent working out.
How Polar Ignite meets customer needs?
Rising from the real-life needs of athletes and exercisers, Polar Ignite emphasizes a more balanced approach to training and listening to your body.
To help you find the optimal balance between training and other important areas of life Polar Ignite introduces these new key features:
Nightly Recharge™ – See how well you recover from your day during the night.
FitSpark™ daily training guide – Get ready-made daily workouts that match your recovery, readiness and training history.
Sleep Plus Stages™ – Follow your sleep stages and get insights to your sleep quality.
Serene™ breathing exercise – Relax your body and calm down your mind with the help of a guided breathing exercise.
Why the emphasis on sleep and recovery?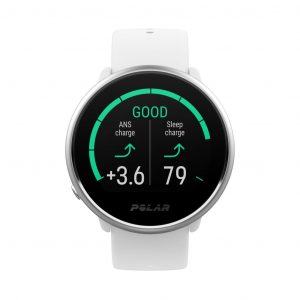 Recovery has a key role in making the most out of your training. That's why Polar Ignite measures your recovery level and the overall load you get from all the factors in your life, not just from activity and training.
Polar Ignite's Nightly Recharge feature combines stats on how well your autonomic nervous system calmed down during the early hours of your sleep and how well you slept compared to your usual level.
The Nightly Recharge status doesn't separate recovery from exercise and from other factors that may cause stress for your body and/or mind because it all ties together – a good night's sleep and a good work-life balance make you more responsive to training.
What do guided breathing exercises have to do with fitness?
The Serene breathing exercise feature on Polar Ignite guides you to breathe deeply and slowly to calm down the body and mind. Research shows that regular deep breathing exercises produce benefits, such as better sleep, improved resilience to stress and improved overall well-being.
All this, in turn, will give you more energy to work out. With consistent use, Serene breathing exercise can help you manage stress and improve cardiovascular health, which will help you improve your fitness performance (when combined with other factors that affect your performance positively, such as varied training, quality sleep and proper recovery).
That sounds all good but how does Polar Ignite fitness watch support, you know, the actual fitness workouts?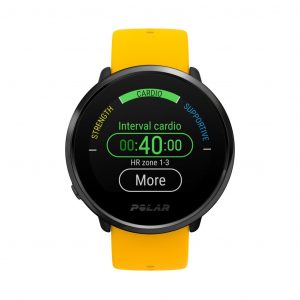 Polar Ignite's FitSpark™ is a daily training guide that takes care of workout planning for you, offering you daily ready-made workouts that match your recovery, fitness level and training history.
FitSpark creates you 2-4 workouts to choose from every day, based on your Nightly Recharge status, current fitness level and training history from the past 28 days.
With different types of workouts, such as cardio, strength and supportive core and mobility sessions, the FitSpark feature helps you vary your training routine and guides you to train at the right intensity – for example, suggesting lighter exercise when your Nightly Recharge recovery status says it's not smart to amp up the intensity.
If you don't want to follow a certain training plan every day or spend time coming up with new exercises to do, the Fitspark daily training guide is the perfect way to save that time and energy from planning to doing your workouts.
By following the workout tips the Polar Ignite suggests, you can do your daily workouts with less thinking and improve your fitness in the long term, too.
How can I get my hands on the Polar Ignite fitness watch?
You can buy the Polar Ignite on the Polar webstore or if you want to literally get your hands on the product first, find a store closest to you.
Based on your recovery data, fitness level and training history, the Polar Ignite fitness watch will help you get wherever you want to go – offering you data-based personalized advice and guiding you to adjust your training, sleep and recovery to achieve your individual fitness goals and become your true potential.
If you liked this post, don't forget to share so that others can find it, too.
Or give it a thumbs up!
I like this article
Please note that the information provided in the Polar Blog articles cannot replace individual advice from health professionals. Please consult your physician before starting a new fitness program.