You know when you meet someone for the first time and you instantly feel like you've known them forever? Like there's something magical connecting you, a shared purpose. Like… Like it's meant to be.
That's what we feel like about the partnership between Polar and Les Mills, the global group exercise superpower behind such classes as BODYPUMP. (It's so good you have to write it in CAPITALS!)
"We're on a mission to create a fitter planet. This doesn't mean making people work out – it means helping people fall in love with fitness so that they want to work out", says Phillip Mills, CEO of Les Mills.
We couldn't have said it better ourselves.
Great things coming up
There are plenty of great things coming up. One of our first joint ventures you can try is the new workout-specific sport profiles available in Polar Flow – Polar's online service available on mobile and desktop.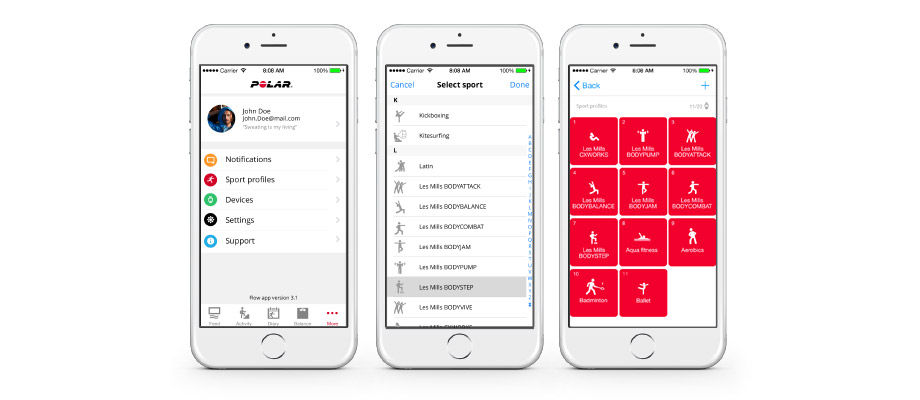 As of now, there are 15 LES MILLS sport profiles available on Polar Flow. They include:
LES MILLS BODYATTACK
LES MILLS BODYBALANCE
LES MILLS BODYCOMBAT
LES MILLS BODYJAM
LES MILLS BODYPUMP
LES MILLS BODYSTEP
LES MILLS BODYVIVE 3.1
LES MILLS CXWORX
LES MILLS GRIT Cardio
LES MILLS GRIT Plyo
LES MILLS GRIT Strength
LES MILLS RPM
LES MILLS SH'BAM
LES MILLS SPRINT
LES MILLS THE TRIP
Read more about all the LES MILLS workouts.
Why should I log my LES MILLS workouts with Polar?
Once you've enabled the LES MILLS sport profiles in Polar Flow, you can start logging your LES MILLS workouts with your Flow compatible Polar product (e.g. Polar A370 and Polar M430). Logging your workouts gives you detailed information about each workout and a way to set broader goals and see if you reach them or not. Ultimately, logging your workouts is a way to tap into an abundant source of The Big M – motivation.
And we're only talking about logging your workouts, that is, the benefits you get after the workout.
Workout stats
Depending on what Polar product you're using, you'll see different stats in Polar Flow.
Time and date
Duration
Calories burned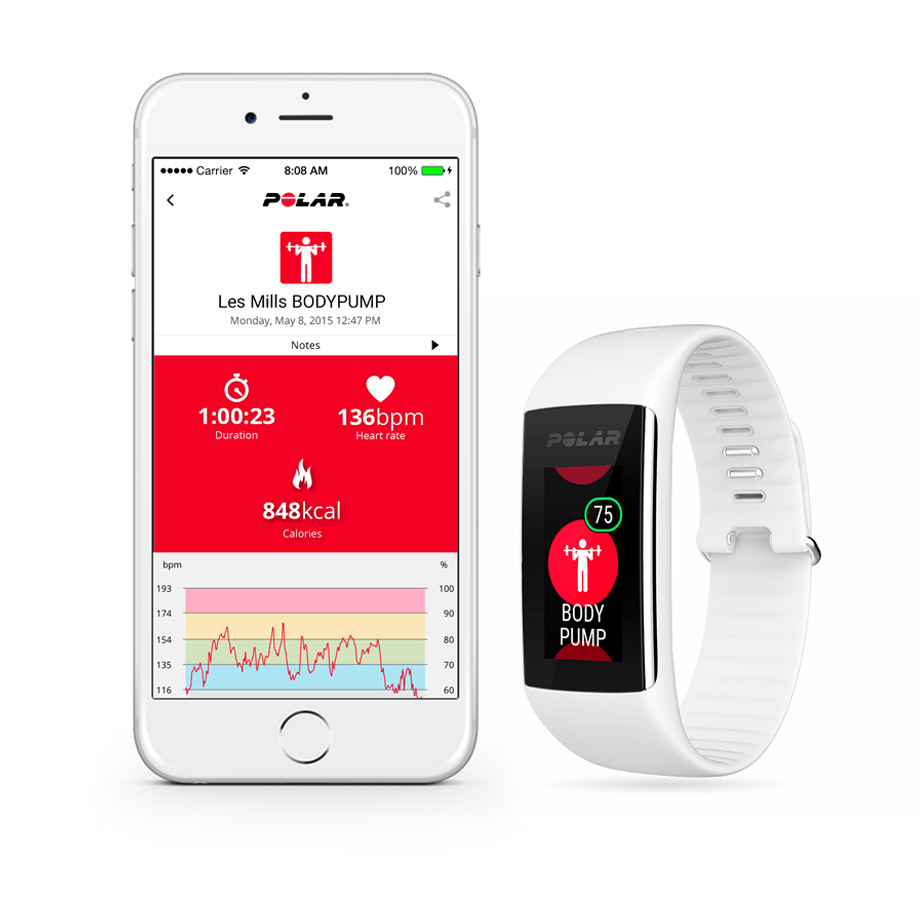 If you're tracking your heart rate, you'll also see a chart detailing the intensity of you workout.
Average heart rate
Maximum heart rate
Tracking your heart rate is a good way to objectively gauge the intensity of your workout. Did you go all out during that GRIT class? You can check your max heart rate. How many calories does a class of BODYCOMBAT burn when compared to a class of BODYPUMP? Log your training, sync your Polar product to Polar Flow and find out.
Targets
Logging your workouts makes it easier to set goals and – what's more important – to track whether you're reaching those goals.
"The ideal weekly exercise regime features three 60-minute cardio workouts, two 60-minute strength workouts and one 60-minute session of core/flexibility work", says Bryce Hastings, Les Mills Head of Research. While there are variations for those just starting out and those incorporating high-intensity interval training, having a target such as this helps you stay accountable.
Let's say you've been training for a while and you decide to do these 6 workouts (3+2+1) per week. Log your workout with your wrist device and Polar Flow and you can start gathering a bank of workouts. When you look at past weeks or months, you can see whether you've done all the workouts you set out to do. Your memory of past months might be inaccurate but your training log isn't.
Motivation
We all have our own source of motivation. For some it's music or the social aspect of working out. Some find motivation in the mirror and some find it in numbers and stats. Often it's seeing changes and improvements that leads to greater motivation.
Sharing the sweat
What? Sweat? Sharing? That's disgusting!
Okay, yes, you might be right. But luckily there's a way to share your sweaty successes without the yuck factor: social image sharing. After you've logged your workout, sync your Polar product to the Polar Flow app or the Polar Flow web service.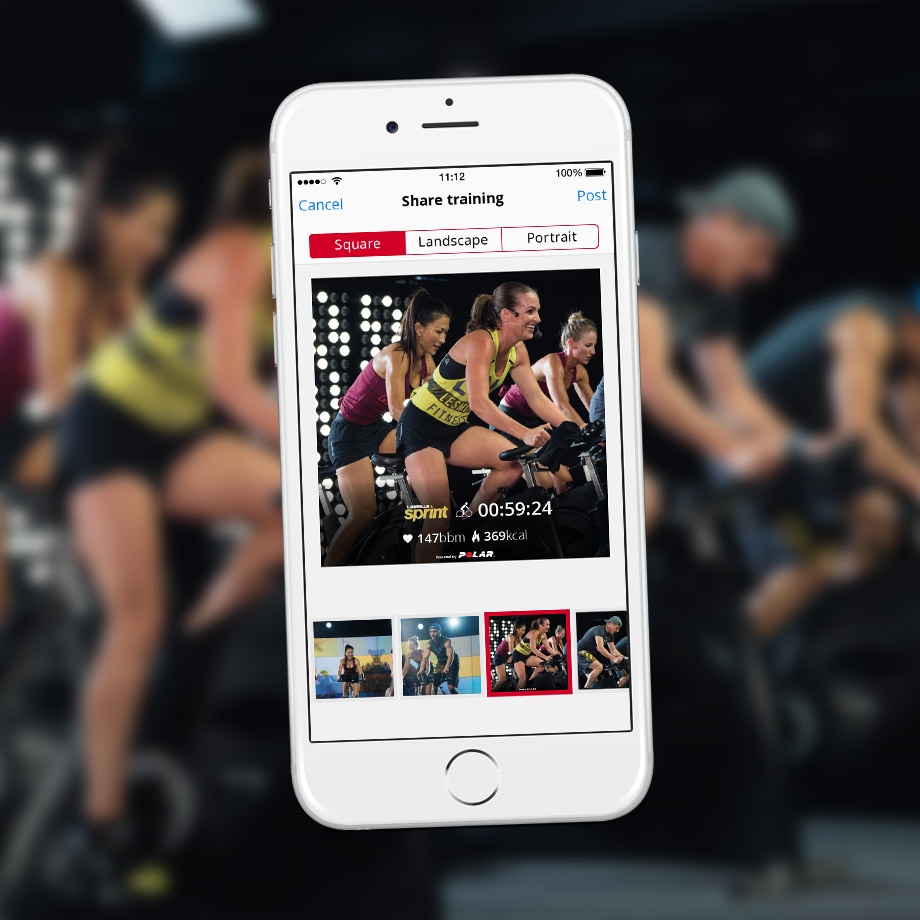 Choose a photo, overlay your workout stats and soon you'll be showered with likes, comments and support from your friends.
What's next
We'd love to see what you can do with these new sport profiles and how you take advantage of the budding relationship between Polar and Les Mills. Share your workouts with #PolarFitness. As always we'll be keeping an eye out for your photos.
If you liked this post, don't forget to share so that others can find it, too.
Or give it a thumbs up!
I like this article
Please note that the information provided in the Polar Blog articles cannot replace individual advice from health professionals. Please consult your physician before starting a new fitness program.