World, meet George… George is a real person.
You know those online competitions that advertise "Win a Trip to the Other Side of the World" this and that? Well, we at Polar had one of those in the summer and the prize was a trip for two to go see the IRONMAN World Championship in Kona 2016. We called it 60 seconds to Kona.
George won with his inspiring video entry. George got to go to Kona. George Kontogiannis from Greece is a real person. See? Not everything on the Internet is a hoax – or a dog.
So… Meet George. We're sure you'll get along great.
What got you started with triathlon?
"In my adult life I was mostly devoted to my studies, work and family. Living a lifestyle with no exercise at all (plus a lot of careless nutrition) lead to weight problems and health risks. Then I started cycling in 2011, for recreation and work. In 2013, I challenged my self by attending a 200 km non-competitive cycling event, Brevet of Nemea. I felt a lot better, enjoyed cycling outdoors and I was getting fitter with all that cardio exercise."
"Then I saw that amazing Team Hoyt father and son story. I decided to participate in a local sprint triathlon but in order to do that I had to learn to run. I followed an easy run and walk program until I was able to run 5 km in 30 minutes without any stops. That was enough for me. I quickly enrolled to a local triathlon race, Psathathlon and really really enjoyed it!"
How did it feel after you found out about winning the 60 seconds to Kona competition?
"I was truly exhausted for the last five days of the competition. I only had a few hours of sleep and I eventually bursted in tears as I couldn't emotionally handle this. I tried my best to follow and reply to all comments in social media. It would be simply impolite not to thank all the people that were sharing my entry link for the competition."
What was the best part about Kona?
"Hawaiian people! They are the most friendly and polite people I've seen abroad! They do really live the aloha life free of worries and anxiety, enjoying good life and love! These people show so much interest in the Ironman race and they welcome all sport activities in their area. It is absolutely normal for them to share the road with cyclists and respect runners and pedestrian lives when driving."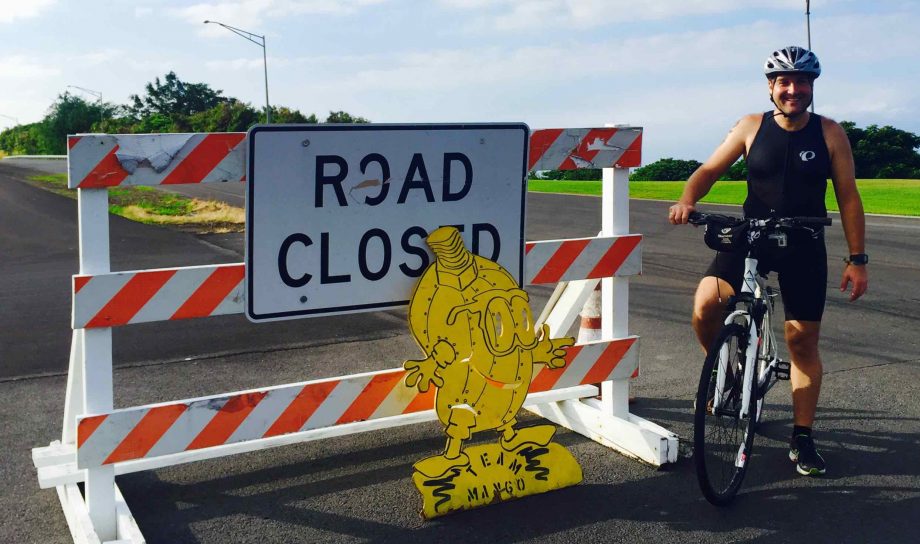 "Everyone at all ages was talking about the event. They show a lot of respect for the sport. So as a triathlete, I felt like being home. It was out of my imagination that I would ever afford to visit Kona to see the Ironman. Now, I feel blessed that I made it there and witnessed the huge event."
What's your biggest motivation?
"My children. I want to grow old with them and be with them and help them. I'll always try to be a good example for them."
Any greetings?
"I want to thank everyone in Greece and abroad that voted for my entry in the 60 seconds to Kona competition and believed in the idea behind the video clip – that it's never too late to care for ourselves. Getting out of your comfort zone, getting up from the couch and adding some daily exercise is the best investment towards a longer and healthier life."
"I am truly lucky that my friends, colleagues and team members Dimitrios Oikonomou and Andreas Papakleovoulou got into triathlon as well and now we co-train, talk about training and set common races to participate."
"Also a big thank you to Akis Vasiliadis, a cyclist from Peristeri that inspired me and gave me the idea to participate on my first endurance cycling event back in 2013. He convinced me that despite being 25 kg heavier and riding an old 17 kg 10-speed steel bike, all I needed to finish a 200 km ride was passion and a strong will."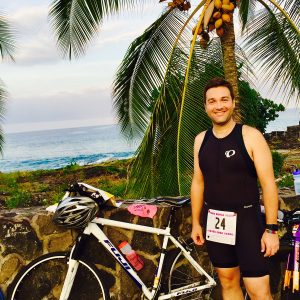 "And last I want to thank my supportive wife Cathrin who takes care of our three children when indoor training is not possible."
What are your plans for the future?
"Kona is an amazingly inspiring experience. It is more than challenging to go on training and come back to Kona some day as a qualified competitor. It's difficult, but anything is possible. Right?"
George. We have all the faith in you. Just keep doing what you do.
If you liked this post, don't forget to share so that others can find it, too.
Or give it a thumbs up!
I like this article
Please note that the information provided in the Polar Blog articles cannot replace individual advice from health professionals. Please consult your physician before starting a new fitness program.