As the popularity of remote working has blurred the lines between work and life, more and more companies are prioritizing employee wellbeing and mental health as a way of nurturing a healthy workforce and strengthening culture and community. Fewer sick days, enhanced productivity, and higher job satisfaction are just some of the benefits of a corporate wellness program.
We've partnered with HeiaHeia, a global provider of digital solutions for employee wellbeing, to offer companies worldwide a social and fun way of bringing the wellbeing of their workforce to the forefront of everyday business. With Polar x HeiaHeia, employees can participate in a series of motivating challenges and games as they track their daily activity, training, sleep, and recovery.
What is Polar x HeiaHeia corporate wellness solution?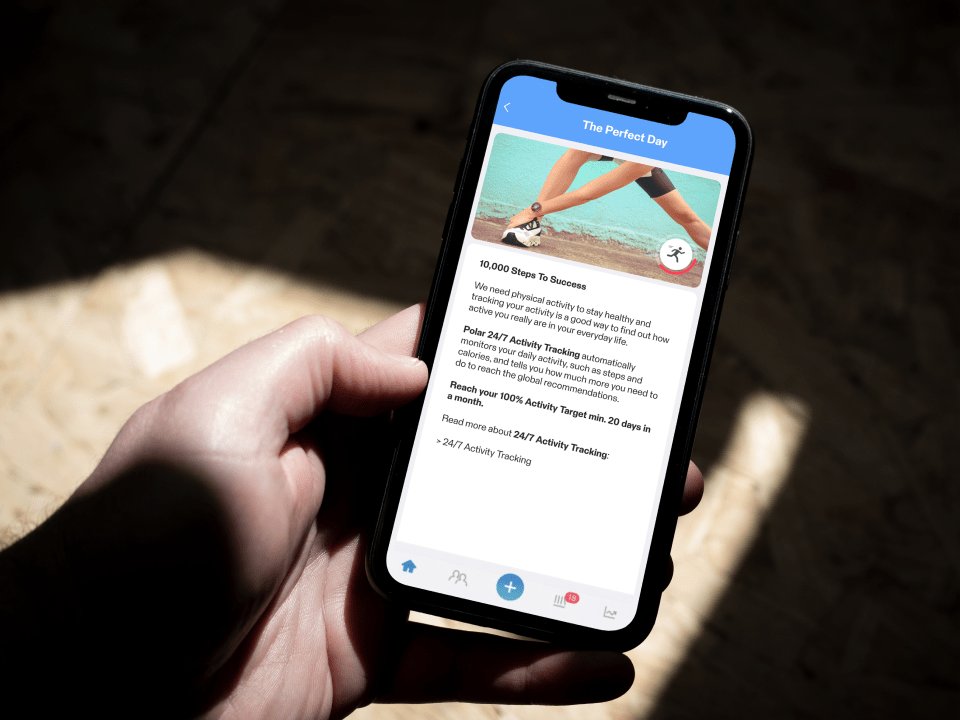 Polar x HeiaHeia is a corporate wellness solution that unites the fun and social wellbeing challenges of HeiaHeia and the unrivaled activity, sports, and sleep tracking capabilities of Polar wearables. Thanks to Polar x HeiaHeia, you can promote employee wellbeing and productivity by encouraging your employees to get moving, stay active, and rest well—all while challenging each other in team competitions.
Employee wellbeing goes beyond the regular 9 to 5 and encompasses many aspects throughout the day, including sleep, exercise, and stress management. Empowering your employees with industry-leading tools to track their activity and sleep not only communicates the importance of developing daily habits to enhance one's physical wellbeing, but also can help identify—and reduce— stress and illness.
Fun and social challenges are a phenomenal, proactive way to help employees develop their physical wellbeing, ensuring they're well-rested, motivated, and ready for another productive day of work. More than 70% of HeiaHeia users increase their wellbeing and more than 75% report an improvement in sense of belonging.
Companies, big or small, can offer Polar x HeiaHeia to their employees. All the employer has to do is to choose Polar equipment and sign up for a HeiaHeia subscription, a 2-month one-off challenge or an annual subscription. .
"The Perfect Day" Challenge
Polar x HeiaHeia promotes a sense of community and belonging across teams with inclusive, user-friendly company-wide challenges. Connect your Polar Watch to HeiaHeia and sync your Polar data to start collecting points.
Simple actions like walking up the stairs, taking a conference call while going for a walk, or just sleeping a little bit longer can have a positive impact on our wellbeing and health. The Perfect Day Challenge, provided by HeiaHeia, encourages employees to take actions like these to reach milestones and collect points every 24 hours. At the end of the day, employees can compare and see how they're doing, the virtual medals they've collected, and how they compare against their colleagues.
As participants progress through the challenge; they'll get actionable insights and tips on how Polar features can help them live the perfect day in real life by living in-tune with their body's natural rhythm.
Polar x HeiaHeia: Get started today
The Polar x HeiaHeia solution is available globally. Contact us and we'll help you get set up for your corporate wellness challenge and choose your Polar products.
In addition to participating in the HeiaHeia challenge, your employees can use and enjoy their Polar devices to track their favorite sports. Whether they want to run a marathon or just go for a bike ride with the kids during the weekend, your employees will have Polar's greatest tools to track any sport they want.
Learn more about the Polar x HeiaHeia corporate wellness solution and get started today.
If you liked this post, don't forget to share so that others can find it, too.
Or give it a thumbs up!
I like this article
Please note that the information provided in the Polar Blog articles cannot replace individual advice from health professionals. Please consult your physician before starting a new fitness program.