Polar Club. Heart rate-based group fitness app
Get ready.
For the only group class where every heart beat counts
Polar Club is a heart rate-based solution that brings gripping group exercise classes to fitness clubs. With heart rate training and fun rewards at the core of Polar Club you'll have classes pushing harder, feeling motivated and coming back for more in a heart beat. And the beauty of it - all you need are H7 heart rate sensors, an iPad Air and a big screen.
Heart rate training
Evidence-based results
Say hello to the benefits of heart rate training. With Polar Club your classes will experience how exercising at different heart rate intensities is the best way to improve. And, when everyone sees their heart rates on the big screen, it inspires and guides them towards achieving individual training targets together.
Class
Management
Community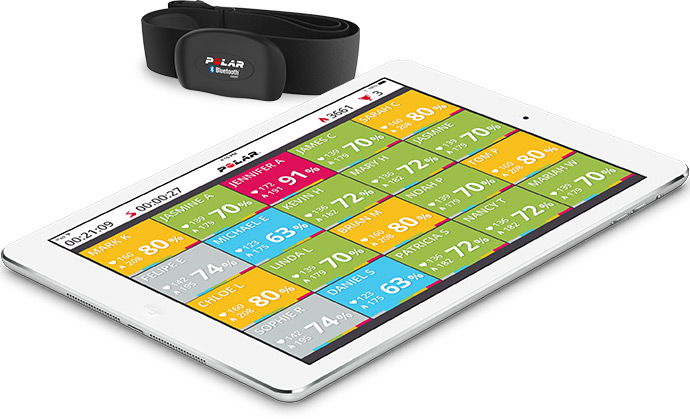 Group exercise made easy
Polar Club app makes running your classes a breeze. With the real-time heart rate-based guidance the instructor can easily see who's keeping up with the class and steer the group to the right direction. At the end of the class, the group sees a summary of how they did.
Easy all-in-one solution
With one single solution, you can schedule and manage classes as well as assign instructors. Polar Club also comes with the possibility of signing up to classes online in advance which reduces hassle at club. Monthly highlights from the data and statistics from a specific group class or all of them provide a powerful tool to support decision making.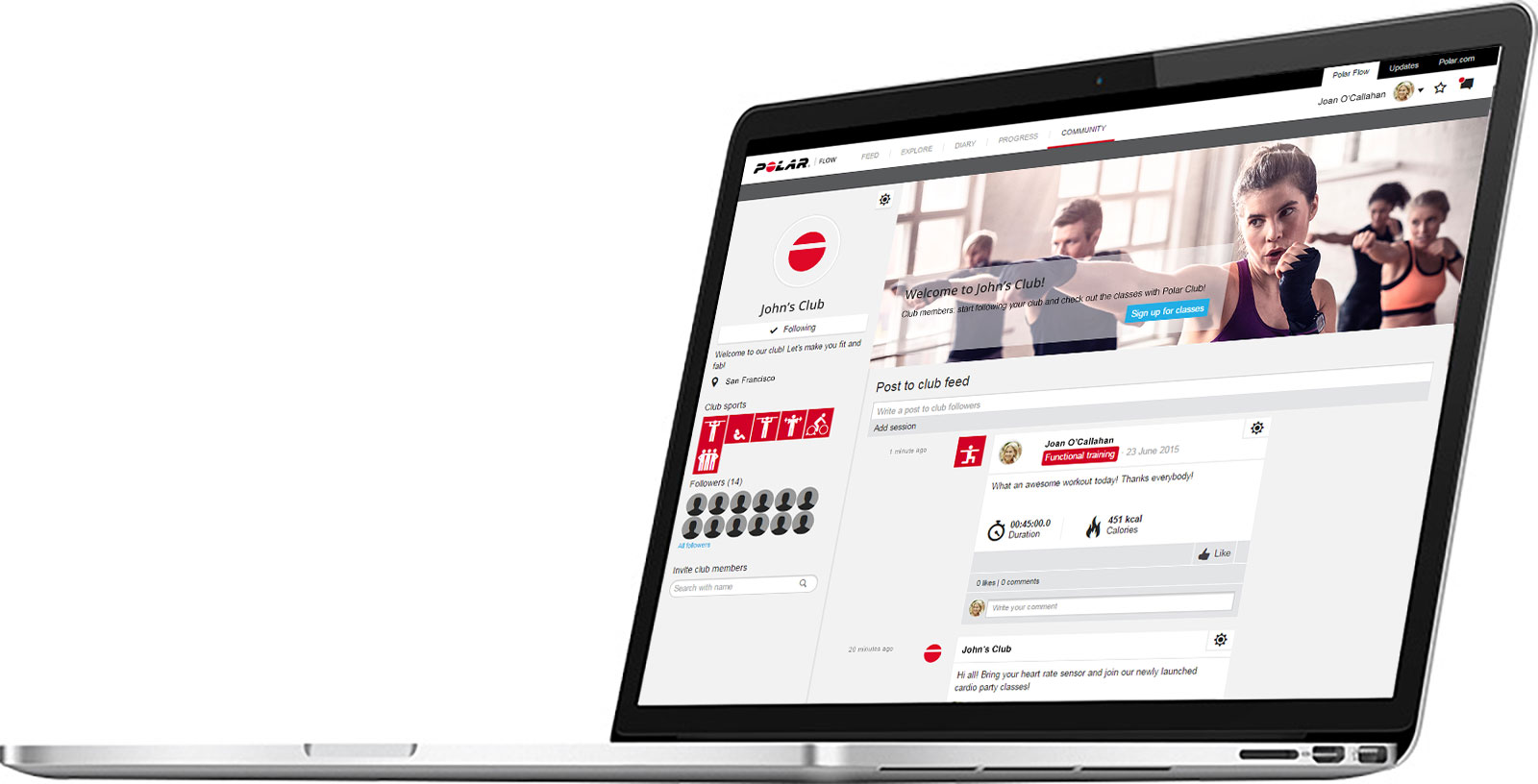 Joy of reaching goals together.
With Polar Club you can create an engaging online community together with your club members. They will be able to share their accomplishments with each other in or outside of class. Within the very same community you will also be able to share in-club events or campaigns with your members.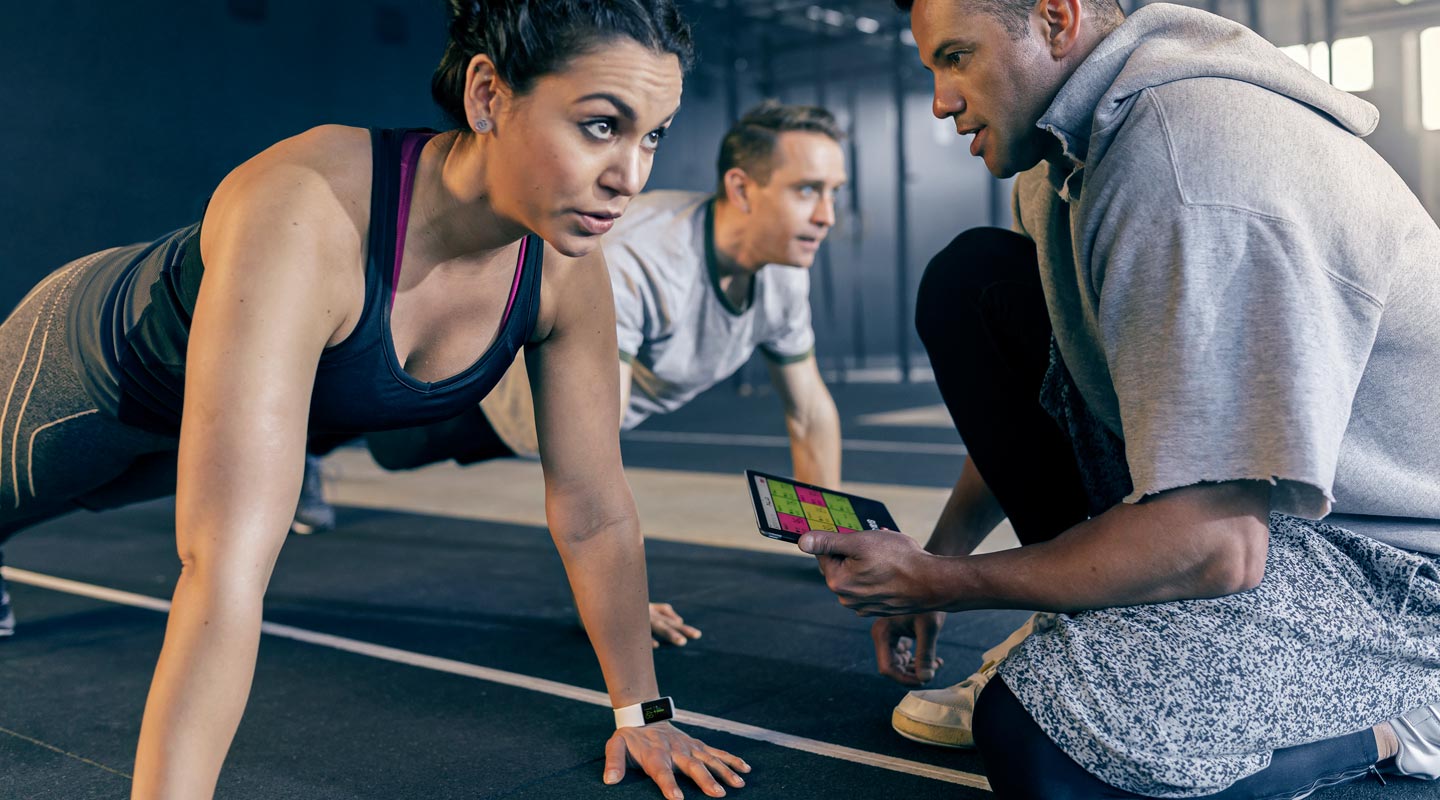 Club owners

Instructors and trainers

Members
The most rewarding fitness choice – for your club
With all the aspects Polar Club has to offer - easy online class and instructor management, engaging group exercise classes and evidence-based results - you can offer your members a premium training experience and make your club a fun and exciting place for both the new and existing customers.
The most rewarding fitness choice – for your class
When you see your class members' heart rates on screen, it takes the guess-work out of how everyone's doing and if they're keeping up with you. With real-time feedback on the intensity of your class, you can follow everyone's progress and guide them in the right direction.
The most rewarding fitness choice – for your heart
Ever wonder if your training is as efficient as you would like it to be? Reaching your workout targets has never been this easy! During class, you will see your real-time heart rate and calories burned. With color-coded heart rate zones, your instructor will be able to give you immediate guidance during the class - keeping you on the right track. And, after the class your individual workout summary will automatically upload to your Polar Flow account.
Polar ecosystem
Powered by Flow
In addition to Polar Club our Flow ecosystem offers a complete solution to you, your trainers as well as club members to make their fitness dreams come true.
Polar Fitness Trackers
We offer a complete line of connected fitness trackers to help your club members reach their goals, from weight loss to training for an event. Learn more.
Polar Flow web service
In Polar Flow web service your club members can conveniently see their personal training data, follow their progress as well as share their own and comment their friends' achievements. Learn more.
Polar Coach
The free Polar Coach service makes it even easier for your personal trainers to manage and guide their clients to success. Learn more.
Get started
Ready for action?